Tour a Tiny House on Wheels
RV Decor & Unusual RVs
June 3rd, 2015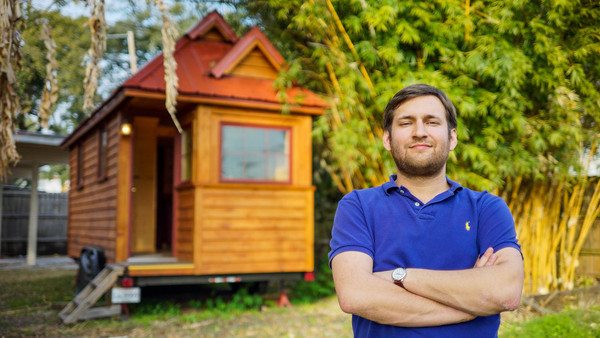 Tiny houses are hot these days. More and more people are catching on to their tremendous appeal. These small structures have just enough comfortable living space, but not so much that it breaks your budget to heat, cool, and furnish it. Plus, they allow you to declutter your life, stick with the essentials, and live simply. And of course, their relatively low cost is incredibly appealing.
In a lot of ways, tiny houses are like RVs and trailers. In fact, if you put a tiny house on wheels, you can take it anywhere, and that's exactly what the Tumbleweed Tiny House Company out of Colorado Springs does.
They make tiny house RVs that are more home than trailer, more modern than rustic, and more functional than ornamental.
Much like their namesake, they can move at the winds of your whims. All of the tiny homes on wheels made by Tumbleweed allow for customization and personalization. Each one has a basic design that allows for multiple configurations, different options, and numerous add-ons that makes them unique. Their appeal is enormous, and many people are finding out first hand how great it is to live in a Tumbleweed tiny house on wheels.
One such person is New Orleans resident, Derek, who was able to take a Tumbleweed Cypress and create his ideal living space out of it.
A Compact Marvel
Derek's tiny house on wheels is just 18 feet from front to back. Tumbleweed also makes the Cypress model in 20 and 24-foot versions. While the basic structure is a standard one, Derek added loads of customized features to truly make it his very own.
Take the dining area, for example. Unless it's specifically set up as a table for four, you'd never know that two couples could sit and comfortably eat dinner there. All tucked and flipped up, the space is merely a couple of benches and a small side table. It makes a cozy little sitting area for reading, pecking away at a laptop, or just staring out the window. However, once the dining table is flipped down and one of the benches is swung around, it's a standard four top. What's more, if the table is flipped back up, one of the benches can unfold and, with the other bench as support and some cushion rearranging, it becomes a double bed for guests. Talk about a transforming space!
Other Interior Details
The kitchen in Derek's tiny house on wheels is small but fully functional. It's got a beautiful glossy wood countertop with lots of storage underneath. There's no full size oven or range, but he has a large Frigidaire toaster oven under the counter and a few hot plates that stow away when they're not in use. He's also got a decent sized refrigerator and a large farmhouse sink, both of which are much more practical than the compact under-the-shelf fridges and mini bar sinks found in some tiny houses.
The bathroom is small, of course, but not unnaturally so. In fact, Derek's shower is a standard sized stall of 32″x 32″. Instead of fiberglass, the walls are made of corrugated metal for a shiny, industrial aesthetic. There's also a standard flush toilet rather than an ultra small RV toilet.
Beyond that, there's a comfortable sleeping loft upstairs and lots of creative little nooks to sit in. Storage spaces are tucked away just about everywhere in the house.
And On the Outside
The exterior of Derek's tiny house on wheels is as attractive as any luxury home in a high end neighborhood. It's covered in stunning cedar siding that's been stained a rich brown color. Trim in a deep red tone provides a balanced contrast, and it's the same color as the durable metal roof. A skylight provides natural illumination to the sleeping loft area, and there are windows throughout. A mini split air conditioner takes care of Derek's heating and cooling needs.
Inspired to Scale Down?
If you've been thinking of buying an RV trailer, or if you're simply interested in scaling down and cutting your life's clutter, check out the Tumbleweed Tiny House Company and all they have to offer. Derek's tiny house on wheels is a beautiful example of how much potential these compact structures hold.
After using his Cypress as his main living space for a while, Derek bought a more traditional house in town. However, he did not give up his tiny house! It's now parked in his backyard, and he uses it for RVing as well as a change of overnight scenery from time to time.