RV Decor & Unusual RVs
August 20th, 2015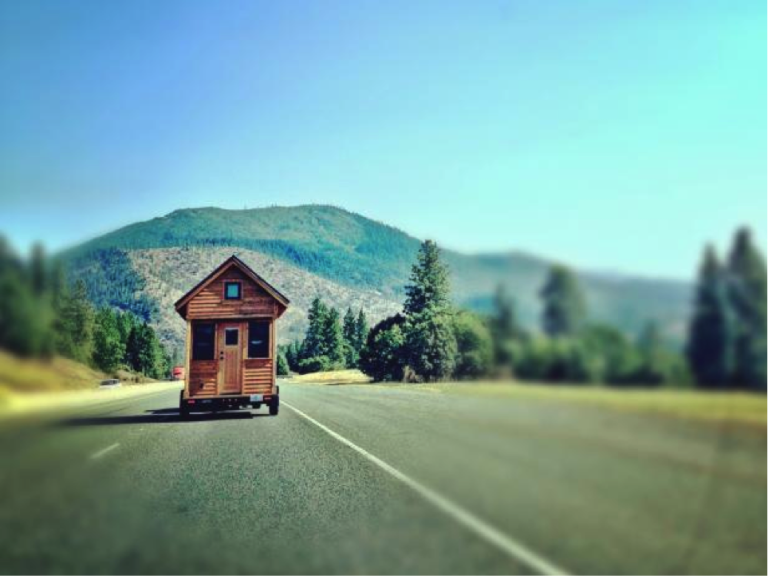 What if your home was so small and compact that you could just hitch onto it and take it with you? In this day of frequent job changes and moves, these small homes on the move have become more popular than ever.
Why build tiny? Tiny houses challenge you to find a way to make your living space fit your life — not the other way around. Too many people today are "house poor". They can't afford to travel because of large mortgages on McMansions with rooms they never use. Moving for business or pleasure becomes a Herculean task when you need to unload a house in order to relocate.
So why not go small? Here are eight small homes that defy the notion that 'bigger is better'.
This first is a micro house on wheels. Although it is only contains 128 square feet, there is room for the couple that owns it and their two cats.
Made by the Tumbleweed Tiny House Company, these tiny houses come in a choice of woods and square footage. The Linden is 131 square feet, 21 feet long, and it sells for $60,000.
This Airstream tiny home is already on wheels.
Long recognized as a leading manufacturer of larger travel trailers with modern luxury features, this compact Airstream Caravel is only 128 square feet. The interior was re-designed by Amy Carman for her family to spend most of their summers. They live much more efficiently and simply in their summer home. Yet they still enjoy a very rich quality of life in this tiny space. Working with a small space forces designers and those who live in small spaces to become very resourceful.
Up next is an 84- square foot home created by Portland Alternative Dwelling. This tiny home has been a cozy nest for its owner for over four years.
You can have yours built or choose a kit and build your own. The company holds workshops for DIY enthusiasts. Portland Alternative Dwellings was founded on the goal of streamlining living and leading a life that is uniquely your own.
Courtney Trent of Courtney's Good Cottage creates trailer interiors for the rich and famous. She insists that comfort and luxury can exist in small, moveable spaces. It's a matter of maximum use of minimum space.
Her first step is to remove the bed and one of the wardrobes. This extra space becomes a third living/work area.Furniture on sliders can create a dining surface near the kitchenette and a work surface near the couch. Spaces become multi-purpose.
Not all movable small homes have to move on the ground. This tiny home is in a jet. This Gulfstream jet was originally designed as a party plane. The small space is more an adventure, rather than an inconvenience.
You can build this 360 square foot mobile home yourself for only $3600.00
Not all houses have to travel on land or air. This one moves on water.
It's a 360 square foot houseboat. There's a kitchen, a spacious deck, a studio bedroom and a full bathroom. You can build it for $175,000.
If this mobile home looks like a converted horse trailer, you're right.
You won't believe how attractive it is inside.
Talking about being eco-friendly, take a look at this green roof!
This 360 square foot home is a great cabin retreat after a long trek. It is equipped with four large couches that double as beds and an efficient kitchenette.
Whatever the type of home you choose. No matter how teeny or medium small, how portable, moving into a smaller home has several advantages.
Smaller is a lot less costly to maintain. Heating, cooling, lighting and even property taxes are minimal in a teeny home.
Tiny means it takes far less time and energy to maintain.
Smaller homes cost less to purchase. Smaller houses are sold more easily and faster. Many people have sold theirs years later for what they paid.
As our society ages, more people are in a position to travel and like to take their house with them.
With a tiny mobile home you are no longer a slave to your possessions and your mortgage. This is a very freeing feeling. It also leaves you with more time and money to do the things you really want to do.
A tiny house is environmentally friendly. You are leaving a smaller carbon footprint. The family that lives in a smaller space is forced to work and play together.
With less space you don't accumulate useless stuff you do not need. In fact, you are forced to downsize. You retain only what is important.
Thanks for reading and don't forget to comment and share below!