RV Decor & Unusual RVs
June 8th, 2015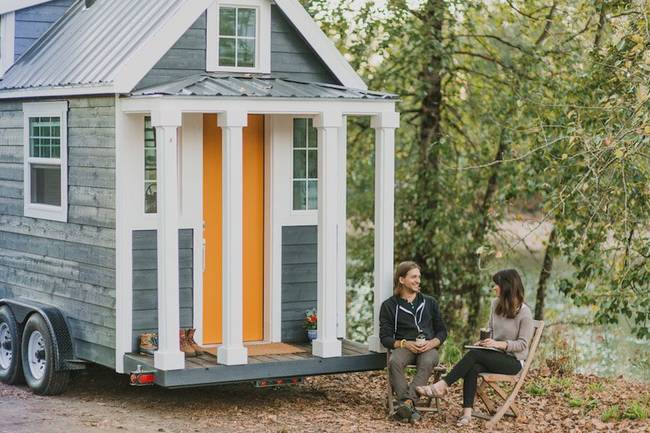 Oh my, if the Heirloom Tiny Home isn't the most adorable, humble mobile abode you ever did see! Born in Portland, Oregon, this miniature bundle of joy is all set to grow up anywhere. Anywhere you park it that is. I mean imagine being able to travel around the continent in the comfort of your own home? One would never have a reason to feel homesick or have to worry about the dreaded – dare I say "packing" – ever again. SCORE! Sign me up! Tiny home mobile living is definitely the way to go.
With a place this unique it's hard not to want to snoop around. Let's take a peak!
You know the saying, "don't judge a book by its cover", right? Well, I must confess – I judged the Tiny Heirloom Home just from its cute exterior. Yet I can already assure you my judgement was right on point. A whole lot of love for a teeny tiny place and we only just stepped in.
It has to take some big brains to create and decorate such tiny spaces. Especially, ones that include the works. Just check out these sitting areas!
As if I wasn't sold on the Heirloom Tiny Home already! Two words: the kitchen. Need I say more? Well, let's just say that this kitchen is bigger than most metropolitan apartments that I have both been in and lived in… Luckily, my green with envy coordinated with the beautiful mustard yellow decor. Did I also mention that most metropolitan apartments don't have dishwashers?
Or washing machines, for that matter? What doesn't this place have?
I find it amazing how anyone could, not only think of every amenity, but fit it all in such a small space. It's almost like a real-life puzzle completed by an architectural genius! Come to think of it that is exactly what it is.
No matter how old I get one thing that for sure will never change is my grandiose love of loft beds. There is just something so youthful about climbing up a wooden ladder to lay your head down for the night. It's a great reminder of all the tree-houses I parked my younger self on top of, not to mention a perfect way to save plenty of space. I think in this case they were going for space saving over adventure, but you catch my drift.
I know it may be a cozy bedroom, but I think it's perfect. You can even fit the whole sky in your view. That's huge!
It's probably best I leave before I overstay my welcome (even more) and move on in, which I would love to do. Just say the word!
I'm sad to leave this little gem, but I will be back… tonight, in my dreams. Oh, and while I am still here, I'll take 2! That's how many Tiny Heirloom homes could fit in an average driveway, right?
Tiny home mobile living, like the popular girl in school that everyone wants to be friends with, has big personality! The team at Tiny Heirloom have created something very special. Not only are they customizing luxury homes on wheels for me to gawk at and many to live in, but they are also teaching us two important life lessons: 1) less is more and 2) home is where you park it.
Is tiny home mobile living for you? We want to hear from you! Leave a comment below and don't forget to share!
(via Messy Nessy Chic)