The Ringbrothers Winnebago Is A 900 HP Custom RV Dive Bar
RV Owners
June 10th, 2015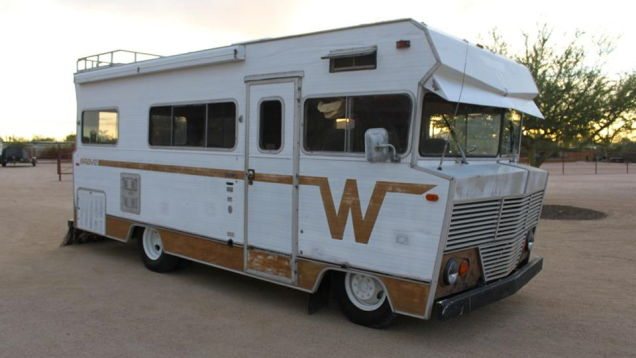 Not content to simply focus on souped-up Mustangs, the builders at Ringbrothers recently turned their attention to an RV. The result of their efforts is the "Happy Camper" — an upgraded 900 HP Winnebago Brave.
Though they purchased the used RV for just over $12,000, Jim and Mike Ring have turned the Winnebago into a beast capable of keeping up with a brand new Corvette, going from 0 to 50 in 3.2 seconds. That power is due to their purchase of a Chevy-based 408 cid V8, costing $27,000 by virtue of its mammoth supercharger. The Ringbrother's Winnebago looks poised to top the 120 mph world-speed record for a non-van based motorhome, but so far they haven't pushed the motorhome past 100.
That sort of speed is impressive on its own, but the Ringbrother's Winnebago has just as much going on inside. The interior style is eclectic to say the least, incorporating a flatscreen, lime green paneling and metal-plated swivel chairs to create something truly unique. It's part-steampunk, part-1970s and part-old West, but likely the best point of comparison, as Supercompresser notes, is a dive bar.
Other features of the RV include a popcorn machine, pizza oven, fireplace, an airplane propeller bar surface, seats recovered from a 1970s Ford bus, and an excess of neon signage and miscellaneous kitsch decorating the walls.
The Happy Camper's best features, however, are likely mounted to its front and back. A vintage Honda minibike adorns the RV's grill, and a barbecue-cooler combo swings open above the rear bumper to reveal yet another bar with even more signage to be admired while enjoying the ultimate tailgate party.
The entire Ringbrother's Winnebago almost demands admiration, particularly when the final result is compared to the RV's original condition, when its interior decor was far more focused on its Old West style.
From its humble beginnings, the Ringbrother's Winnebago has become something any RV enthusiast would be glad to drive cross-country, a vehicle with as much engine power as style and character. Check out more custom builds by the Ringbrothers on their website.