Travel Inspiration
May 7th, 2021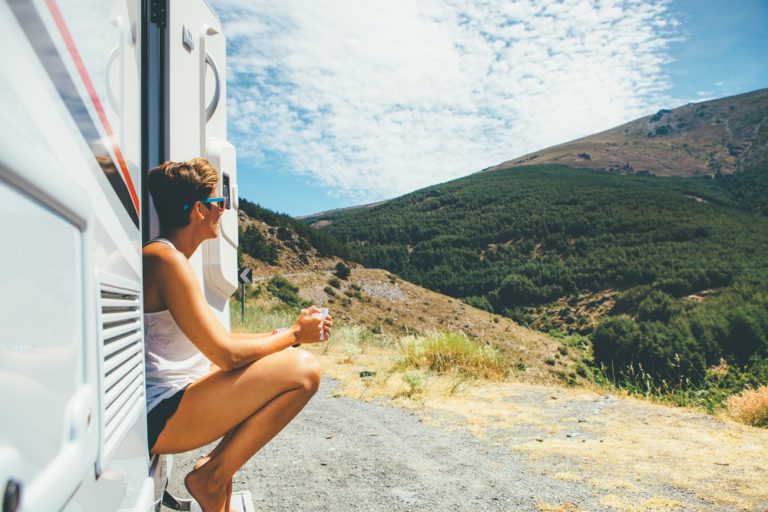 With more people than ever hitting the road in RVs, camping spots can get scarce – especially during the summer high season! If you're planning an RV trip this summer but haven't booked your sites yet, it's time to start making those reservations. While campgrounds in national parks can fill up months to a year in advance, we've rounded up some fantastic campground options that still have availability this summer – for now!
Check out our list below for some of the top summer RV sites, and not to worry if these aren't available for your specific dates, we've got a link at the bottom of the article to a breakdown of campgrounds by state so you can find your perfect RV spot.
1. Hunting Island State Park, South Carolina
Campgrounds near the beach are always in high demand, and what better way to camp near the water than on a barrier island? Hunting Island State Park is home to some of prettiest beaches in South Carolina. The campground inside the park has 117 sites with water and electric hook ups that are within walking distance to the ocean. Some of these sites can accommodate RVs up to 40 ft long. The campground also has restrooms with showers, a dump station, and WiFi. To make a reservation, visit reserve.southcarolinaparks.com or call 1-866-345-7275. Looking for more waterfront campsites? Check out our list of the 10 Best Waterfront RV Campgrounds.
2. Wallowa Lake State Park, Oregon
Near Joseph, Oregon, Wallowa Lake State Park is situated at the southern shore of Wallowa Lake, surrounded by 9,000 foot tall mountains. It's full of fishing, boating, and hiking activities for the whole family, and has 121 full hookup sites for RVs. They also off 88 dry camping sites, as well as yurts and group tent camping areas. The park is the perfect basecamp for exploring Mt. Howard via the Wallowa Lake Tram or checking out the nearby town of Joseph and its artist community. You can book your reservation online or call 1-541-432-4185 ext. 26. You can also check out our list of Oregon's Best Camping Spots for more gorgeous campground ideas.
3. Timberland Acres RV Park, Maine
Acadia National Park in Maine is one of the top summer destinations for RVers, and the RV parks inside the national park fill up fast. Not to worry, head just outside the park to Timberland Acres RV Park, located only 14 miles from both Bar Harbor and Acadia. This family-run RV park is open during the summer months from May to September and has 200 sites on their 35 acre wooded property. Of those sites, 70 are pull-through full hook up sites and 50 of those are over 100 feet long, so those with longer rigs and motorhomes are welcome! You can book on their website or call 1-207-667-3600. You can also check out our list of the Top 10 Campgrounds in Maine for more fantastic RV park options near Acadia.
4. Buffalo Bill State Park, Wyoming
If you're wondering where to go this summer in your RV, a visit to Yellowstone National Park is a great option. Check out Buffalo Bill State Park in Cody, Wyoming and book a spot at one of their two campgrounds inside the park. Between the North Shore and North Fork campgrounds, they offer 99 sites total with lots of amenities and activities to keep everyone busy. There's boating, fishing, and hiking around the park, as well as volleyball courts, picnic areas, and playgrounds for the kids. The North Fork campground is only open during the summer months, but North Shore is open all year. You can book your spot on their website, and get ready to experience the west!
5. Holland State Park, Michigan
Ready to experience those gorgeous Midwestern summers? Head up to Holland State Park in Michigan! Located on the banks of Lake Michigan and Lake Macatawa, this state park has 2 campgrounds, beach volleyball courts, and a pier for fishing and watching the sunset. Did we mention this park was right on the water? Holland State Park actually has 2 campgrounds on its property. The Lake Macatawa Campground is a traditional campground and has 211 campsites nestled in the forest, all with either 30 or 50-amp electric. The Holland-Beach Modern Campground has 98 paved campsites situated among the sand dunes, with 31 of those being full hook up sites. But the best news is both of these campgrounds are located within 50 feet of beautiful beaches where you can swim. You can book reservations for either campground on their website or call 1-800-447-2757. And take a look at our list of the 10 Best RV Trips to Take in Michigan for more ideas on what to explore!
6. Morrow Dunes RV Park, California
We've shared some campgrounds where you can stay near the beach, but what if you want to camp ON the beach? Then grab a spot at Morrow Dunes RV Park in Morrow Bay, California. While you won't actually be in the sand, this campground has the next best thing offering 170 campsites that are literally steps from the beach. Take in the ocean views from your rig then walk 30 seconds to the sandy shores of the Pacific Ocean and view the iconic Morrow Rock formation. More of the explorer type? Morrow Dunes is near Paso Robles and San Luis Obispo, and the park is within walking distance to downtown Morrow Bay. Visit their website for more information or call 1-805-772-2722 for reservations.
7. Moose Creek RV Park and B&B, Montana
For RVers visiting Glacier National Park this summer, grab a spot at Moose Creek RV Park and B&B. This RV park is located 2 miles west of Glacier, Montana and is the perfect home base to explore the national park. The RV sites are surrounded by old growth forest, which provides shade, and they have both full hook up and water/electric only sites. They also offer basketball and volleyball courts, laundry, a general store, and a restaurant/bakery known for their cinnamon rolls and pies. Visit their website to book your camping spot before it's too late!
Now that we've covered some of the best summer RV destinations, take a look at some of the amazing RV rentals that are available on RVshare. We've also got you covered when it comes to planning your trip to the national parks and a list of fantastic campgrounds in each state in case these ones are already booked. Happy camping!