The Unbelievable Truck Camper Crafted from a Shasta!
RV Decor & Unusual RVs
June 4th, 2015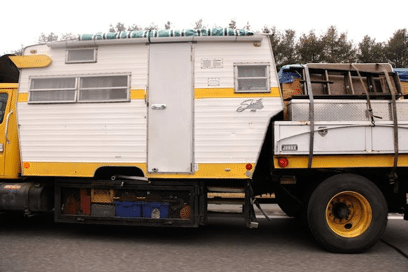 If want to see one whopper of a Shasta travel trailer, look no farther!
If you're a fan of unusual rigs, then you're going to love this one. A driver was spotted near Waterville, Maine driving the most unusual RV. If you want to create your very own truck camper, then take notes, because this guy's got the method perfected!
What is it?
You're looking at a vintage Shasta travel trailer mounted on a flat bed truck. Amazing? We think so. If you look closely, you can see that the axle is still intact. By removing the wheels from the trailer and bolting it to the bed, this master creator has crafted something completely unique and original.
Storage, Vintage Cars, & Vintage Bikes
Not only does this guy have one of the most interesting travel trailers we have ever seen, but he also has a phenomenal line up to go along with it! You can clearly see that there are two motorcycles in the trailer, but if you look very closely, you can see the handlebars of a third by the first car's hood.
Note that there are also two vintage cars within this lineup, and the extra add-on for all that storage in front of the first car. You can tell that this guy is taking his trailer setup to a whole new level, and we're highly impressed.
Bright Colors for an Even Brighter Invention
The color scheme is definitely one that will catch your eye, as it did the photographer's. Look at the creator of this contraption in the photo below. Sure looks like he's had his picture taken while driving his creation more than once!
We are all pleasantly surprised at how this Shasta was put together, improved and set out on the road. After all the work that must have gone into it, you can tell by the driver's smiling face that he is nothing short of proud of his creation! The color scheme was also perfectly selected, and this entire contraption is definitely something you don't want to miss.
Rigs such as these are almost never seen on the road, and it can be extremely difficult to have everything hooked up like this. However, this guy has it down-pat! Thankfully, there was a photographer on the road at the same time as him, to capture a couple of shots of this amazing creation.
Special thanks to Foster Hunter for capturing and sharing this amazing RV.
Thanks for reading and don't forget to comment and share below!