10 Pictures to Impress You: RV Trucks vs Semi Truck RVs
RV Decor & Unusual RVs
May 3rd, 2015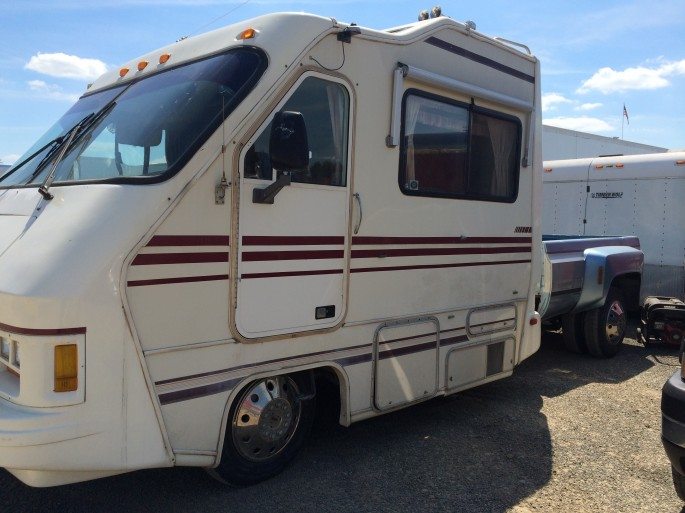 You want to be unique. You want your one-of-a-kind ride to stand out. In this age of DIY projects, many would-be manufacturers have taken it upon themselves to transform what began as one type of vehicle into another. Some people attach a pick-up truck bed onto the back of a cut sedan, creating a quasi-El Camino. Others go big. They choose to turn RVs into trucks, or trucks into RVs.
Whether monster RVs are your thing, or you prefer DIY trucks, these pictures are sure to get your motor running. You may be so impressed that you decide to try your hand at your own vehicle. Just make sure to do your friends the favor of sharing this, before you rush out to the garage.
Late '80's Sportscoach Class A RV Turned Truck
Considered possibly the strangest thing to hit the 2014 Specialty Equipment Marketing Association (SEMA) show, this was originally a late 1980's Sportscoach Class A RV.
Apparently, the motorhome was cut directly behind the door. The cut followed the shape of a factory produced fiberglass rear cap and was then molded back together.
 With the powerful pull of a diesel engine, these trucks can go just about anywhere. The air brakes improve safety, either while traveling through mountains, or just down the road.
Interior of Truck RVs
With a monster RV, you might envision that the interior leaves a bit to be desired. But with the additional space provided by trailers of this size, the sky is the limit.
Maybe you prefer a traditional style like the photo above. Perhaps, instead, you like a sleek and contemporary look, such as the following one.
Whether you want an open layout, or you like your space divided into multiple rooms for privacy, the trailers can be personalized to accommodate your preferences. Furthermore, companies like Showhauler are available to build them, from a large assortment of floor plans.
In Conclusion
When considering buying a semi and trailer, it is a good idea to look into what you need in order to remain in compliance with the law. For example, with a typical coach it is unnecessary, but with one of these, you may need to upgrade your driver's license. Also, large vehicles are prohibited in some areas.
Additionally, if you are planning to convert an RV into a truck, look into the requirements for ensuring that it is road-worthy, both to avoid getting a ticket and to remain safe.