Selecting the Best RV Covers – Read This Before Buying One
RV Owners
January 2nd, 2020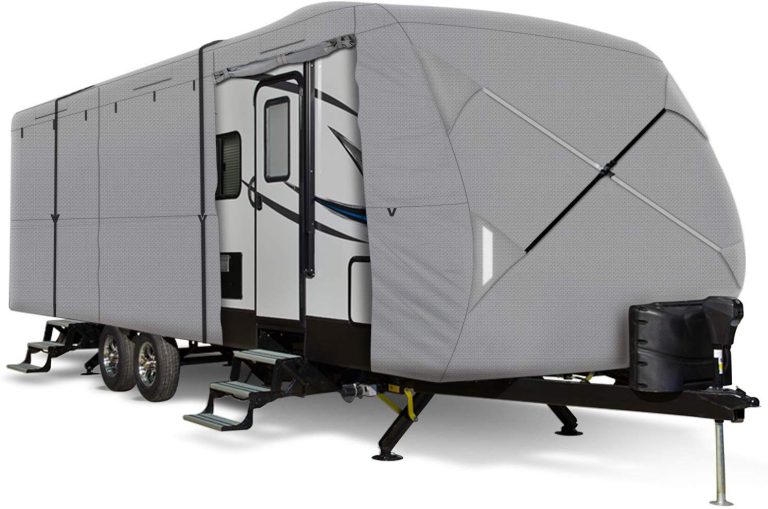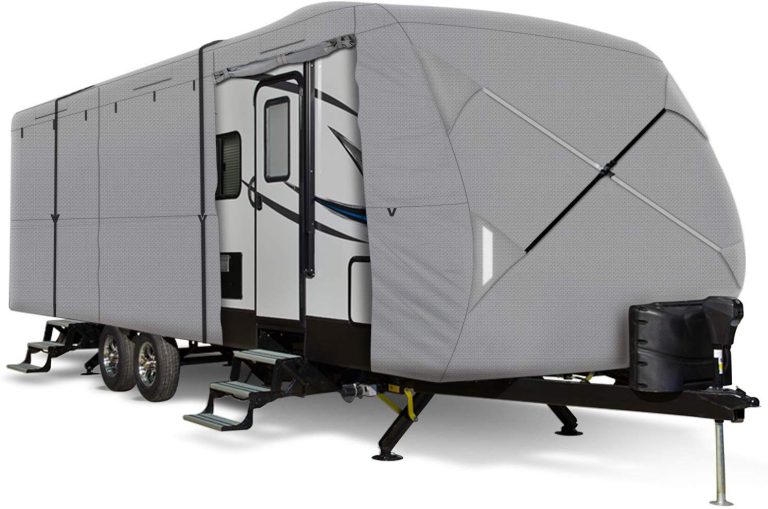 It's your worst nightmare: you're all set to head out on your next RV trip, but when you open the door to your rig, the interior is utterly ruined. What started as a tiny leak spread and spread until you had massive interior water damage, all you even knowing it was happening.
While this may be an extreme example, it's true that RVs are very susceptible to water damage — and RV covers are one of the best defenses against the elements. Using RV covers can help protect your investment between trips, especially if your rig is in outdoor storage; along with keeping everything watertight, they also help reduce UV damage and keep out pests and rodents.
However, it's not as simple as draping any old tarp over your RV! Searching for high-quality RV covers, and understanding their uses and risks, is a venture best taken on with a little bit more information.
Which is why you're here! In this post, we'll walk you through everything you need to know about RV covers, whether you're looking to protect your motorhome, travel trailer, 5th wheel or sleeper van.
Reasons People Buy RV Covers
If you put your RV in storage during the cold months and you don't have access to covered storage, an RV cover will almost certainly be a good investment. RV covers help protect RVs from all sorts of things and ensure you can hit the road in a good-looking rig as soon as the first warm spring weekend rolls around.
So, there are numerous reasons why some people would rather not even hear the words "RV" and "cover" in the same sentence. However, I believe a cover is essential because:
Sunlight
Sunlight is surprisingly damaging. UV rays can cause paint to fade and decals to peel. Additionally, if the sunlight can find its way into your rig it can fade the furniture inside.
Water
Probably the most damaging type of weather, precipitation should never be allowed to sneak into the walls and roof of your rig. Unfortunately, this happens more than you would think and will quickly cause dry rot and mold.
Wind
While normal winds probably won't do too much damage to an RV, strong winds can break outdoor plastic fixtures. On top of that, winds that are strong enough to pick up sand can cause issues as the sand is thrown against your RV.
Sap, Bird Droppings, Etc.
Nobody wants to wash sap, bird droppings, and other stubborn sticky things off the top and sides of their rig. Unfortunately, that's just what many RV owners find themselves doing when spring rolls around.
A good RV cover can protect against all of these things, meaning you can rest easy all winter long knowing your little home-on-wheels is safe and sound!
Save money on maintenance, and get yourself an RV cover.
What is the best RV cover?
Before you can figure out which is the best RV cover for your rig, you first need to understand what, exactly, an RV cover is and how it works.
RV covers are generally made from polypropylene or polyester. Varying methods of tripling-of-the-layers are used over the roof, for extra protection. The fabrics are treated with water or UV repellant. They are also able to breathe, so that moisture can evaporate and doesn't get caught under the cover, where it can trap mildew.
High-end custom RV covers have a tighter fit, and feature vents to prevent billowing. The cover is usually secured in place beneath the RV, with some covers having zips to allow access to the door. The better the quality, the lighter the cover will be, making it easier to handle. Custom covers are more expensive, but they provide better protection than universal fit covers.
We'll dive into some specific RV and motorhome covers below, which are popular at the time of this writing. That said, when you're looking for your own products, we always recommend reading reviews from other users — and RV cover reviews are no exception. You can learn a lot about the efficacy of an item by how others describe their experience using it!
Class A RV Covers
If you drive a Class A RV, you're going to need a large cover — one that's built for your rig's specific size and shape. Class A motorhome covers come in a wide variety of specific types and sizes, and may be graded for a certain range of RV lengths, like 34-37 feet.
Here are a few well-ranked Class A RV covers to choose from.
ADCO
ADCO manufactures both universal and custom-fit covers for RVs. They use various fabrics that stand the rigors of the outdoors.
While all of their products are high-quality, we especially like the Designer series of covers for Class A motorhomes, which features a slip stream strapping system to ensure the cover is nice and tight, as well as a light-reflecting top panel to keep your rig doubly protected against UV rays and also keeping the interior from heating up. (Plus, it doesn't hurt that they look cool, too!)
Eevelle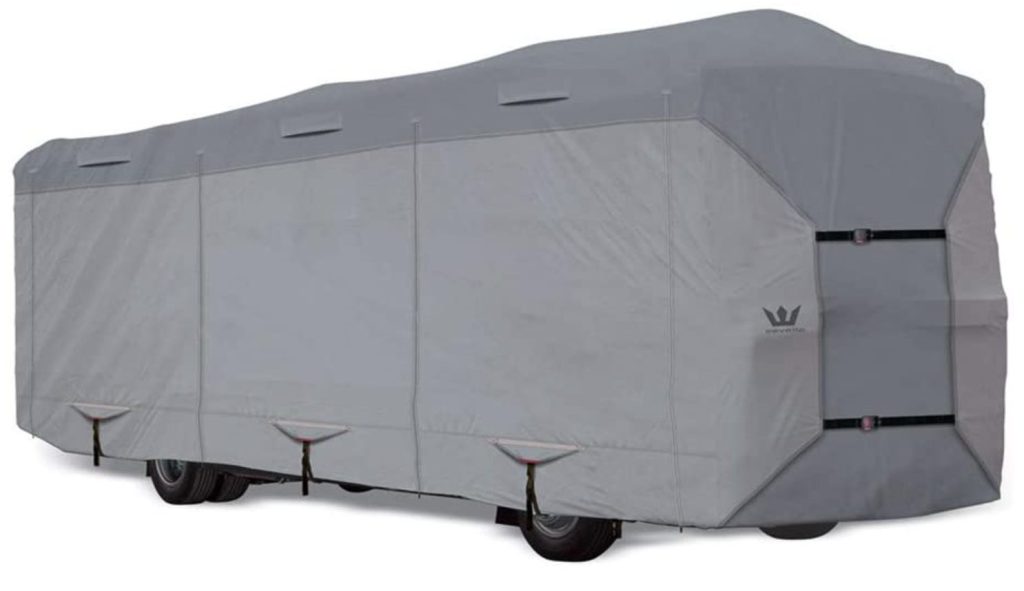 A well-designed set of covers featuring endurance roof straps and heavier duty side wall panel construction, Eevelle's S2 Expedition Class A motorhome covers are both breathable and protective. Entry points are accessible via zippered portals, and non-scratch zippers mean you don't have to worry about scratching your rig's finish when you're going in and out.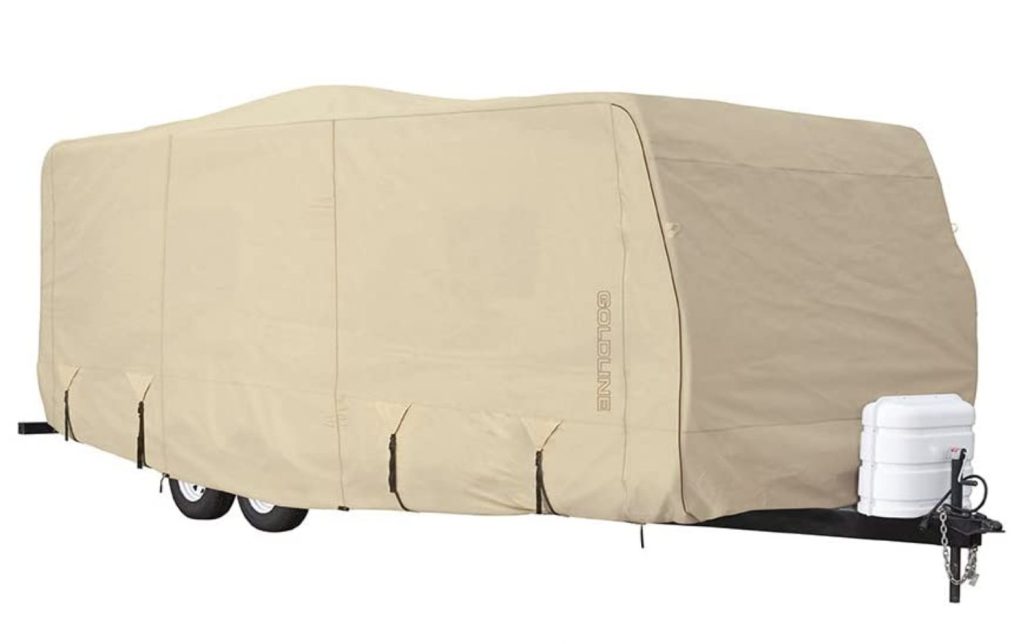 Eevelle also carries the Goldline series of Class A motorhome covers, which are the only RV covers on the market made from the super-durable 300D polyester material. They come in tan and gray and are available in sizes starting at 28 feet all the way through 46 feet.
Class B RV Covers
Just because your RV is smaller doesn't mean it doesn't deserve the same kind of respect and protection the big guys get! Here are some option for Class B motorhome covers.
CarsCover
A Class B motorhome is, in many ways, closer to a car than it is an RV. Its size and shape are much more like a street vehicle's than like a Class A rig.
CarsCover offers waterproof, weatherproof covers built for Class B motorhomes, high-top conversion vans, Sprinter vans, and other sleeper vans of up to 24 feet in length. A rear cinching system keeps the cover in place, and zippered panels allow you to easily access the van's doors if you need to get inside while it's in storage.
North East Harbor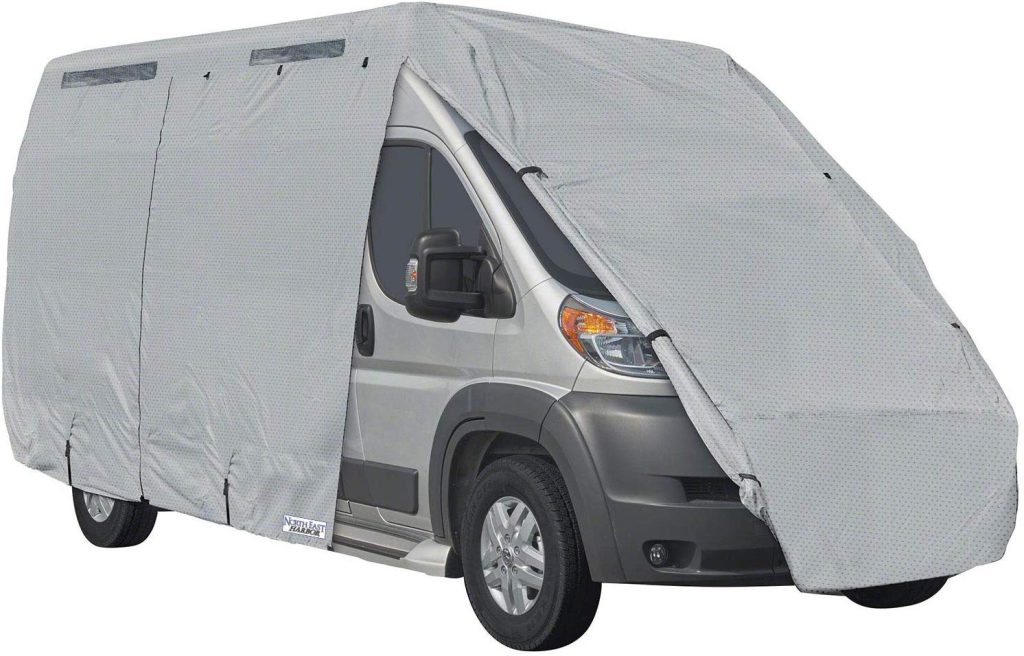 A high-quality RV cover doesn't have to be expensive! North East Harbor makes a Class B motorhome cover that costs less than $150 (at time of writing), while offering all-weather protection and breathability as well as zippered access to your rig. This cover is built to fit rigs of up to 20 feet in length, 7 feet in width and 8 feet in height — so if you're got a high-top conversion van, it might not be right for you.
Class C RV Covers
Class C motorhome really have it all: space, luxury, and a lower price point than their larger Class A brethren. However, with their unique shape, it's especially important that you purchase a cover specifically built for a Class C RV. Here are some of the best to choose from.
OOFIT
Fit is the most important factor in purchasing any RV cover — and especially if you're protecting a Class C. OOFIT offers high-quality covers that protect not only from water, weather, and UV rays, but also sand, bird droppings, snow and other potential hazards. A series of zippered panels allows you to access the RV's doors and storage compartments without taking off the whole cover, and fluorescent panels and zippers make it easy to use the cover even at night. Sizes range from 23 feet to 32 feet and prices range from $219.99-$319.99 on Amazon.
RV Masking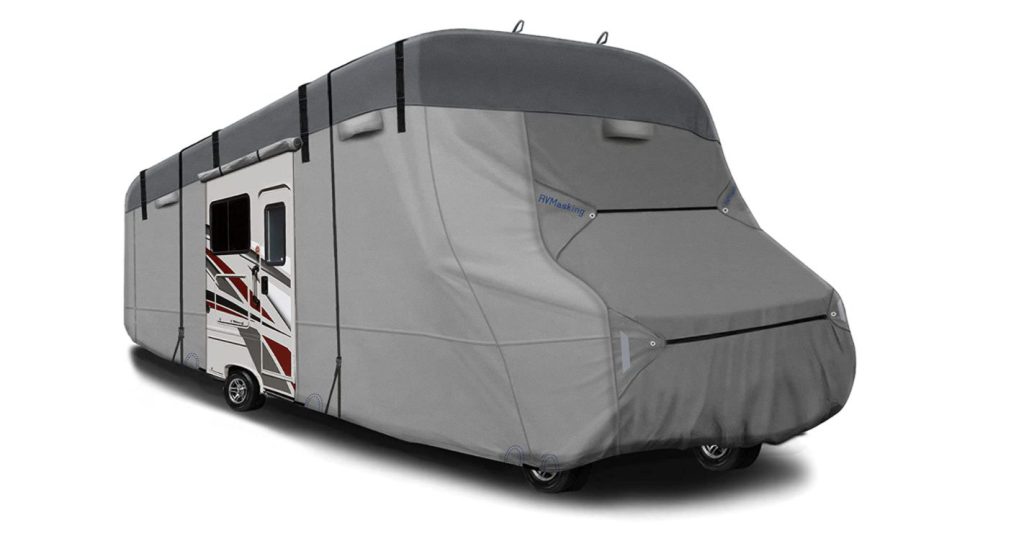 RV Masking offers an upgraded line of Class C covers that include six layers of fabric to help ensure your baby is safe and sound. These motorhome covers protect against rain, debris, UV rays and more, and the six air vents on either side prevent the cover from billowing and also keep moisture from developing against your RV's finish.
Rollable zippered doors make it easy to access the RV's interior and engine, and thick handles at the corners make installation a cinch. The product even comes with a 30-day money-back guarantee as well as a three-year replacement warranty, so you don't have to worry about what ifs.
Things to Consider Before Buying an RV Cover
When you're looking for your own products, we always recommend reading reviews from other users — and RV cover reviews are no exception. You can learn a lot about the efficacy of an item by how others describe their experience using it!
Even with the suggestions above, there are a whole lot more RV covers on the market to choose from! Here's what to keep in mind as you move through the process of shopping for yours.
You need to consider certain elements before purchasing a cover for your RV:
Look at covers for your type of RV. The cover for a camper or travel trailer is very different from that of a motorhome.
The correct size of cover will fit snugly over your RV. Measure your RV first, then go buy a corresponding cover. A larger cover than the size of your RV will be loose.
The material you pick for your cover should depend on climate. Where will your RV be stored? Some covers are meant for dust, while others are meant for snow.
RV Cover FAQs
Let's finish out this post with a few of your most frequently asked questions about RV covers — answered!
Are RV covers waterproof?
While the answer to this question technically depends on which product you buy, yes, high-quality RV covers are waterproof. In fact, that's one of their main attractions! Along with helping you prevent water damage inside your rig, RV covers also provide protection from UV rays, bird droppings, debris from trees and plants, dust, and other potentially messy substances.
Do RV covers cause mold?
This is a big question we hear often — because if there's mold or mildew build-up under your RV cover, it actually defeats the purpose of using an RV cover in the first place. (The point, after all, is to avoid damage!)
And the fact is, an RV cover can cause mold… but only if it's not well-ventilated or left on unsupervised for months and months on end. We recommend taking your RV cover off at least once a month or so, and also choosing a cover from a reliable manufacturer who builds in ventilation panels to help circumvent this problem. The covers listed in this post all feature breathable fabrics and ventilation solutions, but be sure to check the details on breathability for whatever cover you're interested in.
Do RV covers cause damage?
As mentioned above, when not used correctly, RV covers can cause damage — for instance, breaking roof components during the process of putting the cover on. But that's less a problem with the cover than a problem with the user! If you're patient in installing your RV cover, and ensure all excess parts (like, say, vent fans) are properly closed for storage, an RV cover shouldn't cause damage on its own.
Are RV covers for the roof only?
No! RV covers do protect your rig's roof, which is a serious part of your investment, to be sure. But they also guard the sides of your rig, and by virtue of protecting the exterior, they protect the interior — which, after all, is vulnerable to water damage as a direct result of exterior damages.
This post contains affiliate links. RVshare may receive compensation if you make a purchase after clicking on a product link.