Winter in a Scamp Trailer: One Amazing Woman's Story
RV Owners
April 9th, 2015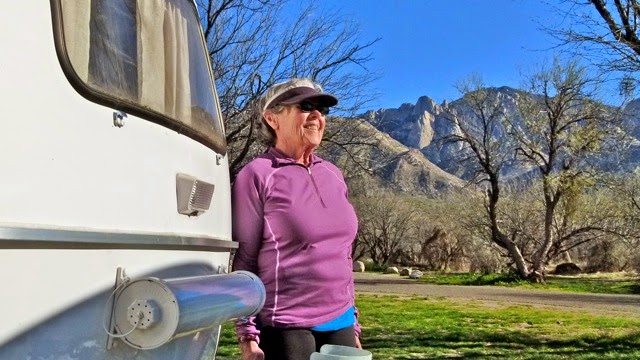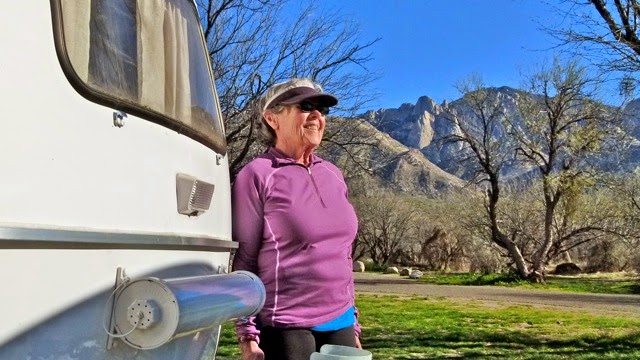 A Love of the Outdoors
Catherine Woods' life story starts out un-remarkably. However, seven decades later it is quite extraordinary indeed: camping out in her very own Scamp trailer all winter long.
Woods grew up in the central New York city of Syracuse, where as a child, she loved camping in the beautiful Adirondacks. After getting married in the 1960s, she and her husband took an unconventional, but thoroughly enjoyable camping trip for their honeymoon. That, however, was more or less the end of their overnight camping days.
Woods and her husband settled in a small town in New York's Finger Lakes region, where she worked as a registered nurse and they raised a family. Though they always enjoyed outdoor activities like hiking, Woods quietly missed the simple joys of spending the night under the stars.
When Woods and her husband divorced after 30 years of marriage, she rediscovered camping: first going on group excursions, then forging out on her own. She worked as a camp nurse in Georgia for five years, then packed up and headed west, tent and camping gear in tow.
After settling in Asheville, North Carolina in 2001 to be closer to one of her daughters, Woods was able to provide her nursing services during the winter and spend the summers tent camping in Jackson Hole, Wyoming. However, camping only during the warmer months wasn't satisfying her outdoor adventure itch, and last year, Woods decided to try winter camping. Of course, that brought about its own set of unique challenges. 
Contending With the Elements
While there are some hale and hearty individuals who enjoy the rush and challenges of tent camping in chilly temperatures, Woods knew that she couldn't do it all winter long. She is a single woman, and she isn't exactly young (she's almost 75!), though she is definitely young at heart. Sleeping in a tent all winter, even in Asheville, was out of the question. She knew that a large RV, while practical for couples and families, was too much for just her. She needed a solution that would allow her to do what she loved without breaking the bank—or her back.
Trailing It!
Woods figured she needed a trailer. So, she did lots of first-hand research, asked lots of questions to RVers and examined all her options. She wanted to make an informed choice about purchasing her camping gear, as she wished to purchase something of high-quality that would last a long time. After a lot of looking around, she settled on a brand-new, 13-foot, American-made Scamp trailer. It's a fiberglass trailer that she could easily pull with her rugged Subaru. It's small enough for her to handle on her own, yet it offers loads of creature comforts and amenities.
She now has a bed, a gas stove, enough storage for her things and more. Even better, she has the freedom to go where she wants and when she wants: a truly invaluable thing to possess.
A Successful First Season
Having just finished her first winter in her Scamp trailer, Woods feels like it all went well. Of course, nothing is perfect and she knows she made a few mis-steps. However, Woods knew she was up for the challenge and she doesn't regret a thing. She explains, "It has been a challenge, but I've always liked being challenged and I think it is necessary for keeping a vibrant lifestyle. I never had had an RV, nor had I ever pulled a trailer, but I thought it must be in me to do it."
Clearly, Woods is upbeat, loving life and taking it all in stride. She continues, "I feel so well and mostly free of fear when I am out on the road." Based on how well things went over the past few months, one can only expect that she'll continue her winter Scamp camping adventures when the weather starts to turn cold once more.
An Inspiration to Others?
It will definitely be fun to see if there are more stories like Woods' in the coming years: single people, free of the things that hold most of us down, packing up in a camper and living a carefree life. With Woods' amazing can-do attitude and contagious sense of adventure, there must be other people—especially some who are getting up there in years—who find inspiration in her story.
Will Scamp trailers see an uptick in sales, especially among the senior citizen set? Will there be more folks with campers in town or helming RVs? Time will tell, of course, but we wouldn't be surprised if there were at least a few who challenge themselves the way Catherine Woods has challenged herself.