Travel Inspiration
March 29th, 2021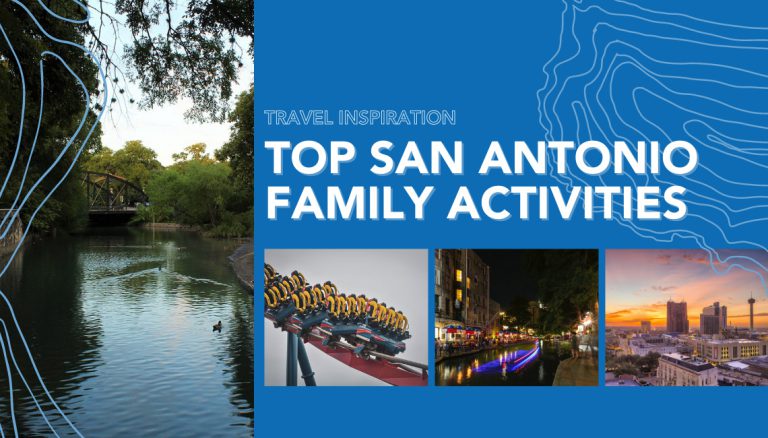 San Antonio is a fantastic city filled with history, culture, and plenty of things to see and do. We highly recommend vacationing in this amazing place in order to soak in all the area has to offer. Not only that, we also encourage you to bring the kids along!
That's right, San Antonio is an excellent family vacation destination that every family should experience at least once. If you're looking for a place to visit this vacation season, this could definitely be an excellent pick.
Not sure where to find family fun in San Antonio once you arrive? Fortunately, things to do in San Antonio with kids can be found around every corner. Below we've listed some of our favorites to help you narrow down your options and make the best choice for you and your kids. (And you find more ideas, such as restaurants and parks in our San Antonio local guide!)
San Antonio Riverwalk
A San Antonio must-do, the San Antonio Riverwalk isn't usually what jumps to mind when trying to think of things to do with kids. That said, a visit to this fun spot can absolutely be a fun time for the whole family.
Stroll along the canal, do some souvenir shopping, and enjoy a meal at one of the many restaurants. If you have extra time you can even take a boat ride along the water, taking in the sights and learning some things as you go.
The Alamo
The Alamo is another important thing to see while in the area and is one of the top family activities in San Antonio. This amazing historic site has a fascinating story to share. The exhibits and displays inside the old mission and fort do an excellent job of telling that story.
Best of all, this popular attraction is 100% free, making it an ideal place to visit if you're on a budget and want a fun way to fill some time while also educating yourself.
San Antonio Missions National Historical Park
If you enjoy the Alamo, chances are you'll also enjoy a visit to San Antonio Missions National Historical Park. This park is run by the National Parks Service and features four wonderfully preserved missions. These missions were built nearly 300 years ago and are chock-full of amazing Texas history just waiting to be uncovered.
While visiting this park, be sure to ask a ranger about the Junior Ranger program. This is an excellent way to get the kids excited about your visit.
Natural Bridge Caverns
Exploring caverns is always an exciting experience. Why not give your children a chance to do some cave exploring of their own at Natural Bridge Caverns?
This attraction features two distinct cave systems which guests are invited to tour. Additionally, visitors can choose to give the awesome ropes course a try, catch some thrills on the zipline, or even mine for fossils. This is definitely a place the whole family can enjoy together while making some awesome memories.
Six Flags San Antonio
If theme park fun is up your alley, you'll be happy to learn that San Antonio has its fair share of amusement parks. One of the most popular of these is Six Flags San Antonio.
This park is the place to go for thrill rides, and is especially appealing to those teens and adults who enjoy a little adrenaline boost. That said, there are plenty of smaller, tamer rides for the younger set and for those who are feeling a little less brave.
Morgan's Wonderland
Need an amusement park that caters to people of all abilities? This is where Morgan's Wonderland comes into play.
This spectacular park was made specifically for kids with special needs, and the park and the people in it cater to each child based on what they need in order to have a good time. From accessible rides and attractions to high-quality entertainment with a focus on inclusiveness, there is truly something here for everyone. This is an ideal family vacation destination.
SeaWorld San Antonio
Want even more amusement park adventures during your time in San Antonio? SeaWorld is an excellent place to go for a splashing good time.
Here, you can get up close and personal with some of the most fascinating creatures of the deep. You'll learn about them, befriend them, and watch them do incredible stunts. Thrill rides are available in abundance, and rides for smaller kids can be found alongside fun shows and meet-and-greets in Sesame Street Bay of Play.
Aquatica San Antonio
The last amusement park on our list is Aquatica San Antonio, SeaWorld's water park. This wonderful park is the perfect place to cool off when the Texas summer heat sets in. Guests can choose to enjoy time on the slides or float along the lazy river. Other popular activities include sunbathing on the beautiful in-park beaches and checking out the fish in the underwater grotto.
Whatever you decide to do, you're sure to have an excellent time at Aquatica!
Brackenridge Park
Easily the best park in the city, we highly recommend a visit to Brackenridge Park. This park includes some awesome trails as well as some fantastic picnic spots. A train ride and playgrounds keep the kids entertained, and various opportunities for sports will appease the active teens and adults.
Of course, everyone will enjoy the numerous attractions located in the park, including the zoo and tea garden mentioned below.
San Antonio Zoo
Located in the aforementioned Brackenridge Park, the San Antonio Zoo is a great place to spend a day with your family. This 35-acre zoo features over 700 species, meaning you're sure to see something amazing during your visit.
Take a behind-the-scenes tour for an extra special experience, pay a visit to Kiddie Park for some ride fun, or spend some time in the brand new Dragon Forest and soak up some magic.
Japanese Tea Garden
Another Brackenridge Park attraction, San Antonio's Japanese Tea Garden offers a relaxing place to take a stroll and do a bit of thinking. It's a great place to wind down after an exciting day at the park, and kids love to explore the flora found within the garden.
San Antonio Botanical Garden
Looking for more garden fun? The San Antonio Botanical Garden is an excellent place to fill some time with plant exploration. The 33-acre garden is enormous, meaning one could easily spend an entire day here. Additionally, the plants found in the garden are beautiful and often unusual enough to convince you to pause and observe them closely.
Kids especially love the Family Adventure Garden where they're encouraged to run, jump, and play in the beauty of gorgeous greenery. All this while learning about ecology and environmental stewardship.
The DoSeum
Finally, there is the DoSeum. This amazing children's museum is an awesome place for kids to learn through hands-on play. Whether your little ones prefer building new things, playing pretend, experimenting with light, or outdoor play, they are sure to adore this amazing play space. Here you'll find endless opportunities for exploration and discovery.
Now that you have a better idea about the fun family activities to do in San Antonio, it's time to do the rest of your vacation planning. Wondering where to stay? San Antonio is a great city to visit via RV. Not only that, there are tons of rental RVs available in the area. Find one that works for your family and get ready for the vacation of a lifetime in the Lone Star State.