Travel Inspiration
June 11th, 2015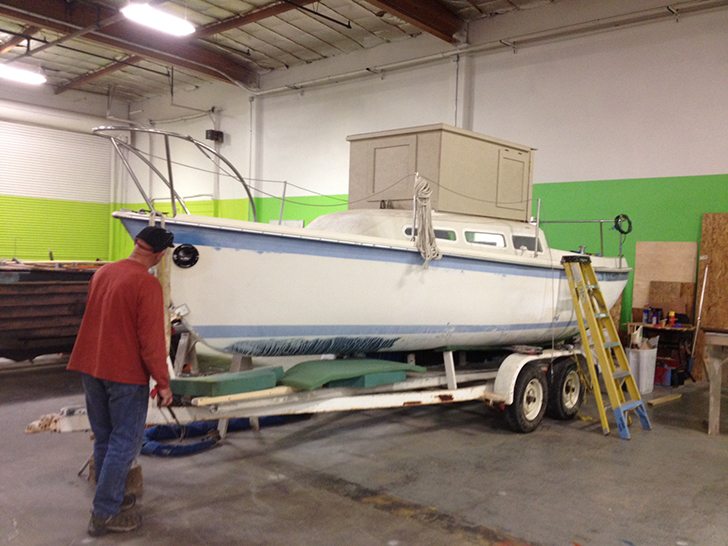 Mark Herbet is no stranger to the Burning Man festival in Black Rock, Nevada. He's been going for 13 years, and in past years has worked on such creations as the Library of Babal and Temple of Transition.
This year he's got a brand new idea. A sailboat turned RV! 
Thousands of Burning Man attendees drive, tow, and construct various structures for the week long event. With high winds, lots of dust, and scorching desert temperatures, these permanent houses need to be able to withstand a lot. Why not a 1972 Coronado fishing boat on a trailer?
Mark recently told his story to Christina Nellemann on the website Do It Yourself RV.com
Mark says, "The sailboat is the perfect camping vehicle…. it's waterproof and self contained and keeps you up out of the dirt."
Mark has named the RV Boat Double Bed. His girlfriend already said she wouldn't sleep in it if it didn't have one. Smart woman. He will keep the V-berth pictured below as is, adding a double size mattress to make a cozy sleeping area. Ventilation into the sleeping area is aided by a set of wooden louvered doors that he bought second hand. He also has plans to create an area in the saloon tall enough for standing, and to add plenty of clothing storage space for all those crazy outfits Burning Man attendees are known for.
Mark's custom RV/boat will not have a separate kitchen space, but it will have a camping stove and an ice chest full of dry ice for food storage. There is enough room in the hutches under the cockpit benches to hold the ice chest and plenty of food.
Christina Nellemann/ doityourselfrv.com
Mark hopes to spend no more than $1,200 on this project.
What do you think? Is the RV/Boat an amazing creation? Would you take on a project like this? Tell us your thoughts in the comments section below.
Source: Doityourselfrv.com
Photos: Christina Nellemann