Top 5 Reasons To Start a RV Business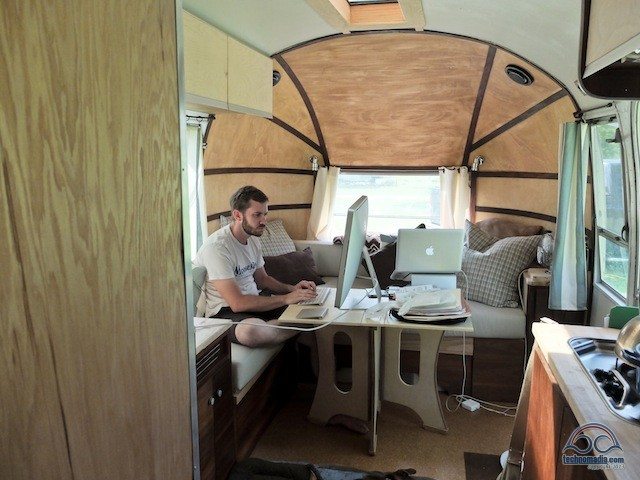 If the only thing keeping you from full time RVing is a lack of work, then this article is for you! Today there are hundreds of opportunities to work without ever having to leave your rig.
Here are my Top 5 Reasons to Start a Business From Your RV:

1. Join The Club
If you decide to start a business from your RV you'll be in good company. Today, RV business is hip. Whether you want to open a jewelry shop, clothing store, or tattoo parlor, an RV makes the perfect "showcase."  Many entrepreneurs are converting RVs into portable shops on wheels.
Would you rather work online?
No problem. An RV could be your private office, allowing you to open a freelance business. Websites like: Real Ways To Earn offer tons of freelance opportunities that you can do from the comfort of your own rig. All you need is a laptop, a cell phone and a strong internet connection, and you could be up and running in no time flat.
2. Work From Anywhere and Everywhere
Believe it or not, a traveling business may offer more opportunities than a regular brick and mortar store. With an RV business, you travel where the people are. During tourist season you can set up shop near the beach. During the holidays you can park near Santa's station. Wherever there are people, there is an opportunity to sell your product. If one market isn't good, don't worry. You can drive somewhere else!  Mobility brings a ton of advantages for people who are willing to embrace it.
Here are a just a few RV businesses that have been successfully run from RVs:
Beauty Shop
Clothing Boutique
Architecture Office
Landscape Design Consultant
Tea Party/Event Catering
Antique Shop
Embroidery Shop
Alterations and Design
3. Affordable Start Up
Updating your trailer or RV into a place of business will save you thousands compared to a traditional office remodel. Why spend money when you don't have to? Use the space you already own and customize your office, shop, or food stand. An RV offers unlimited startup potential. Don't own an RV? What's stopping you? There are literally thousands of great used RV's waiting for someone with vision. If you already have a truck consider, converting a travel trailer or fifth wheel. No truck? Then choose a Class A Motorhome for your new business endeavor. Remember, always hire an expert to inspect a potential used RV BEFORE you buy it for conversion. Your goal is to save money, not waste it!
4. Variety Is The Spice Of Life
Alright, here's where the rubber meets the road. You want to know WHAT KIND of RV businesses you can run, right? Here are just a few of the hundreds of ideas available:
Marketing, Sales and Promotion
Book Keeping
Collectible Dealer
RV or Auto Detailing

Business Consultant

Online Teacher

Computer Programmer

Transcriptionist

Proofreader

Website Developer

Kitchen Sales

Beauty Sales

Online Book Vendor

Technical Support

Catering

Beauty or Massage Specialist

Direct Sales Representative

RV Inspection and Repair

Jewelry Design

Clothing Design

Film Maker

Dog Walker

Freelance Author
5. Free Advertising
Imagine driving a HUGE BILLBOARD around town. Your RV business will be hard to miss when it's plastered all over  alrge moving vehicle. Today, advertising costs are at a premium. You can be sure that using your RV as a large, roaming sign is worth a bundle. Companies like Jelly Belly and Sees Candy have their own rigs to promote their products. When an RV covered in jelly beans rolls up…you can't help but notice.
Still not convinced you want to open an RV business? That's OK. There are plenty of mobile businesses that hire, IF you own an RV and are willing to travel. Here are just a few:
Work Camper
KOA
Gas Line Technician
Amazon – Holiday Help
Sugar Beet Harvest
Property Care Taking
Mobile Welding
Fire Line Cook or Camp Manager
Feeling inspired? What type of business would you like to run from your RV? Tell us in the comments below! Looking for more information? Just ask! We want to hear from you.
Please share this article with your friends. You can tweet it, pin it, like it or email it. We love hearing from you and reading your AWESOME ideas.