Towing
September 11th, 2019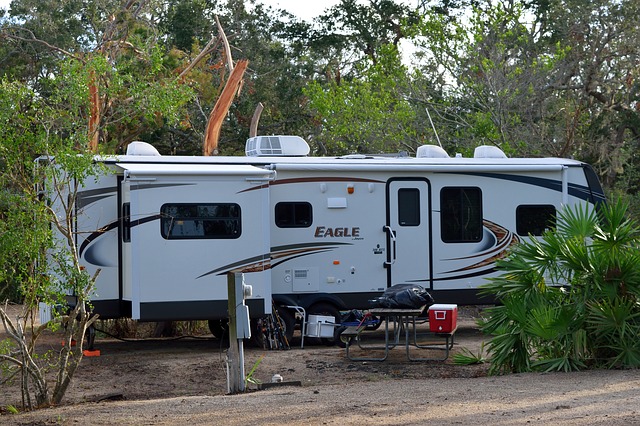 Once you've arrived at your destination, parked your RV, and set up camp, you'll likely want a car to get around the area. You won't want to pack up camp every time you need to run to the store, or whenever you want to head to town for a meal, or when you're heading out for a day of adventure. For all those things, you'll want an RV towing car. 
There are a few different options for RV car towing systems.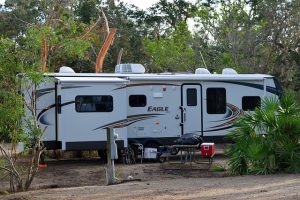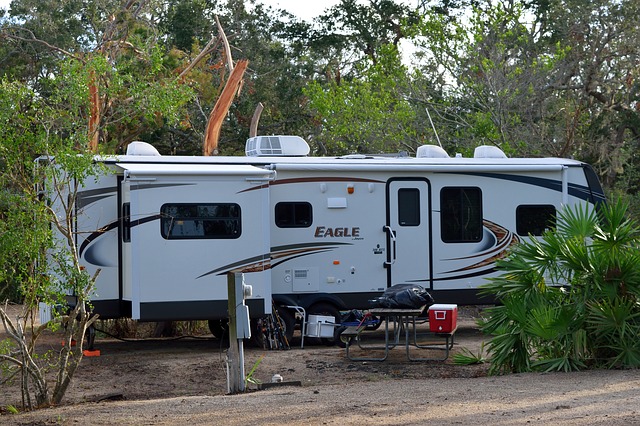 4 wheels down towing
Towing your car 4 wheels down can be called all sorts of fun names – toading, dinghy towing, or flat towing – and it has several advantages. It has very little impact on your gas mileage or on the wear and tear of your RV. You can also detach the vehicle quickly and head on your way. It's much easier to do with vehicles that have a manual transmission, however. 
You do want to check your manufacturer's policy to be sure your vehicle is capable of being towed four-down. It can cause severe transmission problems if parts of your car aren't properly lubricated. You can use aftermarket accessories to prevent damage – things like free-wheeling hubs for vehicles with front-wheel drive, a driveshaft-disconnect device, or a cable-operated driveshaft-disconnect device for rear-wheel drive vehicles. However, these devices are expensive, and if they're not installed correctly you can damage your vehicle and void the warranty. You may also need an auxiliary brake kit for your tow car – several states require them and they're a good idea, even when driving in states that don't.
The good news is that there are plenty of vehicles that can be towed without modifications – Jeeps and many Fords, Dodges, Chevys, and Hondas can be towed this way. Be sure to ask the dealer about whether the vehicle you're considering can be towed. Also, consider the RV towing capacity of your vehicle – you don't want a tow car that is too big for your rig!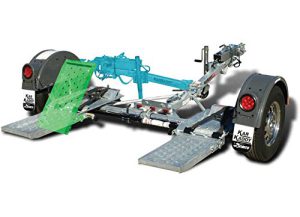 RV towing equipment
If you can't tow your car 4-down, you'll need another kind of RV car towing equipment. RV towing accessories like a tow dolly or trailer are your best bet. With a trailer or dolly, you can tow just about any kind of vehicle behind your rig – assuming, of course, that it doesn't exceed your RV towing capacity. There are a few things to remember, however. 
You'll need space to store your

dolly

or trailer when you're not using it. 

Some states require you to have a special license if you're going to tow a dolly. 

Also, when you're calculating your RV towing capacity, don't forget to factor in the weight of the dolly or trailer. They can run between 500-1500 extra pounds, meaning you're likely towing an extra 4,000 pounds or so. Even if this is within your RV towing capacity, it's important to remember that it will affect your speed and gas mileage. 

You'll need to connect brake lights, clearance lights, and stop lights to the dolly. 

You'll need on-board brakes for your tow dolly as well, and will need to make sure they're maintained. In fact, you'll need to do regular maintenance on the frame, wheels, and tires of your dolly.

It usually takes two people to move the tow dolly out of the way so you can drive your car after your rig is parked.

You'll need two sets of safety cables – one to attach the dolly to the vehicle and one to attach the dolly to the coach. 
Buying a tow vehicle
It can be more challenging these days to find a vehicle with a manual transmission, as manufacturers and customers seem to be veering more towards automatic vehicles. Do some careful research before purchasing a car that can be towed 4-down. Also, consider your needs while traveling – do you have a large family and need a larger vehicle? Will you be four-wheeling and need 4wd? Will you be bringing pets along? Think about how you'll be using your vehicle before you purchase one. Look over the owner's manuals or do online research if you can ahead of time. 
It's very convenient to have a smaller set of wheels to head to town or take a scenic drive after you've parked your RV. With a little thought, you can be sure to choose the tow car that's just right for you…and for your rig.
This post may contain affiliate links.