RV Owners
February 18th, 2020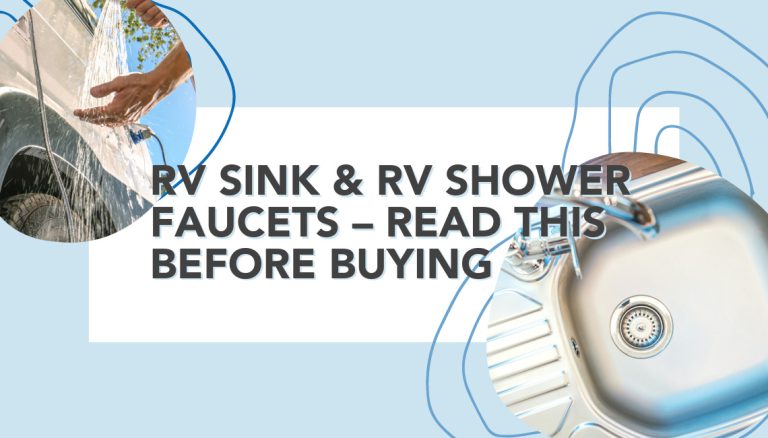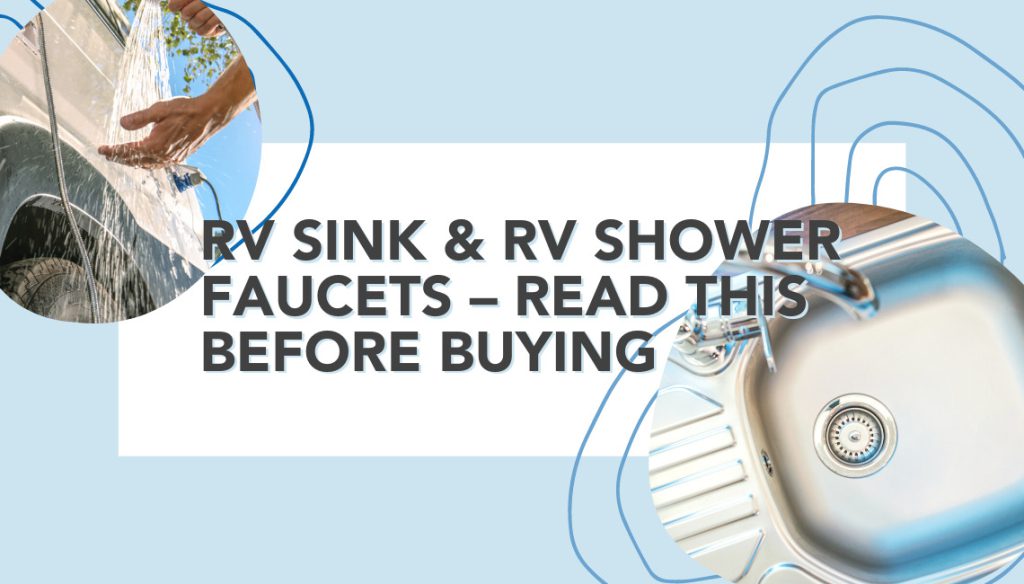 When you buy a travel trailer or motorhome, chances are one of the things you're most looking forward
to is being able to literally travel with everything, INCLUDING the kitchen sink.
But camper sinks and faucets aren't exactly the same as the ones you're used to in your sticks-and-bricks homes. These specially-made versions of everyday appliances make it possible for you to get fresh water delivered to your kitchen, bathroom, and shower, and making sure they're of high quality and in good working order can make or break your camping trip. (That said, many regular sinks can be retrofitted to work with an RV, and may be of higher quality and make your rig feel that much more homey and comfy.)
If you're in the market for an RV sink replacement, or just looking to learn as much as possible about this easily-overlooked piece of camper equipment, read on. In this post, we'll cover everything you need to know about RV and travel trailer sinks and faucets, including the different types available and what to look for while you're shopping.
RV Sinks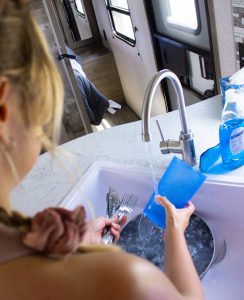 So, what makes an RV sink different from a regular sink, anyway? How can you decide what type you need?
RV sinks are specially made to work with the RV's plumbing system, which utilizes PVC or flexible pipelines rather than rigid metal pipes you might find in some buildings. RV sinks may also be sized differently to accommodate the smaller living quarters of a travel trailer or motorhome, or shaped to fit specifically in the truncated space of your rig. For instance, RV corner sinks are small and can fit perfectly in an RV bathroom, providing just enough room to wash your hands without eating up too much of the space you need to do the rest of your business.
Figuring out what kind of RV sink you need starts with knowing what's out there. In the next section, we'll cover the different types on the market, so you can assess which appeals most to you while also being achievable at your budget.
Types of RV Sinks
RV sinks come in a wide array of sizes and types but can be pared down into a few distinct categories based on the material they're made of. Some of the most common RV sink types include:
Plastic
Acrylic
Stainless Steel
Solid Surface
If you'd like to upgrade your RV from the cheap feel of a camper, start by replacing the plastic sinks that come as the standard in some entry-level models. Plastic sinks are usually located in inexpensive RV interiors. Plastic RV sinks range from about $12.00 – $30.00 USD depending on the style and size. This is a great place to spend a little extra to enhance your space without a lot of hassle. Plastic sinks are lightweight and inexpensive. If you don't mind having a plastic sink, you can buy a new one that is free from cracks, dings, and stains for under $20. (And that is $20 well spent!)  It's a great way to update a used trailer.
Stainless steel RV sinks provide an easy-to-clean sink option. Stainless sinks are easy to sanitize and are available in a variety of shapes and sizes. You can choose from single or double sinks, squared or rounded shapes, or a corner-style.
Stainless steel sinks use metals, such as nickel, to protect against the elements. These sinks are stain-resistant but can scratch and (may on occasion) dent. Many RV owners enjoy stainless steel RV sinks because they are easy to polish and keep shiny. They also provide a true residential feel at an affordable price. MSRP on stainless steel RV sinks ranges from $40 to $150 or more depending on the size and style. Stainless steel sinks should be cared for using a specialized stainless cleaner. Be sure to check the ingredients of the cleanser and make sure they are safe for your gray tanks!
Acrylic RV sinks simulate solid surfaces and are a step above the plastic-type. Acrylic sinks are heat-molded and backed with fiberglass. They come in tons of colors and provide protection from chipping. Dings can be easily repaired as the sinks are the same color all the way through. An acrylic RV sink will resist stains in most situations. Prices on Acrylic RV sinks range from $40 to $150 or more depending on the size and style.
Solid surface sinks make you feel right at home. They are an upscale option that became more and more popular in recent years. A solid-surface means the sink is chemically-bonded to create a smooth, unified, one-piece look. You avoid grout lines and areas where bacteria and mold can gather. A solid-surface RV sink features consistent patterns or colors such as stone, granite, or quartz style. These sinks are easy-to-clean and resist penetration and stains. Solid surface sinks provide an upscale look and feel for your RV. Prices range from $75.00 to $500 and remember, these sinks need professional installation.
Questions to Ask Before an RV Sink
Purchase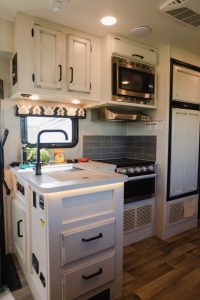 Replacing an RV sink can be a quick and easy way to make an appreciable upgrade — but if you don't need a new RV sink, it's not necessarily a great use of your money. Here are some questions to ask yourself before you decide if you need a new travel trailer sink, and possibly a faucet, or not.
What type of sinks does your RV currently have?
Are your sinks discolored, stained, or chipped?  
Are your sinks big enough for your needs?               

Do you have built-in

 sink covers? Do you want them?                                                                                     
What is the condition of the RV shower faucet? 
Does your RV shower faucet drip?                           
What is the condition of the RV shower faucet?  
Does your RV shower faucet drip?
By assessing the answers to these questions, you'll be better situated to figure out whether or not you actually need to purchase a new RV sink.
And if you decide you do want to… well, read on.
Where to Buy RV Sinks From
RV sinks are available from a wide range of vendors, including specialty camping stores as well as online shopping venues like Amazon. We recommend shopping around in several locations while searching for your RV sink because that will give you the best chance of finding a great sink at a great price.
RV Sinks: FAQ
Before we move on to the portion of our article about RV faucets, let's answer some of the most frequently asked questions about RV sinks.
Can you put a regular sink in an RV?
Yes, you can! So long as the sink you're looking at fits the dimensions of the sink you want to replace in your RV, any sink will work with your RV's plumbing system.
Is an RV faucet the same as a house faucet?
Well, not quite… after all, they're in RVs, not houses! 😉
In all seriousness, the faucets pre-installed on some entry-level travel trailers and RVs are different from house faucets in that they're made of plastic rather than metal. But as with the sinks themselves, you can retrofit house faucets to work with your RV sink fittings.
What are RV sinks made of?
As discussed above, RV sinks are made from a wide variety of materials, including plastic, stainless steel, and acrylic.
How do you measure a sink in an RV?
You'll need to know the length, width, and depth of your old RV sink in order to ensure the new sink you purchase will fit well in the same cavity.
RV Faucets
Once you've got your new RV sink installed, you probably need a new camp sink faucet to go with it! You don't want to pair your fancy new acrylic or stainless steel sink with the same old white plastic faucet you were using beforehand.
And when it comes to RV shower faucets or showerheads, an upgrade could mean the difference between a so-so shower and a to-die-for one. Here's some more information to help you choose your next RV faucet replacement.
Types of RV Faucets
Like the sinks themselves, nearly any faucet can be retrofitted to work with your camper — though you'll probably want to choose something that's lightweight, easy-to-clean, and dependable. Keep in mind that your RV sink may have single or double-hole construction, and be sure to choose a faucet that matches your needs. (You can even get one of those fancy kitchen faucets with the pull-out attachment!)
Now, let's move on to RV shower faucets. RV shower faucets are a simple upgrade that almost anyone can change. Why is this such a popular item to replace? The truth is, most RV manufacturers skimp in the shower, knowing the new owner will most likely customize. Older showerheads may drip, rot or split early in the rig's life. Most are plastic with little-to-no pressure. The good news is, there are some affordable, easy-install options.
One of the most beloved RV shower faucet options is the Oxygenics and Dura Faucet. People love these things. (Read the reviews!) They increase your water pressure while at the same time using less water. (When dry camping or boondocking, water conservation is key!) When replacing your RV shower faucet, be sure to upgrade your water pressure regulator to be able to handle 85 psi. Without a good water pressure regulator (where you hook up to water) it's impossible to have a good water flow.
Where to Buy RV Faucets From
Just like RV sinks, RV faucets are available from both in-person and online vendors. Shop around to ensure you find something that fits your needs for design, utility, and budget!
RV Faucets: FAQ
Let's finish out this article with some answers to the most frequently asked questions about RV faucets.
Are RV faucets different?
The faucets that come standard with an entry-level RV are different from a house faucet in that they're usually made of cheaper materials (i.e., plastic). However, you can retrofit a normal faucet to be used with your RV sink so long as it fits.
Are RV faucets standard size?
In most cases, yes, RV faucets are the standard size and the holes will translate from "normal" plumbing equipment. That said, if you're traveling in a tiny trailer or another small motorhome, you might want to double-check just to ensure you don't accidentally purchase something that won't work.
How to replace an RV sink faucet
While you'll always want to consult any user guides or literature that come with your specific sink and faucet, there are plenty of great tutorials on YouTube teaching people how to replace their equipment. Here's a good one we found embedded below… and just like we said above, he uses an Oxygenics shower head!
 Psst: Your RV sink and faucet are super-important pieces of equipment, but they're not the only parts and accessories that can make or break your camping trip! Click here to browse our parts and accessories blog category for a full discussion of everything from water pressure regulators to pull-out sleeper sofas.
Happy camping!
This post may contain affiliate links.