RV Owners
Last updated on November 29th, 2022. Originally published on July 27th, 2017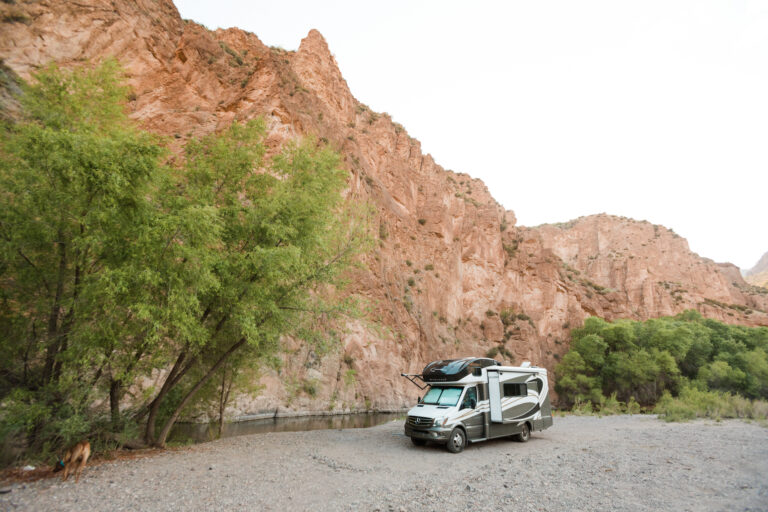 So, you finally made the decision. You want to see the world — and you're going to take the time and make the effort to do it.
Good on you! So many people have grand intentions of traveling that they never get around to. But once you committed to your wanderlust, you may have discovered why some folks get too hung up to ever get around to it.
The logistics of globetrotting aren't always actually all that simple. First of all, you have to figure out where in the world you're going to go — not to mention how you're going to get there (let alone afford it).
Plus, there's the challenge of figuring out what to do with all the "stuff" that can so easily keep us anchored. Maybe you have a family and a career, or even literal things — your home, car, impressive book collection — all of which can make traveling that much more complex.
Well, all of that's why we love RVing so much. Camping in a trailer is a great way to compromise between your longing to see the world and your wish to do it while surrounded by the literal comforts of home. In an RV, you don't have to give up your pets or your wardrobe. You can simply pile everything in and bring it along for the ride!
But new RVers are often unaware of some of the basic RV accessories and supplies you'll need to ensure your travels are safe, comfortable, and fun. After all, no matter how many trips you take by airplane or train, you've probably never had to pack a sewer hose before.
"Alright then," you might be thinking. "What do I need for my new travel trailer?
Don't worry. We're going to walk you through the list of easily-forgotten items what every RV camper needs.
Basic Needs for RV Camping
Although some items on this list are negotiable and will depend on your personal travel style and preferences, there are a few RV gadgets, parts, and camping supplies that absolutely need to be on your first time RV owner checklist.
1. Potable Water Hose
Did you know that not all hoses are created equally?
If you don't want to impart funky odors and flavors into your RV's fresh water supply, you need to get your hands on a certified potable water hose. Luckily, they're easy to spot because they're always white in color!
2. Extra Potable Water
Even if you routinely camp in resorts with hookups, it's always a good idea to keep extra drinkable water aboard. It can help extend your boondocking stays, and you'll be grateful for it in case of an emergency. Consider a stainless steel water bottle for durability and keeping your water cool.
3. Leveling Blocks
Unless you relish sleeping on a slanted surface (or if your rig is fancy enough to have its own automatic leveling system), leveling blocks are an absolute must. In fact, running your RV refrigerator on an unlevel surface can cause it to have mechanical issues!
4. Sewer Hose & Supports
If you ever want to empty your RV's wastewater tanks (spoiler alert: you're going to), you've gotta have the right supplies to get the job done. That means a sturdy sewer hose, and, if you'll be camping with a sewer hookup, hose supports to help keep everything flowing nicely.
5. RV Toilet Chemicals
These chemicals help minimize odors and break down solid wastes in your RV's blackwater holding tank. And if you aren't sure what that means, trust us: It's a very, very important job.
6. RV-Friendly Toilet Paper
Regular toilet paper can easily gum up your RV's delicate sewer system, resulting in a mess you don't want to have to clean up. RVs require special dissolvable TP making it an absolute must for all campers.
7. Emergency Kit
One thing's true about every form of travel: You've got to expect the unexpected. Although we hope you'll never have to use it, keeping a well-stocked emergency kit on hand is just plain smart thinking.
What Every RV Owner Needs
Now that we've got the absolute must-haves out of the way, let's talk about a few camper accessories that aren't imperative, per se, but which will make your camping trip SO much easier — whether you're set up in a travel trailer or motorhome.
8. Collapsable Ladder
Sometimes, you need to get up high. (Like to check and make sure there's nothing on top of your slide out before you bring it in.) A collapsable ladder makes that possible, while also taking up very little of your rig's precious storage space.
9. Foam Mattress Topper (or New Mattress)
RVs are many things, but they're not (usually) bastions of somnambulant luxury. Especially if you're in a mid-range or lower-end RV or travel trailer, it's likely the mattress that comes with your RV isn't going to be the most comfortable thing you've ever slept on. If sleeping well is important to you, it's likely going to be worth the investment to at least get a foam mattress topper… or possibly to upgrade the mattress entirely.
10. Nesting Cookware
If you want to use your RV kitchen to its fullest abilities, you're going to need cooking supplies. But as anyone who's ever tried to organize their pots-and-pans cabinet knows, that stuff takes up a lot of room!
Invest in a smart nesting cookware set so you'll be ready to make any delicious-looking recipe you come across… without having to devote every square inch of RV storage space to cooking utensils alone. Consider nesting food storage containers for leftovers!
11. Instant Pot (or Slow/Pressure Cooker)
Here's another way around the pots and pans issue! Many RVers swear by their Instant Pot, or you could use a Crock Pot or other slow cooker if you have one around. It's quick, easy, and no matter what you put in, it always seems to come out delicious!
RV Essentials
We hope this list of things you need for a camper will help make your trip as smooth and enjoyable as possible. After all, when you've got all your RV needs on board, a comfortable vacation is a lot simpler — you won't have to pull off for that last-minute purchase or turn around because you forgot something important!
Just sit back, relax, and enjoy your travels — you prepared well, so you deserve it. Bon voyage!
Check out these other posts when stocking up your RV:
This post contains affiliate links. RVshare may receive compensation if you make a purchase after clicking on a product link.