The Most Amazing RV Carport Ever!
RV Owners
June 13th, 2015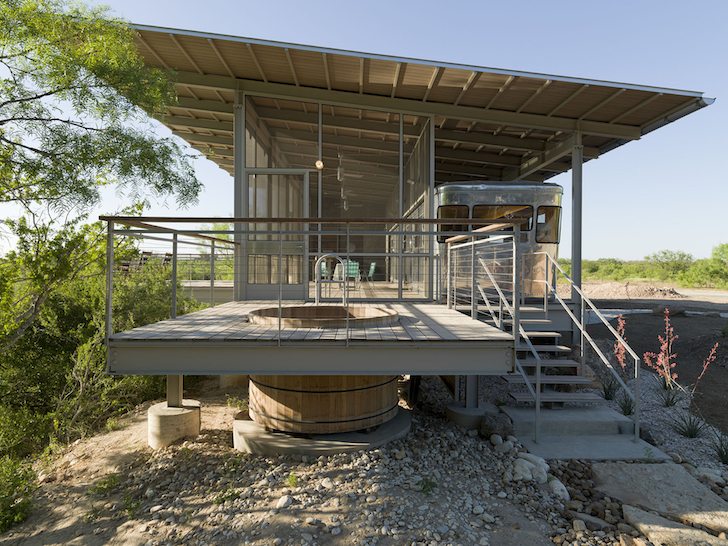 Are you the type who discards your old possessions, or do you cherish them and keep them by your side? Many people chose to keep the things that mean the most to them, whether it is an old teddy bear, a family heirloom, or an antique motorbike. Or maybe your most prized possession is a vintage RV.
A vintage RV such as a gorgeous Spartan Manor Trailer. The owner of one such trailer loved his classic beauty so much that he was determined to give it permanent home inside what might just be the most amazing RV Carport ever!
The Spartan trailer had been in his family for ages, and since it was longer used for traveling, the owner felt it deserved a special structure to protect it from the elements. To come up with the perfect design he turned the experts at Andrew Hinman Architecture. What they came up with will blow you away!
This in an RV carport? Yup, this amazing structure was built along the shores of the Nueces River to house an RV. 
Since the location is susceptible to flooding, the carport is raised above the ground on steel stilts.
On the second floor of the RV carport is a sleeping loft with 360-degree views.
The Spartan fits snugly in one half of the carport, while the other half is utilized for living space. And yes, that is a hot tub in the front.
The living area space has a giant screened in patio for entertaining and a full bathroom.
Inside the Spartan you will find a completely renovated interior with bamboo wood, and modern stainless appliances.
The rear of the trailer has a comfy bed for two.
That's one lucky Spartan Trailer, and one lucky owner!
Source: Do It Yourself RV / Adventure-Journal