RV Owners
March 14th, 2018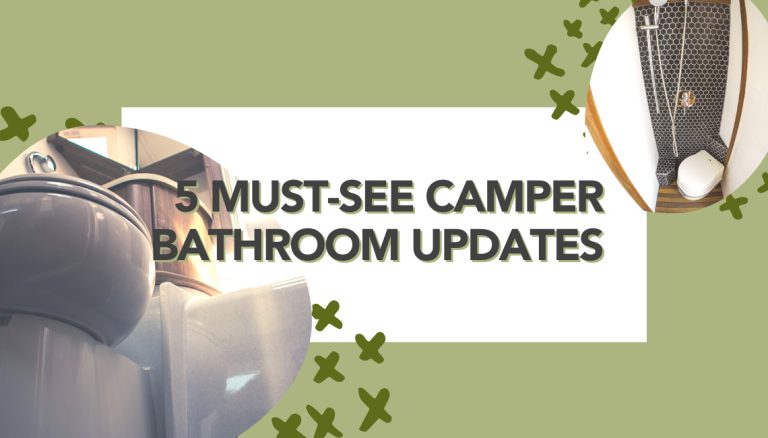 When you've gotta go, you've gotta go — and you might as well do it in an inviting environment!
But when it comes to your RV's bathroom, it can feel as though you don't have that much wiggle room… both literally and metaphorically. After all, it's likely the smallest space in an already-relatively-small camper.
But whether you're planning a full-on RV bathroom re-design or simply looking for some smaller, but significant, updates (like getting a new set of matching towels or replacing your RV's shower head), we gathered some of the best-looking camper bathroom designs and upgrades from around the web to help get you brainstorming.
RV Bathroom Remodel
Want to see what happens when you go all out? Here are some full-on RV bathroom renovations that will leave you saying, "Wow!"
1. Helen Mills Gets Modern and Chic
Helen Mills is a British transplant who now lives in Canada's British Columbia — and apparently an incredible renovator! Just look at that before and after shot.
What's more, although it took a lot of work, nothing about this RV bathroom redo was all that extensive or expensive. The main visual differences are due to several coats of paint, the removal of the cabinet doors (she used some simple fabric drawers instead), and the installation of the backsplash. She also bought a new RV toilet.
You can read more about the project at her blog here. Great job, Helen!
2. Fiddy States' Full-on Fix-It
Megan and Drikus are the minds behind Fiddy States, an incredible travel blog where they documented their six-month trek through… well, all fifty states. They bought a fifth wheel and truck to take on the lower forty-eight and Alaska, and flew to Hawaii to finish the adventure off. They also did an amazing job restoring their trailer!
As part of the "grand RV renovation," as they called it, they installed new floors, revamped the kitchen, and painted the walls. But they also totally redid their tiny pocket camper bathroom, opening up the small space with the addition of a bigger bathroom mirror and some small, simple wall decorations. Great job, Megan and Drikus! Read more about their renovation efforts here.
Small RV Bathroom
Even if you don't have a lot of room to work with, you can make big changes! Here are some impressive upgrades in small camper bathrooms.
3. Bearfoot Theory's Big (Little) Renovation
Kristen Bor is the founder of Bearfoot Theory, a blog for campers, hikers, adventurers and outdoorsy folks of all kinds. She travels the country and lives in a teeny-tiny 4×4 Mercedes Sprinter, which she totally renovated back in 2015.
One of the most impressive parts of the upgrade? The bathroom, which as we know is a cramped spot in camper vans like hers. By using a minimalist design with beautiful wood floors and a tile backsplash, she made her wet/dry compartment look as inviting and relaxing as a spa! She also installed wall hooks so she can use the space as a storage closet when it's not in use. Super clever, right?
Click here to learn more about her entire renovation project, as well as to see video tours of her converted camper van. She's also got a newsletter you can sign up for to keep up with Bearfoot Theory adventure opportunities!
DIY RV Bathroom
Want to do your renovation yourself? You can! Here's some inspiration.
4. Brittany Lauren Creates… an Incredible Camper Bathroom!
Brittany Lauren is the mind behind Brittany Lauren Creates, where she blogs about all of her creative adventures. She spent two years as a full-time RVer and totally renovated her rig — also known as #montethecamper — in the process.
The renovation took two and a half months and cost just $2,500. One of the ways she kept the price tag so low was to do a lot of the heavy lifting herself, including this incredible RV bathroom remodel. It's the little details that make all the difference! You can see that the RV bathroom sink is the same, but the countertop has been refinished and she took some paint to the RV bathroom cabinets. She also fashioned an adorable little over-sink accessory holder by installing a small towel bar on the backsplash. Brilliant!
See all the details of Brittany Lauren's camper remodel here.
5. The Litts Keep it Literally Lit
Amanda Litt lives with her husband and their pug in a small camper, and they're making big changes as they go. Case in point: check out their gorgeous, freshly-redesigned RV bathroom! Installing wood panel walls and adding simple accessories (like a built-in shelf and a new toilet paper holder) transforms and opens the space; the simple camper window resembles something more like an RV bathroom skylight! Great job all around, Amanda.
Read more about the Litts' renovation (and the rest of their adventures) here.
RV Bathroom Accessories
Want to make some upgrades of your own, but don't have the time, money, or patience for a full-on remodel? Luckily, there are tons of smaller bathroom updates that can transform your space in a flash. All it takes is some creative accessorizing!
For example, outfitting your rig with a set of matching towels helps make your space feel more cohesive and inviting… and besides, there's nothing like stepping out of your RV shower to a fresh, warm, fluffy bath towel.
Another unbeatable way to transform your RV shower? Invest in an upgraded shower head. The one that came pre-installed on your rig probably offers almost nothing in the way of water pressure, making this one upgrade you'll wish you took on way sooner, especially since it couldn't be simpler!
Finally, keep your eyes peeled for fun, coordinated bathroom accessories, from toilet brush holders to toilet paper caddies to fun mirrors and other wall decorations. Even a scented candle or a small potted plant can make a huge difference when it comes to making your RV bathroom feel just a little bit nicer. After all, when you've got to go, you've got to go… so go in style!
This post may contain affiliate links.