Travel Inspiration
Last updated on November 9th, 2023. Originally published on November 3rd, 2019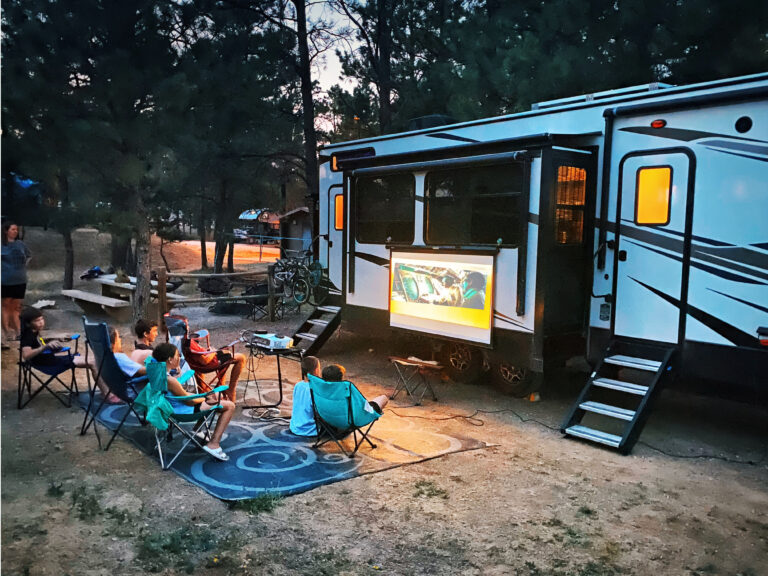 Maybe a rainy day has you stuck inside your trailer, cut off from the wild adventures that inspired you to rent a rig in the first place.
Or maybe other commitments (like school and work — ugh) have you sitting at home, dreaming of the next time you'll get to adventure in a motorhome or travel trailer. (Or, heck, even a plain old car.)
No matter what the case, every once in a while, nothing hits the spot quite like road trip movies. They're the next best thing to getting out there on the highway yourself!
But not all road trip movies are created equally! Anyone who's ever scrolled aimlessly through Netflix knows that it's all too easy to get caught up in analysis paralysis and end up not watching anything at all, let alone anything good.
In this post, we'll run some of our favorite road trip movies by you. By the end, you'll have a go-to menu of films to choose from the next time you're hankering for high adventure you can enjoy from the comfort of your couch.
So grab some popcorn, unfurl your favorite throw blanket, and get cozy! Here are some of our favorite highway films.
Best Road Trip Movies
Here are some of the most beloved movies about being on the road.
1. Wild Hogs (2007)
Although traveling by motorcycle is a far cry from traveling by RV, it's a dream for a wide variety of people! This is probably why 2007's Wild Hogs movie was such a smashing success with audiences. In this film, four middle-aged men ditch their day-to-day lives to hit the open road on a California motorcycle trip. Of course, they encounter all sorts of shenanigans and obstacles that eventually leave them on the run from the Del Fuegos in New Mexico.
This beloved comedy stars Tim Allen and John Travolta, and is a great way to spend an otherwise dreary afternoon having a good laugh.
2. Into the Wild
You can't exactly put this on a list of camping "vacation" movies. Chris McCandless's incredible journey is just as much work as it is play, and it comes to a heartbreaking end.
But if you're looking for an indie travel film that'll make you clutch your loved ones close and feel grateful for all you have, move "Into the Wild" to the top of your list.
3. Mystery Road (2013)
If you're looking for some whodunnit intrigue, 2013's Mystery Road movie might be right up your alley. Detective Jay Swan is on the case to figure out what happened to an indigenous girl whose body washes up under a bridge in a remote area.
It's pretty heavy stuff, for sure, but Mystery Road was quite well received, with a 92% score on Rotten Tomatoes. It was also screened in the Special Presentation section at the 2013 Toronto International Film Festival.
4. Little Miss Sunshine (2006)
When it comes to road trip films, sometimes, you run into a problem with predictability. A family hits the road, and hijinks ensue; what else is there to know?
While Little Miss Sunshine may look like a stereotypical family road trip flick on its surface, anyone who's ever watched it can attest to the film's unique screenwriting and phenomenal performances. The film was nominated for four Oscars, two Golden Globes, and a slew of BAFTA Film and Screen Actors Guild Awards. It took home the 2007 Academy Awards for Best Performance by an Actor in a Supporting Role as well as Best Writing in an Original Screenplay. (In other words: it's well worth watching if you haven't yet!)
5. The Bucket List (2007)
When a wealthy man named Edward Cole (played by Jack Nicholson) and a modest-means mechanic called Carter Chambers (played by Morgan Freeman) find themselves sharing a hospital room, they realize they have no time to waste. In the face of their own mortality, the two men team up to go on an epic adventure. They aim to see and experience all the things they've placed on their "bucket lists" before it's too late.
Although the film received mixed reviews from critics, The Bucket List has been considered a popular favorite since its release in 2007. That year it was named one of the top ten films by the National Board of Review, seeing a box office gross of $175 million worldwide.
6. Stagecoach (1939)
Not all of the best road trip movies are newfangled. In fact, some old classics are classics for a reason, and John Ford's Stagecoach is no exception. This groundbreaking film follows 12 unique passengers riding the Overland stagecoach bound for Lordsburg, New Mexico, in the 1880s. Among characters like the drunken philosopher and the timid salesman, an escaped outlaw hides in their midst — the Ringo Kid, played by none other than John Wayne himself. The film is based on a short story by Ernest Haycox called "The Stage to Lordsburg," which was released two years before the film in 1937.
7. Thelma & Louise (1991)
Easily one of the most famous and well-celebrated road movies of all time, Thelma & Louise follows the title characters as they take on an epic road trip that starts as a whim and ends up becoming an all-out pursuit when Louise is threatened by a predator. With their sights set on Mexico, the two take off — with some of the most iconic and beautiful American landscapes disappearing in the rearview along the way.
8. RV (2006)
We couldn't write a post about road trip movies for RVers without including this classic! Released back in 2006, RV stars none other than Robin Williams, who plays the lovably goofy Bob Munro. He and his family encounter all sorts of adventures in the RV they rented for a family trip to the Rockies. (Good news: when you rent an RV with us, we can pretty much guarantee that no matter what comes up on the road, it won't be as crazy as the hijinks in this film!
Family Road Trip Movies
Looking for a road trip film you can watch with the entire family — or one that accurately portrays the specific kind of lovely chaos it is to travel with them? These films will help you remember why you keep the people you love best near and dear to your heart, even when they drive you a little crazy. (Or, okay… a lot crazy.)
9. National Lampoon's Vacation (1983)
Perhaps the best-known family road trip out there, National Lampoon's Vacation was a landmark film when it was released. Starring Chevy Chase, Beverly D'Angelo, and child stars Dana Barron and Anthony Michael Hall, National Lampoon's Vacation follows an all-American family of four as they hit the road to visit such iconic stops as Monument Valley and the Grand Canyon. Of course, they encounter all sorts of trouble along the way, including a rather grim scene with the family dog. To be sure, viewer discretion is still advised with this one … but it's a classic, so we had to include it.
10. Man of the House
It's a universally acknowledged fact: The 90s were the golden age of cheesy, family-friendly movies.
This title, featuring Chevy Chase, Farrah Fawcett, and super-young Jonathan Taylor Thomas, doesn't disappoint. Plus, the pivotal scenes take place during a camping trip, so it's perfect for a quiet night in after enjoying an evening by the campfire!
*This post contains affiliate links. RVshare may receive compensation if you make a purchase after clicking on a product link.