RV Owners
June 11th, 2015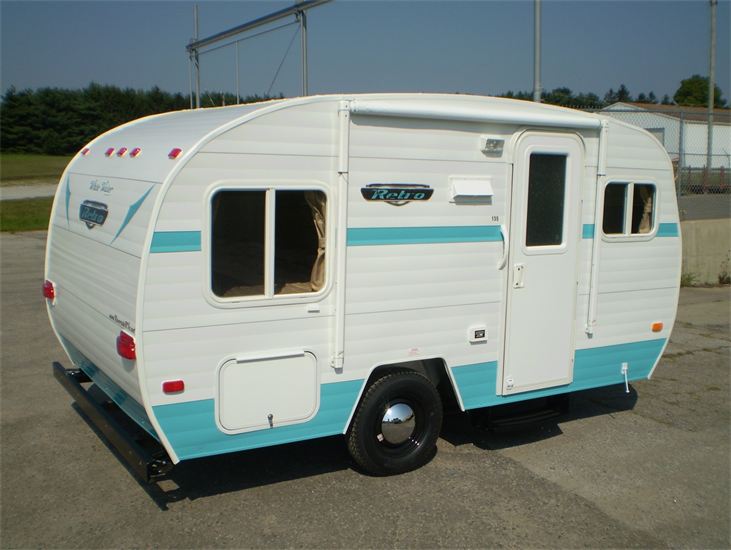 By now most vintage trailer enthusiasts are aware that Shasta has re-issued their classic 1961 Airflyte model. They started with nearly 2,000 units, and they apparently sold like hot cakes. By now the first batch are already on their way to the lucky new owners. You could wait until more are produced…or you could check out some of the retro trailers by Riverside RV.
These US built trailers are similar in appearance to the Shasta, costs a little less, and weighs almost the same. There are number of retro trailer models and floor plans available from Riverside RV.
Model 155 is a 14′ 9″ trailer with a rear bed, fold down dinette, small kitchen and wet bath. This model weighs 1,840 pounds and is available in six colors.
Model 166 is a big bigger than the 155 with a total length of almost 16′. It weighs in a 2,180 pounds. Featuring a full size queen bed, a convertible dinette, and small kitchen.
This double axle trailer is 23′ long with a dry weight of 3,450 pounds. The interior is outfitted with a queen bed, side dinette, rear bathroom, and full kitchen. It comes in a variety of color options.
A slightly larger version of the 155, this model is 18'6″ long and has a dry weight of 2,510 pounds. It also boasts more headroom than the 155. It features a queen bed, larger wet bath, convertible kitchen, and dinette.
These are just a few of the models available from Riverside RV. To see more options visit their website, Riverside RVs. For pricing info contact them directly.