Travel Inspiration
March 4th, 2019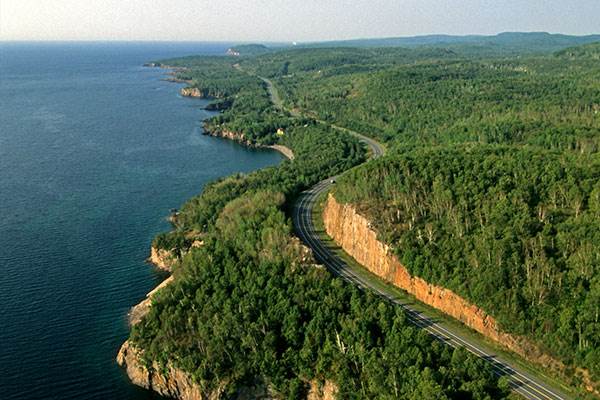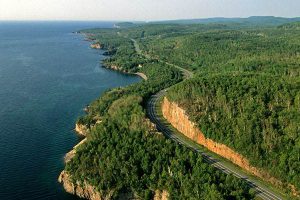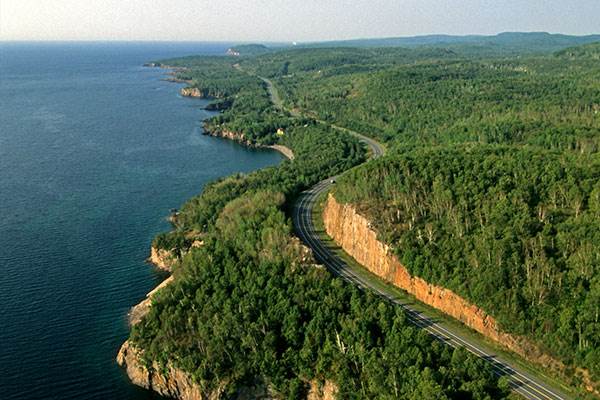 Looking for fun places to visit in Minnesota, eh?
In a land filled with delicious craft beers and cheese curds, it's honestly pretty hard to go wrong. But for RVers, a Minnesota vacation has even more to offer — thanks in no small part to its beautiful North Shore district, a forest-dominated stretch beside lovely Lake Superior.
From canoeing along the placid surface of the lake to lounging beachside to climbing one of the area's historic lighthouses, there's so much to see and do in this special part of the world. Its pristine beauty draws travelers from across the state and country even in winter, which brings a whole new menu of outdoor sport opportunities for those who can stand the frigid temperatures. Because, let's be real: can you really say you've been to Minnesota if you've never been ice fishing?
Good thing you don't have to find out, because it's all waiting for you. Here's everything you need to know to take an epic Minnesota road trip, whether you're looking for a quick weekend getaway or a longer adventure.
State Park Weekend Getaways MN
Minnesota's array of state parks makes it one of the best states for a road trip in the USA — whether you're taking an RV or a plain-old sedan. Working from the state's interior to the beginning of the North Shore at Duluth (and then along the coastline), here are the Minnesota state parks that make for a perfect weekend getaway. Better yet, string 'em all together for an epic road trip!
Itasca State Park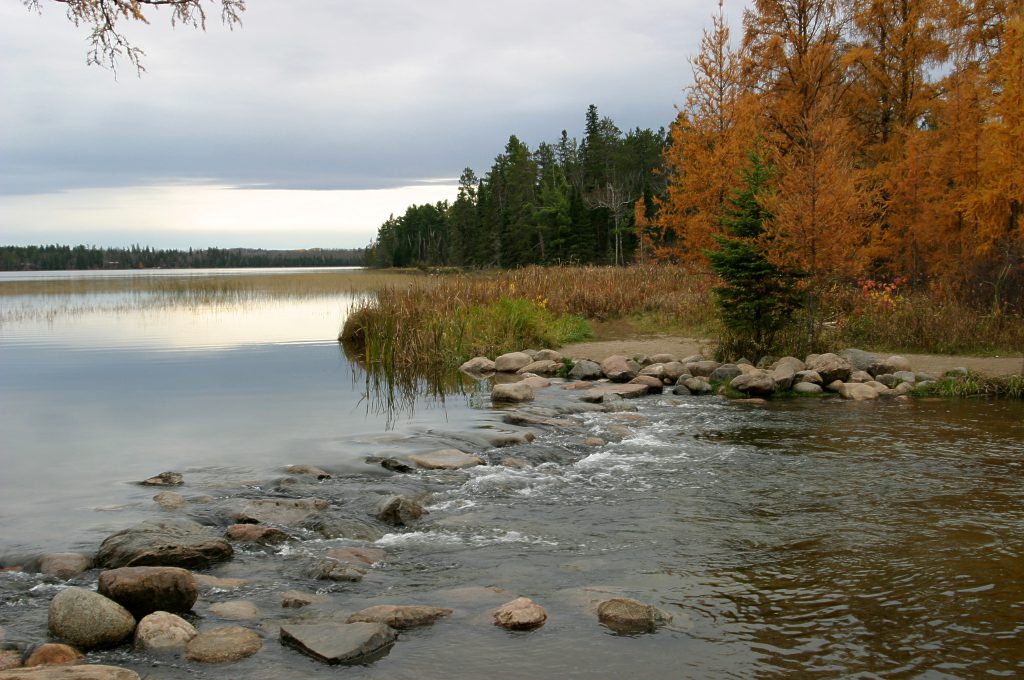 Minnesota might not be the first word that jumps to mind when you think of the Mississippi River. But America's great dividing waterway does start its journey here, winding more than 2500 miles south before terminating in the Gulf of Mexico.
Along with giving you a glance at the northernmost end of one of America's most iconic landmarks, Itasca State Park is also a fantastic place to hike, camp, and generally adventure. And if you're a birder, it's a can't-miss destination: among the many other animals you'll see within the park boundaries, regular avian visitors include loons, grebes, cormorants, herons, ducks, owls, hummingbirds, woodpeckers, chickadees, nuthatches, kinglets, vireos, tanagers, finches, and warblers.
RVs up to 60 feet in length are accepted at the park's campground, which does offer electric hookups. Click here for full details on camping at Itasca State Park and visit Minnesota's Department of Natural Resources to make reservations.
Schoolcraft State Park
Tucked away in the north-central crook of the state, Schoolcraft State Park is home to a 300-year-old virgin pine forest that makes the absolutely perfect place for a getaway. Boat access to the Mississippi River is available, and the landscape is frequented by white-tailed deer and migrating birds.
Years ago, these lands were a stopping ground for the loggers and lumberjacks who built Minnesota into what it is today, and the park is named after Henry Rowe Schoolcraft, the man who, with the help of an Anishinabe guide named Ozawindib, first charted these headwaters. RVs up to 40 feet in length can stay on-site at the campground, and reservations can be made up to a year in advance. (Click here to do so.)
Jay Cooke State Park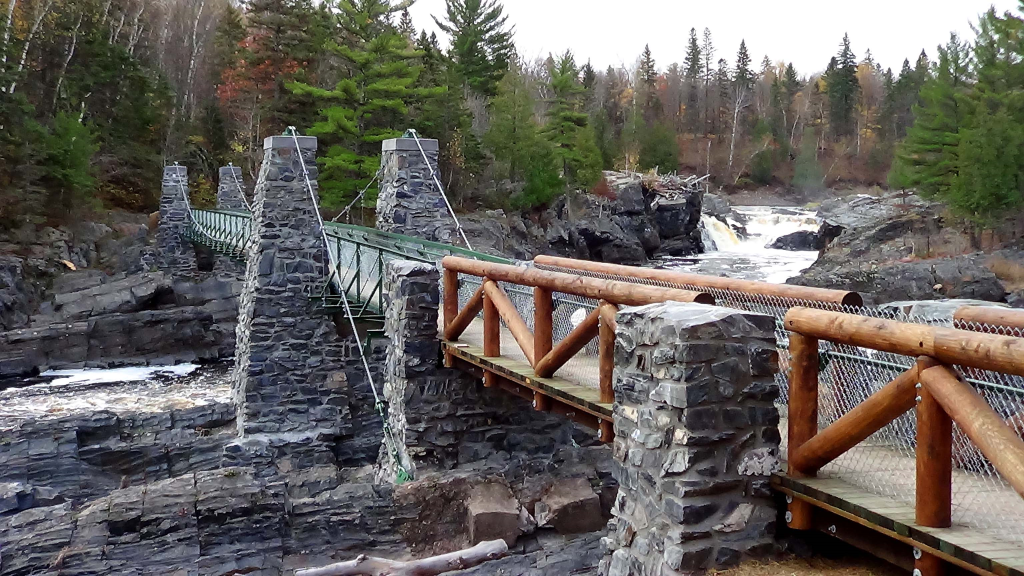 Just about ten miles south of Duluth, Jay Cooke State Park protects the lower reaches of the St. Louis River — and is home to the iconic Swinging Bridge which allows visitors to traipse over those tumbling waters. You can also explore Civilian Conservation Corps structures at Oldenburg Point, or wander through the Thomson Pioneer Cemetery, with graves dating back to the late 1800s.
The park hosts picnic areas, interpretive exhibits, naturalist programs, and — our favorite, and about the most Minnesota thing we've ever heard of — "warming houses" for winter visitors looking to thaw their digits. A quick sit by the fireside will reinvigorate you for your explorations, or get you ready to turn in for a cozy evening. Campers up to 60 feet in length are acceptable, though size restrictions vary by slot, and only 12 campsites are kept available for winter camping — not all of which have electric hookups. Make sure you're prepared!
Gooseberry Falls State Park
They call it the land of 10,000 lakes, but it could just as easily be called the land of 10,000 waterfalls — and this is one of the most famous. Gooseberry Falls State Park is one of the first absolutely-can't-miss-it stops along your North Shore itinerary, offering its iconic views as well as multi-use trails and a well-stocked visitor center with both interpretive services and retail items. It's open from 9 a.m. until 4 p.m. year-round with extended hours in the summer, and on-site camping is available, though none of the spots have electric hookups.
Split Rock Lighthouse State Park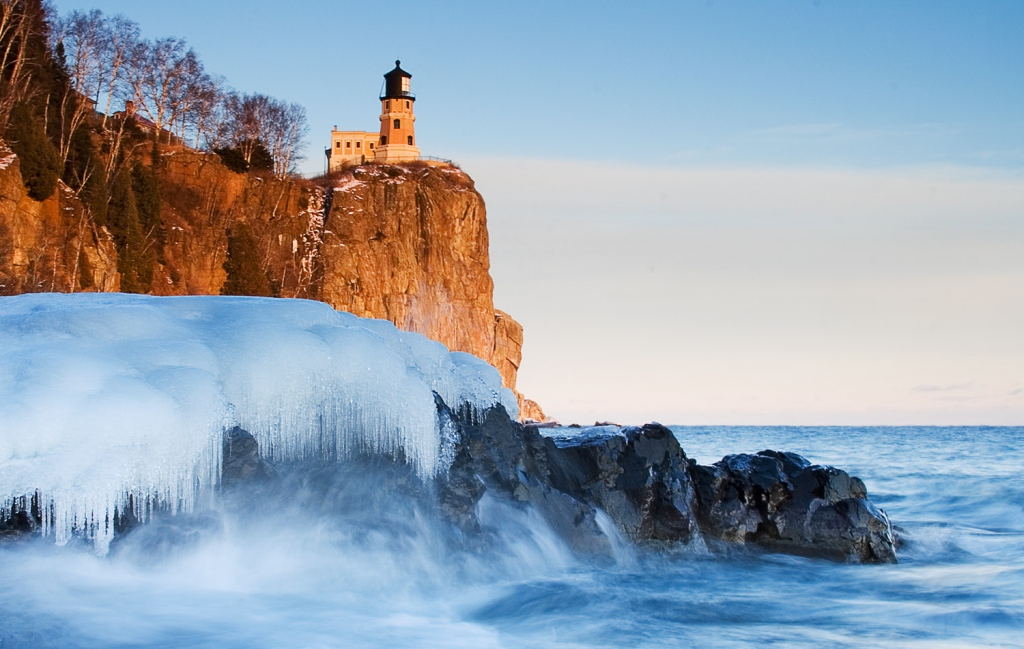 No two ways about it: the namesake structure steals the show when it comes to Split Rock Lighthouse State Park. But there's plenty more to do than to explore the tower. (Although yes, you should definitely make time for that, too.) Miles of hiking trails crisscross the landscape, linking up with the epic Superior Hiking Trail (which we'll come back to in just a minute), and its rocky beaches are the perfect place to sink a line in search of salmon and trout.
Landside, there's plenty of other wildlife to behold, like white-tailed deer, moose, black bear, raccoon, beaver, snowshoe hare, red fox, bobcat, and lynx. And don't forget to look up: this is one of the only places in the country where visitors regularly spot peregrine falcons, along with small songbirds, herring gulls, and loons.
Although limited primitive campsites are available, RV spots are not. The park does, however, offer showers in the summer months as well as both flush and vault toilets.
Tettegouche State Park
With more than 40 species of mammals and dozens of miles of hiking trails — many of which lead to inland lakes that are otherwise inaccessible — Tettegouche State Park is a classic North Shore experience, and one we wouldn't recommend you skip even if you're short on time. You can meander along the gravel beach where the Baptism River meets Lake Superior and enjoy the sweeping views from Shovel Point, as well as taking advantage of rock climbing opportunities that rival those found in the American Southwest. And let's not forget about High Falls, whose name is fitting: it's 60 feet tall and absolutely breathtaking.
The park's history is just about as fascinating as its landscapes: It's named after a group of Duluth businessmen who called themselves the "Tettegouche Club," who wound down from their busy weeks by using these lands as a fish camp. That was back in 1910, but the park wasn't officially designated until 1979. Today, it offers 28 drive-in sites to those who want to follow in the Club's footsteps and camp there; travel trailers and motorhomes up to 60 feet are acceptable. Click here to make reservations.
Judge C.R. Magney State Park
You haven't had your fill of waterfalls yet, right?
We didn't think so… which is exactly why a stop at Judge C. R. Magney State Park is non-negotiable. Best accessed by a popular hike that leads upstream along the Brule River, Devil's Kettle — pictured above — throws itself 50 feet into the swirling waters below. The river itself is teeming with brook and rainbow trout ripe for the catching, as is its tributary, Gauthier Creek. White-tailed deer, black bears, and timber wolves roam the grounds to partake of the plentitude along with you.
The park's namesake was a remarkable man: a lawyer, one-time mayor of Duluth, and a justice of the Minnesota Supreme Court — just in case he didn't already have enough to do. He was also a strong advocate of Minnesota State Parks, especially those along the North Shore. Where better to celebrate his legacy?
A total of 27 campsites are available at this park, though winter camping is disallowed. RVs are limited to 45 feet in length, and you can click here to make reservations.
Grand Portage State Park
Just when you've thought the North Shore couldn't possibly cough up any more beauty, Grand Portage State Park appears — and brings with it the tallest waterfall in the state of Minnesota. Another aptly-named High Falls, these rapids tumble 120 feet down into the Pigeon River below, and represented a serious obstacle to the Native Americans who originally inhabited and traveled through these lands… so much so that they needed to create a "portage" by which to bypass them. The ancient nine-mile trail is still accessible today, and winds you from the shores of Lake Superior through hardwood-conifer forests. Unlike the other state parks on this list, Grand Portage is day-use only, so you won't be able to camp here!
Minnesota Tourist Attractions — North Shore and Beyond!
As epic as its state parks are, there are plenty of other fun places in Minnesota… and all sorts of stuff to do and see on your way between them. Here are just a few spots to add to your road trip itinerary.
North Shore Scenic Drive
Don't have too long to dally in any of the state parks, but still want to get the North Shore experience? The area's official scenic drive winds along the lake's coast from Duluth all the way to Thunder Bay in Ontario, Canada. (Yes, this is the drive Bob Dylan is crooning about in his famous "Highway 61" — and yes, it's pretty enough that you'll quickly understand exactly what moved him to music.)
The view is phenomenal, of course, but if you do have a chance to stop and get more familiar with the landscape along the way, you should take it. Popular activities include boating, fishing, and mountain biking, not to mention ice-fishing on that gorgeous, solidified lake come winter.
Click here to visit the Forest Service's official website for the North Shore Scenic Drive.
Superior Hiking Trail
Feeling bold enough to ditch the wheels?
The Superior Hiking Trail runs more than 300 miles along that same scenic stretch, and offers ample opportunities to stretch your legs in any variety of ways: hiking, running, and cycling are just a few. And if the weeks-long backpacking adventure it would take to complete it end-to-end isn't in the cards for you this year (or ever), no worries — there are plenty of easy day-hikes and pleasant strolls to be taken along its many miles.
The main trail is marked by blue blazes, with spurs and overlooks blazed in white. Dogs are allowed on the trail, but must be leashed, and as always, make sure you avoid trespassing on private property.
Skiing in the Lutsen Mountains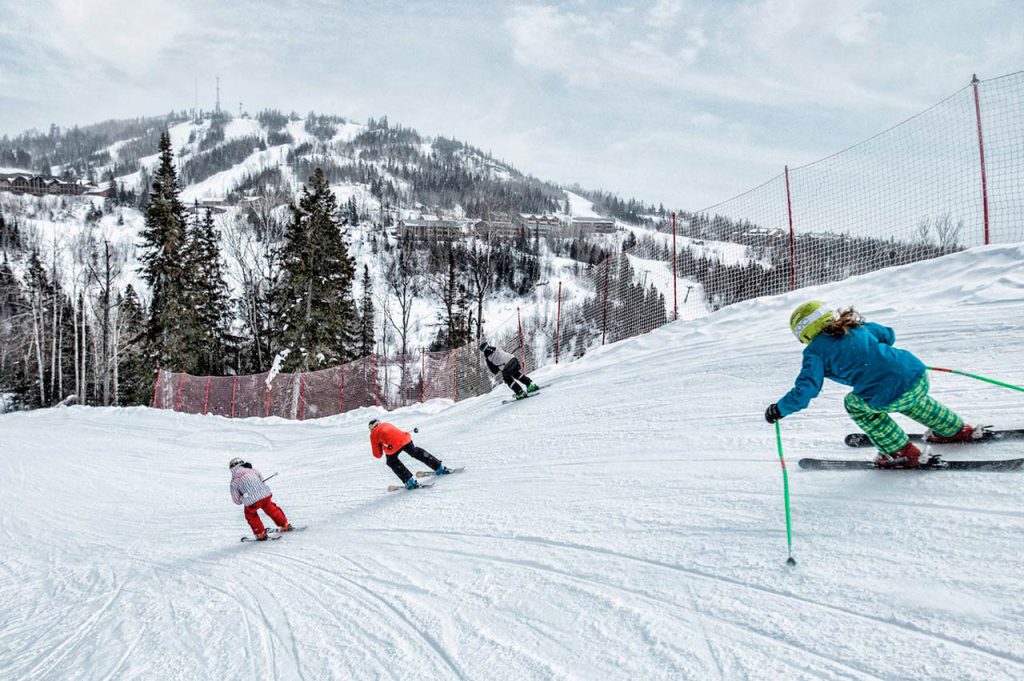 It might not have the star power of Vail or Breckenridge, but make no mistake about it: if you're visiting the North Shore in the winter time, there are some epic slopes to conquer. The Lutsen Mountains draw adventure-seekers from across the northwest — and give those from further afield the unique opportunity to ski with the heart-stopping view of Lake Superior in the background.
The resort features four mountains with more than 95 runs and a vertical rise of over 800 feet. The area sees an average of 10 feet of annual snowfall — and they've put in a $9 million snowmaking upgrade, just in case Mother Nature's being obstinate.
Ice Fishing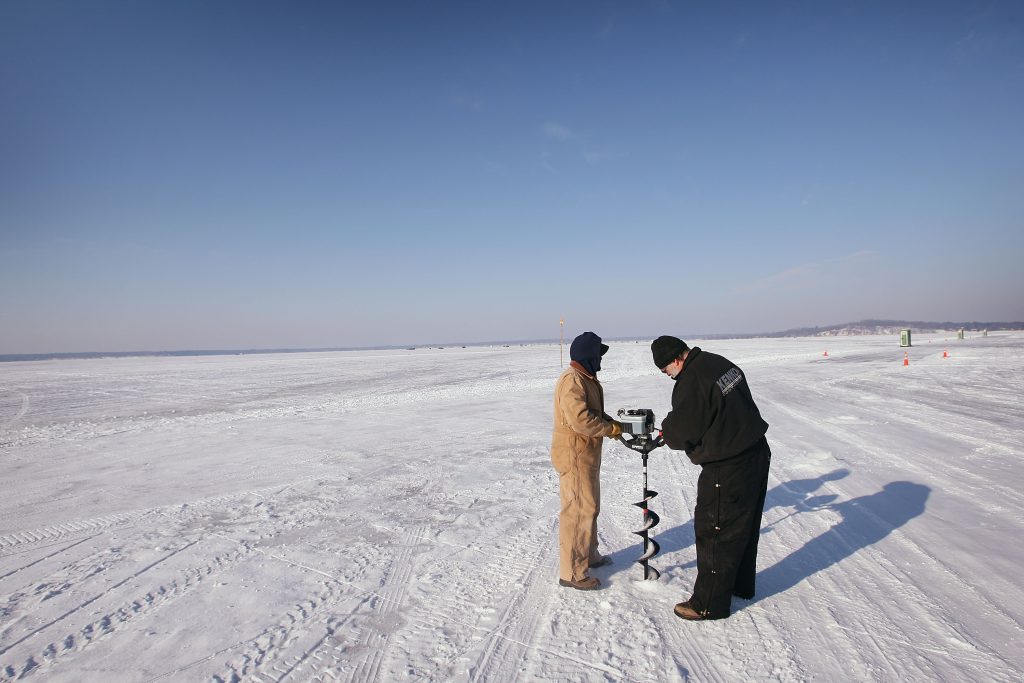 Sitting on top of a frozen lake for hours on end in hopes of a trout or two for dinner is not, we realize, everyone's cup of tea. In fact, for many people, ice fishing kind of sounds like torture.
But even if you're not ready to set up in an icehouse yourself, you can watch others partake in the tradition from the shoreline — especially in Duluth, where it's a popular spectator sport. For the brave (and well-bundled), however, there are a variety of charter ice fishing outfits that'll give you a taste of a real Minnesota winter. The North Shore Visitors Bureau offers several links to local companies on its website. Plus, some of the rental setups are heated! (No, it's not cheating. Or is it?)
Festival of Sail Duluth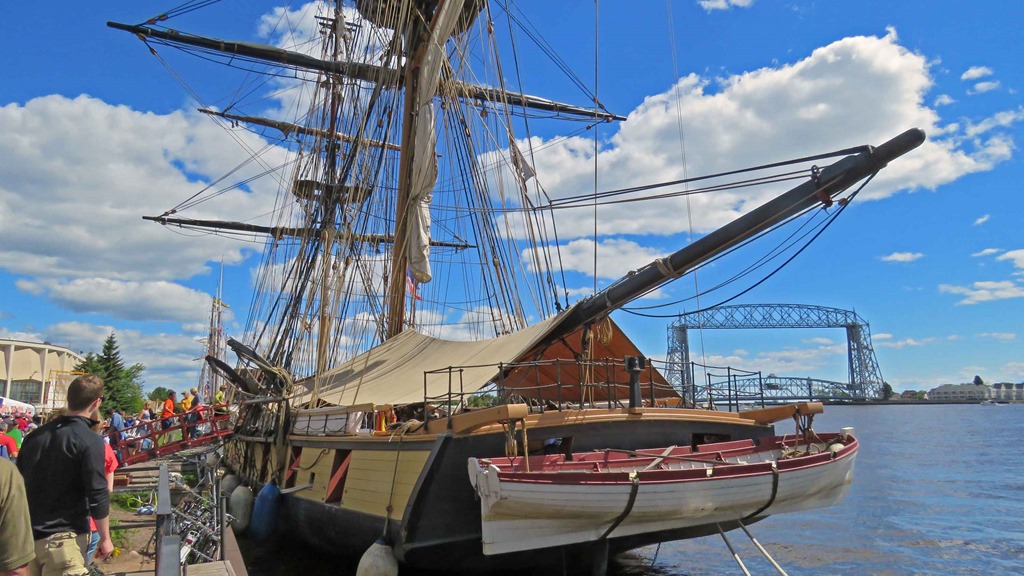 Fascinated by those majestic, many-masted tall ships that sailed these lakes in days of yore? If you plan your visit at the right time, you may just get the chance to see (or even step aboard!) one of these stunning vessels, thanks to the Festival of Sail Duluth, one of the largest events of its kind in the world.
From August 11-13, 2019, Lake Superior will come alive with beautiful boats, offering visitors ship tours, day sails, educational programming, and a huge range of food, beverages, and live entertainment to enjoy. A single-day festival pass is only $10, and you can even take a day sail for less than $100 — not a bad deal for a once-in-a-lifetime opportunity!
Attending ships will include the US Brig Niagara, the Schooner Appledore V, Sailing Vessel Denis Sullivan, Schooner Utopia and more. If you or your family are at all interested in this unique portion of the North Shore area's history and culture, planning around the event is a great way to organize your summer vacation!
Voyageurs National Park
If you're coming to Minnesota from afar — or even if you're just planning a shorter trip within state boundaries — you don't want to miss this incredible federal recreation site, even though it's not exactly along the North Shore. Encompassing portions of four major lakes (the Rainy, the Kabetogama, the Namakan, and Sand Point), a visit to Voyageurs National Park quickly shows visitors exactly where the state motto comes from. As a matter of fact, more than 40% of the park is water.
Voyageurs is named after the French-Canadian fur trappers who first settled in the area, and offers unparalleled sporting opportunities for canoeists, kayakers, and fishermen. Certain parts of the park are actually accessible only by boat — or, if you come in one of Minnesota's long and icy winters, by snowmobile, ski, or snowshoe. (It's worth the commitment and effort, we promise!)
The Mall of America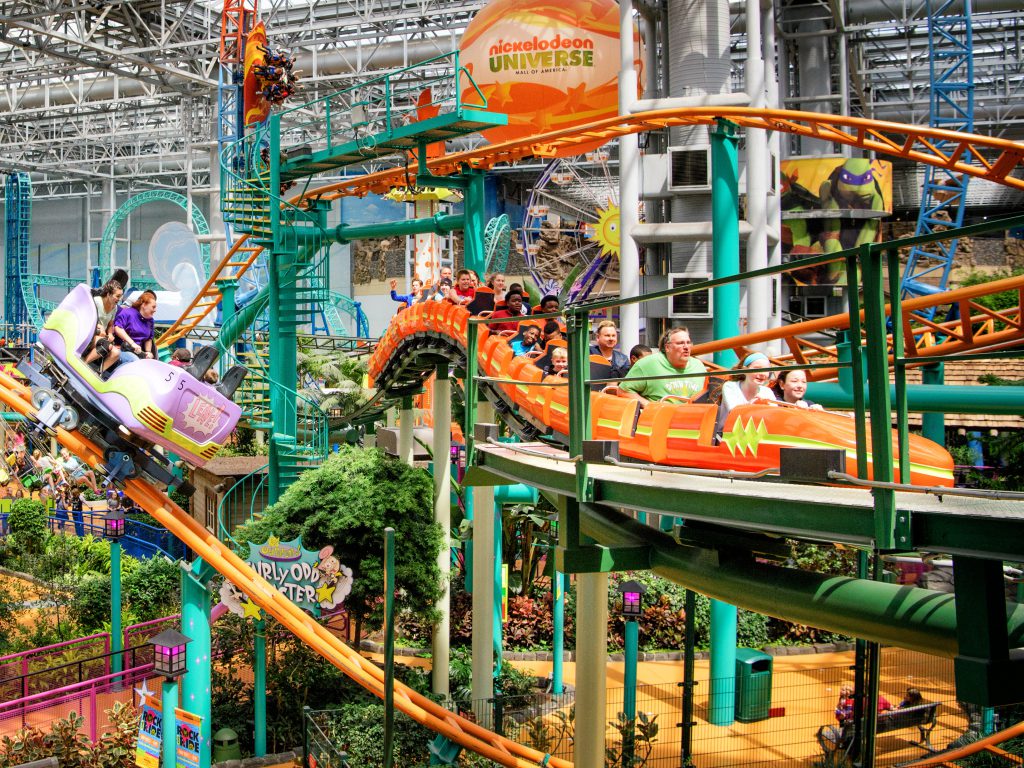 We know, we know — the whole point of camping, for most of us, is to get away from the never-ending stream of commercialism and commerce. Not to mention big cities.
But the Mall of America really is a must-stop attraction, especially if you've got kids along for the ride. I mean, it has an actual theme park inside it. A whole theme park!
The Mall is also home to more than 520 stores, so if you forgot literally anything at home, you'll have no problem replacing it. And you can feed the appetite you'll work up walking around its 2,500,000 square feet of retail space (that's almost 60 acres) at one of the dozens of nearby or on-site restaurants.
Suffice to say, if you find yourself in need of a break from the great outdoors, Minnesota's got you covered — and the Mall of America is the hub of it!
Campgrounds and Cabin Rentals MN
So, now that you have all of these epic Minnesota road trip plans, where are you going to stay?
Well, the North Shore of MN is, as is it turns out, a popular vacation destination. (No surprise, given all the awesomeness we've just outlined.) And that means there are plenty of lodging options — including vacation rentals, cabins, campgrounds, and more.
Here are a few options to consider whether you're traveling by RV or looking for the cabin-in-the-woods experience.
Cloquet / Duluth KOA Journey
Duluth is widely regarded as the start of the North Shore journey, and it's a great place to create a home base from which to explore the shore's southerly attractions. And if you're looking for a campground replete with entertainment and features — just in case you need a break from state parkin' it — the Cloquet/Duluth KOA is a great option.
Part of the KOA family you already know and trust, the Cloquet/Duluth Location is set on 15 pristine acres of towering white pines, and features a swimming pool, hot tub, dog park, and more – not to mention a generous 75-foot RV length limit and sites offering up to 50 amps of shore power.
The campground does also offer a few cabins for rent, and its on-site store sells firewood and propane. You need to fuel up if you want to stay warm on those Minnesota nights, even as early as October — which, incidentally, is the last month the campground stays open until May.
North Shore Cottages
Just north of Duluth, directly on the lakeshore, North Shore Cottages offers a variety of quaint accommodation options to those looking for an MN cabin rental. Rates range from $79 per night for a queen room on a mid-week night during shoulder season to $239 for a two-bedroom cabin on a summer weekend — all of which are totally reasonable considering your proximity to the shore itself.
Rooms are equipped with kitchenettes, TVs, DVD players, and coffee pots, so you have everything you need to get well-rested and ready to take on the area's many adventures.
Grand Marais Campground and Marina
Built into the crook of a beautiful Minnesota forest, which meets up with one of the area's archetypical cobblestone beaches, Grand Marais Campground and Marina is a great place to set up camp if you'll be visiting the North Shore in an RV.  Of its 300 total campsites, more than 160 offer full hookups, and you can choose between a forest site and a lakefront vista.
The campground is open all year long, though the lakefront sites are only available during the more temperate season. Nightly as well as weekly and monthly rates are available, and depend based on your spot's location and amenities. (Check the website or contact the campground directly for full details.)
Indian Point Campground
Another Duluth-area resort option, Indian Point Campground is the perfect spot from which to enjoy the tall ship festival, with sweeping lake views that put you directly in front of all the action. Along with full-hookup, pet-friendly campsites, this resort also caters to the outdoor adventurers who are most likely to put the North Shore on their travel bucket list in the first place, facilitating boating, fishing, biking, hiking, and bird watching, just to name a few activities.
Full hookup rates start at an incredibly reasonable $48 per night, and a camp store, laundry room, bathhouse, and dump station access are all included. Click here to learn more and make your reservations — which we suggest you do soon, as this spot fills up quickly!
The Best Minnesota Road Trips are By RV!
Road trips in Minnesota are incredible, no matter how you do them… but it's probably not surprising that our personal preference involves taking an RV. (Yes, yes, we know we're biased. But hear us out! We have good arguments.)
Renting a vacation cabin is a pretty iconic North Shore experience, and it can be just as romantic and amazing as it sounds. But as we've seen in this post, the North Shore has so much to offer along its many miles, that picking just one location to stop and stay in can be difficult and limiting. It sure would be a whole lot easier if that romantic cabin in the woods had, oh, I don't know, a set of wheels. 😉
All jokes aside, traveling in an RV is like driving around in your personal vacation bungalow. In fact, in many ways, it's even more comfortable: you know exactly when the sheets were last changed and the bathroom was last scrubbed. And if you want to experience not just one part of Minnesota's epic North Shore, but all of it, an RV gives you the flexibility to stop and go, stay and leave exactly when and where you want to. So if you decide you need a few extra days in Little Marais before heading up to Grand Portage, no problem — and likewise, if you decide to get out of dodge early, all you have to do is stick the key in the ignition and get going! Plus, you won't have to worry about packing and unpacking every time you move to a new location. Just grab your stuff, put it in your rig, and get on the road. Set and forget it.
Choosing an RV rental from RVshare is an amazing way to experience this unique travel lifestyle without spending more than you bargained for — and after all, there's plenty of other amazing stuff to see, eat, and do on MN road trips, many of which take money. Why blow half your travel budget just to get a set of wheels under your feet when you could pay a fraction of the commercial cost by renting by owner?
RVshare also makes sure your rental experience is a safe and secure one with its A-rated insurance policy coverage and user-friendly customer rating system. In short, when you rent with RVshare, all you have to worry about where you're going…
… and when you're going to the North Shore, that's certainly not much of a worry!
This post may contain affiliate links.