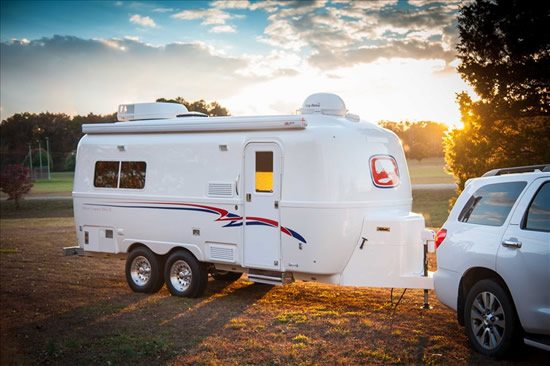 Oliver Travel Trailers have been around for some time, but production ceased in 2009 making them a rare find. Well guess what? They are back this year with two new models, the 2015 Legacy Elite and the 2015 Legacy Elite II.
Oliver Travel Trailers manufacturers 100% fiberglass trailers that are well insulated and made for camping conditions of all types. The 2015 Legacy Elite II model features a double fiberglass hull. Two layers of fiberglass with an air gap and insulation prevents condensation and provides a comfortable living space.
Exterior
The Legacy Elite II has a slick aerodynamic design that measures in a 23′ 6″ long and 7′ wide. The exterior features dual shocks and Nev-R-Adjust electric brakes for superior control. It has a large covered propane compartment that can hold two 30lb. tanks, a three point electric jack system, and a 7,000lb Bulldog hitch usually found in farm equipment.
Interior
The interior of the trailer offers unprecedented attention to detail including low maintenance, tech savvy amenities and several fabric and floor options.
The kitchen has a flush mounted two-burner stovetop, a spacious pantry, microwave oven, and three-way refrigerator that can be powered by 12V, 110V, or LP. Optional fiber-granite counter tops are available as an upgrade. Easy to clean gel-coat cabinets and walls are standard.
LED lighting is featured throughout the trailer for energy efficiency. A central heat system and MaxxAir Fan provide both heating and cooling options.
There are two standard floor plans. One featuring a large U-shaped dinette that can seat up to 5 people and converts into a king size bed, as well as a side dinette that converts into a single twin bed. The second floor plan offers two twin beds and a nightstand in addition to the convertible side dinette.
The entertainment system features custom mounted speakers, a 24″LCD TV,  and CD/DVD player with Bluetooth and a weather band tuner. Two charging sections and a dual 12V DC socket are also available. Two convenient 12V charging stations for your devices come standard.
The standard wet bath has a molded vanity with sink, water proof toilet paper compartment, Aqua Magic V toilet, and ceiling van. With a 32.5 gallon fresh water tank, a 32.5 gallon grey water tank, and a 18.5 gallons black water tank, the Elite II is ready to go.

Oliver Travel Trailers are located in Hohenwald, Tennessee.  Here you can see the trailer in person and take a tour. Contact the company for more information.
What do you think of the Oliver Travel Trailer 2015 Legacy Elite II? Tell us your thoughts in the comment section below.