The New Sportsmobile Classic Camper Van Makes an Old Model New Again
RV Decor & Unusual RVs
June 15th, 2015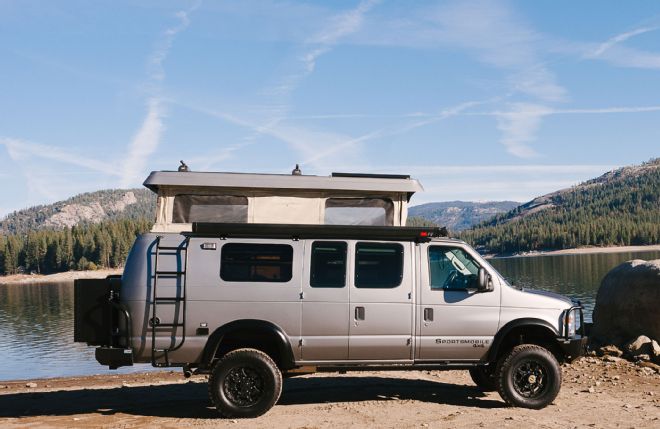 California-based camper van producer Sportsmobile was faced with a crisis last year when Ford discontinued their E-series vans for the foreseeable future. Rather than follow suit and discontinue their series of 4×4 camper vans built upon the E-series, they decided to get creative and employ an older model for their latest creation.
They turned to the Ford E-Series Cutaway, a van with a large, seat-less rear chassis designed to accommodate the needs of commercial vehicles such as ambulances. As detailed in Gizmag, Sportsmobile faced a wide series of hurtles in adapting a Cutaway-based camper rather than their usual E-Series-based version. Despite the challenges, they succeeded in building the aptly-named Sportsmobile Classic.
Sportsmobile West president Jonathan Feld and his team employed a local fiberglass shop to create the camper van shell while maintaining the sturdy, rugged quality for which their 4×4 designs are known. The interior space was expanded significantly, but they were determined to keep the performance up to par.
Sportsmobile specializes in technical upgrades of factory-made models. Gizmag eloquently describes the souped-up specs of the latest system:
That system routes output from Ford's 305-hp 6.8-liter Triton V10 to all four wheels with its Advance Adaptors Atlas II gear driven transfer case and Dynatrac Pro-Roc 60 front axle. The build maintains the TorqShift five-speed automatic transmission and Full Float Dana 70 rear axle that Ford installs at the factory. The suspension system cushions the wheels with Betts partial military wrap leaf springs and Fox 2.0 Performance Series IFP shocks.
Despite the size increase, Sportsmobile chose to keep their Cutaway 4×4 nearer in size to their older E-series based models. The cabin sticks out only a few inches farther than the driver's cab, but the disparity in width allows for 6 feet 2-inches of rear interior space, which is four inches wider than the regular E-Series.
It may not seem like much, but the difference allowed the builders to comfortably place a fold-up bed from side-to-side instead of lengthwise. The small size increase is crucial from the inside, but nearly invisible on the exterior, therefore allowing the van to navigate tight roads without any added difficulty.
The entire cabin of the new Sportsmobile Classic is quite a sight to behold. Its pop-out Penthouse top allows for extra headroom and space for a two-person mattress. Which means the camper van can sleeps four when you add in the convertible sofa bed.
There's a full galley alongside the sofa bed, with room for the bathroom style of your choice, as Truck Trend notes. They employ a Fiamma-made awning mounted to the side to create shade alongside the camper for lounging about on a hot day.
Sportsmobile's standard E-Series based 4×4 campers offered numerous interior layout options, and their newest effort is no exception. So far, they've shown a basic model at the Overland Expo boasting plenty of cabinet space and a kitchen area mounted on the driver's side. Add-on features include air conditioning, solar panels, shower and more.
The new camper van has yet to begin mass production, but interested buyers can expect it on the market late in the year, selling for $120,000 or so. Head on over to the Sportsmobile website to learn more.