Musician John Mayer Shows Off His Beastly EarthRoamer
RV Decor & Unusual RVs
May 19th, 2015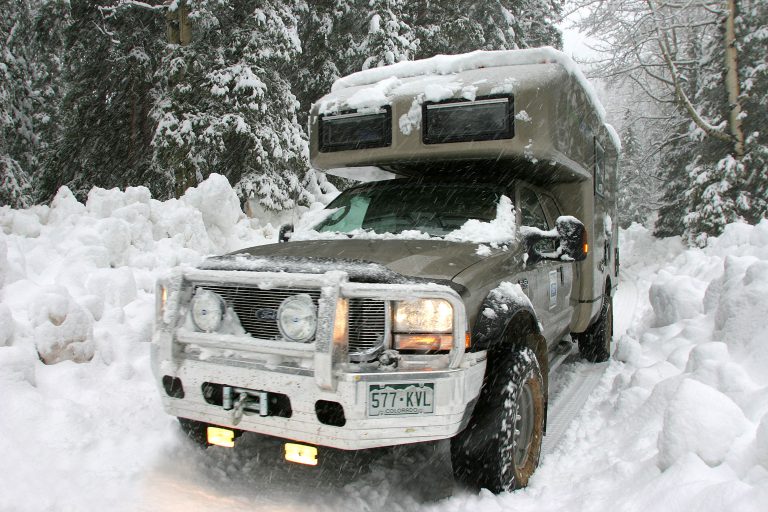 What does a guy like John Mayer, the Grammy winning musician who makes millions of dollars a year, spend his spare change on? An EarthRoamer! Though no exact figure has been released for John's purchase, estimates are that he paid somewhere between $300,000 to $600,000 for this beast of an RV.
Mayer wrote on his Instagram photo of the beast,
I am a proud owner of this most formidable go-anywhere, live-anywhere vehicle. One year and many meetings in the making, she's all mine. Completely hand built in Colorado by extremely talented and innovative men and women. Who knows where I'll end up next.
The EarthRoamer measures over 26 feet long, and is designed to travel over the roughest terrain on its Ford F-550 truck chassis.

The company was started in 1998 by nature photographer and adventurer Bill Swails.
Though EarthRoamer filed for bankruptcy in 2009, it has since grown to become a formidable luxury recreational vehicle manufacturer.
The company says they do not build RVs, but XVs, or rather Xpedition Vehicles. The adventurous camper frustrated with the limitations of a traditional RV will embrace the go-anywhere, rugged EarthRoamer.
This muscular vehicle is constructed of a one piece composite body. With a clearance of 10.4 inches and an optional air ride suspension system that allows the owner to adjust the height of each wheel and axle independently, it truly can go anywhere. The F-550 is a four-wheel drive vehicle with a 6.7 liter power stroke diesel V8. It has 660lb-ft of torque and produces 300 horsepower.
For off the grid living, the EarthRoamer contains a 90 gallon fresh water tank and 26 gallon grey water tank. A solar array capable of pulling in 660 to 1,100 watts, as well as a 3.7-kW diesel powered generator ensures plenty of power.
While the exterior may look rough and ready for anything, the interior is elegant and comfortable with  6'8″ of headroom, LED lighting, and integrated shades.
The interior features several amenities that will make the most adventurous soul feel at home wherever they are. Including plush leather couches that recline to form a comfy bed, enough seating for 8 people, a shower, and kitchenette.
For those interested in tailgating, EarthRoamer offers a tailgater package with a swing out kitchen and grill area. Also included is a 46-inch flat TV that swings flat and slides in using an electric or manual system.
The luxury XV EarthRoamer has a base price of $280,000. Add all the options and you could be talking as much as a million dollars.
Not big enough for you? EarthRoamer is working on a Ford-650 based XV with 363 horsepower. The estimated starting price is a whopping $750,000!
What do you think? Does the EarthRoamer make the ultimate base camp?