The Monstrosity That Is Shachagra
RV Decor & Unusual RVs
June 4th, 2015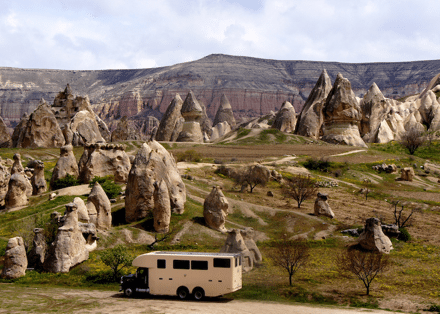 Can your RV survive 16 months traveling across Europe? Shachagra can!
Doug Cuthbert, a retired helicopter pilot and graduate of the Naval Academy, found that a typical motor home couldn't meet his family's needs. Hence the monstrosity that is called Shachagra!
Doug's Dream RV
After he retired, Doug wanted to find the best RV for his family that money could buy. He wanted an RV that could provide each of his three kids with a bedroom of their own. Unfortunately, this is a difficult task for the average RV. When he failed to find any RVs on the market that met his needs, he decided to create his own. Enter Shachagra.
Here is the general outline and design of what Doug wanted his dream RV to look like. As you can see, there are three bedrooms and even a hot tub!
The Reality of Shachagra
Doug had some big ideas for his dream RV, and it definitely took a lot of work to make the end result all he wanted. First, he started his dream RV with an International 7500 Chassis, which cost $97,000 alone. The labor and materials for the living compartments, which would be the interior of the RV, cost approximately $74,000.
The entire cost for this dream RV was estimated at around $171,000. Since Doug and his wife had a savings account to spend on their retirement dream, this wasn't an issue for them.
Behold the final product – the Shachagra.
The Greatest Family Expedition in History
After this monstrosity was completed, the family took off on a 16-month trip around Europe, including Bulgaria and Turkey. Interestingly enough, the building process took only four months, so they were off on their adventure in no time. Shachagara traveled over 20,000 miles across Europe. It even crossed the Atlantic ocean twice.
The Shachagara was outfitted with 2,oo0 watts of solar power and 2,100 amp hours of battery life, for the ultimate off the grid experience.
Pictured below is Shachagara driving through the beautiful country of Turkey.
The Monstrosity that is Shachagara
This phenomenal RV just goes to show what can be built with a generous budget, hard word and a dream. We are incredibly impressed with what Doug has done for his family, and wish them many more happy years traveling in Shachagara.
For some great videos showing how Shachagara was built and where it traveled visit the family's YouTube channel.
Thanks for reading and don't forget to comment and share below!