He Quit His Job to Live on the Road in a Custom Mobile Cabin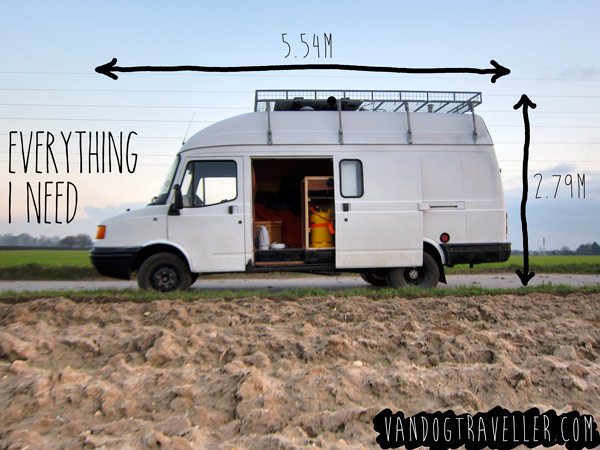 We don't always realize the heavy toll living a traditional, mundane life takes on some of us. While some people are fine with a 9-5 job, mowing the lawn on weekends, and taking a week-long vacation once a year…others are looking for a whole lot more. These are the people who take their fate in their own hands and choose to live a simple, yet more adventurous life.
One of these people was Mike Hudson of Sheffield, UK. In 2013, Mike decided to quit his job as a system engineer and take his life on the open road. This decision took a lot of guts, not to mention an enormous amounts of sacrifices.
The first sacrifice was to quit his secure job.
He had some money saved from working on a off-shore gas platforms in the North Sea, but no real plan for what came next. Most of his colleagues were surprised by his decision. Mike didn't have a clear answer to their questions. All he knew was that the desire to travel was strong.
"I want to live in a van and travel."
The second sacrifice was to give away most of his stuff and move out of his home.
He gave most of his furniture to a women in need, and donated many of his clothes to a local charity. Soon after, Mike purchased a van on Ebay.  He was on the way to fulfilling his dream.
But before he went on the road, he had a lot of work to do. The van was leaking oil and wasn't in the right condition to provide a comfortable travel experience.
So he made the third and final sacrifice – he moved back into his parent's house to work on his van.
Mike says,  "I had to take two steps back in order to make a big step forward." And what a big step it was. After five months of building and fixing Mike succeeded in turning his van into the ultimate mobile cabin. The van conversion had fully consumed him and during this time he became a bit of hermit, growing a shaggy beard and not talking to most of his friends.
He posted a few pictures online and was surprised by the reaction. People praised his achievement and wanted to hear more about his story.
Over a year has passed since the van conversion was completed, and Mike is still on the road living the dream today. His last destinations were Kosovo and Greece. His van is comfortable and self-sustained. He has a solar panel on the roof, a fully functional bathroom equipped with a shower, a kitchen, and a comfortable bed that makes this mobile cabin a home.
For more about Mike and his adventures take a look at his website, Van Dog Traveller.com