Would You Live In A Teardrop Trailer? This Lady Loves It!
RV Owners
June 11th, 2015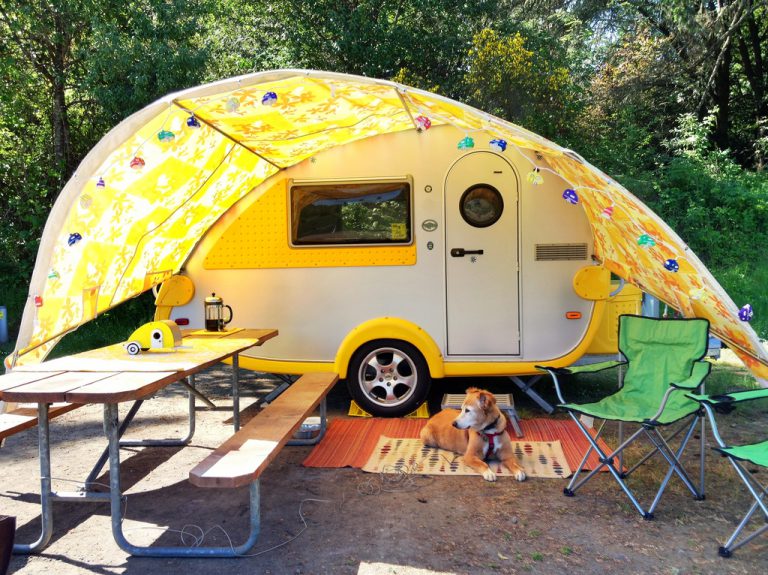 Have you ever wondered what it would be like to camp in one of those cute teardrop trailers? What about living in one full-time? Sharon, a retired pharmacist, decided to make a change in her life..a big change.  She left her "bricks and sticks" home and moved into a teardrop trailer. She now lives in it full-time while cruising the open road.
Sharon tells her story in a recent interview on the site Cheap RV Living.
After retiring she purchased a trailer that could be pulled with her Jeep. The 2015 [email protected] trailer fits her needs perfectly. In contrast to traditional style teardrop trailers, she can stand up inside!
"The inside height is 5'9" at the tallest point which is perfect for my height of 5'4". I call my trailer a tall teardrop." Sharon says.
It took Sharon a long time to make the decision to go full-time. While she had owned travel trailers before, she was not sure if that was the route she wanted to take. Maybe this time she would try a van or small RV? One challenge she faced was the desire to keep her fully paid for Jeep Wrangler. Sharon loved driving her Jeep, but she acknowledges that "Jeeps are limited by their towing capacity and are not known to be stellar tow vehicles."
In the end, the Jeep turned out to be the perfect tow vehicle for the 1670 pound [email protected] trailer. As expected it's slow on uphills, but other than that tows nicely, and as a bonus the4-door Jeep serves extra storage space.
Sharon looked at many trailers before deciding on the [email protected] The final decision came down to weight, aerodynamic profile, and a long list of amenities that the trailer offered. Here are just a few features of this 12′ trailer.
A sitting and sleeping area
A kitchen with a sink, stove top, and 3-way fridge
A TV, radio, CD, and DVD player
A water system and air conditioner
A small but functional wet bath with toilet and shower
Windows for light and ventilation
Sharon bought her [email protected] in California, but the sales tax was expensive. If you claim residence somewhere different you will save a lot of money. You can purchase a [email protected] trailer for as little as $15,000 and as much as $18,000. It all depends on where you buy it. You can also add features such as awnings and different window configurations. Sharon saved for a long time to buy her teardrop and considered it a gift to herself for retiring.
As strange is it sounds, small trailers tend to be the same price as the larger trailers. Some of them cost even more. Sharon recommends that know what you want, and how you plan to use it.  She knew she was looking for something small and easy to tow. The small size motivates her to go exploring.  Let's just say that it can feel a bit confined in there on a rainy day 🙂
Sharon admits that the small space was an adjustment, but it didn't take long for her to grow to love the her bedroom and tiny bathroom. She even says that the amount of hot water provided is more than sufficient for her needs.
The [email protected] has been the perfect home away from home for Sharon and her two Chihuahuas. She is loving how easy it is to hitch up and move. Her favorite thing is setting up the trailer and exploring the nearby areas. The Oregon coast is one of her favorites.
I only took two months of living in the [email protected] to know she made the right decision. Sharon has a laid-back life style and she loves how easy it is live with ease whenever she wants.
Sharon is amused by the people who admire her trailer. She even has a bus load of Chinese tourists come take pictures one time.
Sharon is not alone in her love of her [email protected] trailer . These sweet teardrop trailers are showing up all over the globe. With their simple design and colorful appearance, they sure do have a wide appeal. Personally, I would like to pull one behind our big rig and use it as the ultimate office!
[email protected]'s are made by Little Guy trailers and they come in a variety of styles and colors.  Their "outback trailer" is ready for rugged adventure, while their "[email protected]" was designed by famed "glamper", Mary Jane Butters  If you like "tiny" the [email protected] has something for everyone, including awesome aftermarket customizations such as arched awnings that add a full outdoor room to your teardrop trailer.
So what do you think? Would you like to join Sharon and LIVE in a teardrop trailer? If so, where would you go and what would you pull your new home with? Leave your comments in the box below. I want to hear your thoughts and your dreams. After all, that's what "living the RV dream" is all about….sharing!
Like this article? Share it with your friends. Please pin it, tweet it, like it or post it on any of your favorite social media networks. Thanks!