The Latest in Glamping Lets Guests Sleep in Glass Pods on a Cliffside
RV Decor & Unusual RVs
July 13th, 2015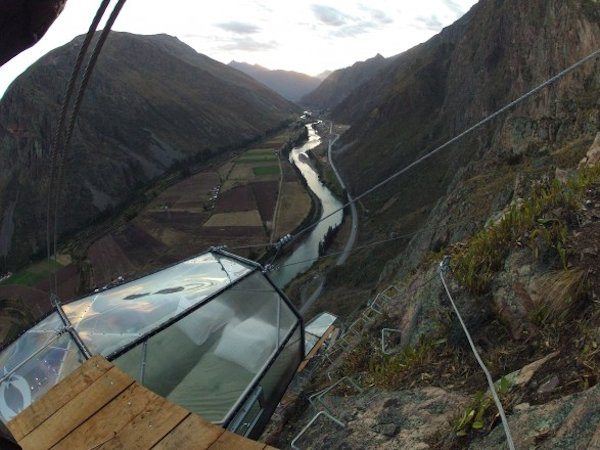 Camping was once about experiencing the elements, but certain individuals have turned the age-old form of travel into something entirely new.
They call this luxurious spin on the classic glamping. And it's reached new heights, thanks to these:
These glass pods hang from cliffsides and function like hotel rooms for the ultra-rich and ultra-adventurous, or those few individuals willing to pay $1,000 a night for a night's sleep — and climb 400 feet to get there.
According to Wired Magazine, the three pods, called the Skylodge Suites, are owned and operated by the Nature Vive travel company. The aerospace aluminum cabins are suspended above the Sacred Valley of Cuzco in Peru, and are actually far bigger than they look in the pictures. The suites contain a private bathroom, four beds and a dining area, but their size is dwarfed by the enormity of the mountainside from which they precariously hang.
The pods go beyond the basics in catering to comfort-conscious glampers. Amenities include pre-made gourmet meals, comfortable down pillows, and solar panels to power the lamps inside. For inexperienced climbers, Nature Vive also provides for a guide to ferry guests up and down from their private pod.
Wired sums up how this recently-opened form of accommodation goes along with what else is happening in glamping these days:
It's a similar gimmick to Airbnb's recent penthouse apartment pop-up in the Holmenkollen ski jump near Oslo, Norway. It's glamping 2.0—lavish accommodations and an adrenaline high.
What do you think? Would you stay in a place like this?