RVing at Lake Huron
Travel Inspiration
July 16th, 2017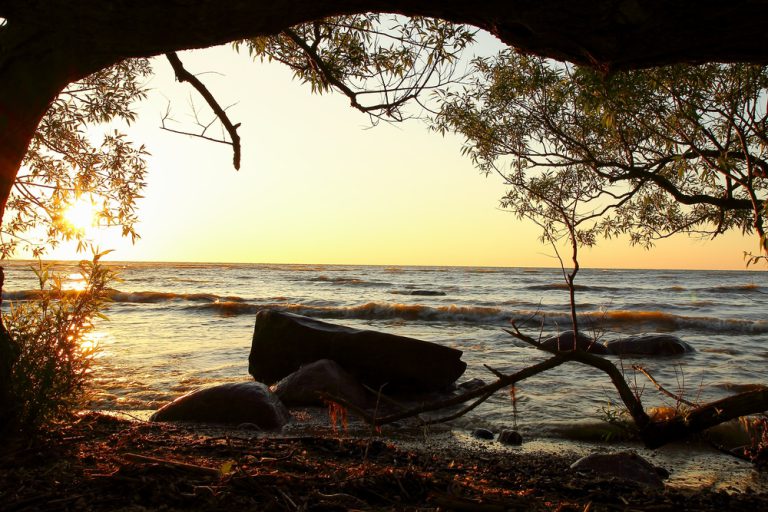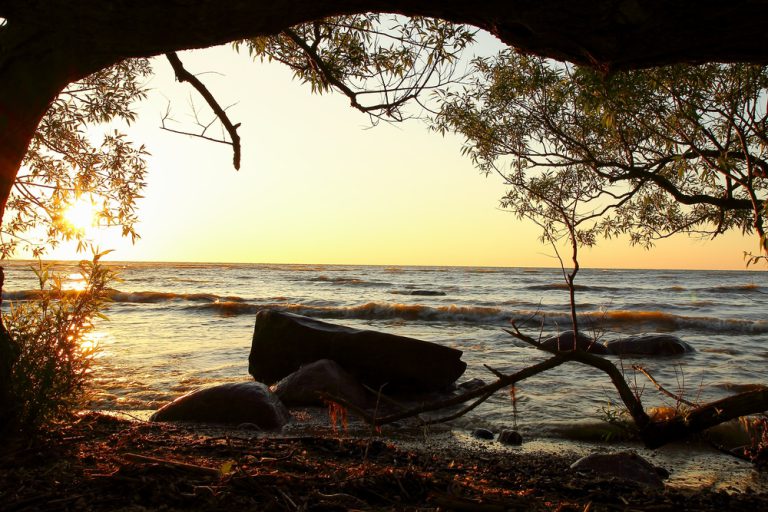 When you live in the midwest, it's easy to feel landlocked. After all, the nearest ocean beaches are hours, and sometimes even days, away.
But if you're willing to forego the salt — and who wouldn't be? — so-called "flyover country" actually has some incredible shorelines.
We're talking, of course, about the Great Lakes, those five massive freshwater seas spread across the boundary between the northern U.S. and Canada. And if you want to see some of the best lakeshore North America's got to offer, look no further than Lake Huron.
Although it's only the second-largest of the bunch, Lake Huron offers the longest stretch of shoreline, thanks in part to its multitude of small islands — it boasts some 30,000 of them according to Michigan's Department of Natural Resources and Environment! That's a whole lot of waterfront property for a supposedly-beachless part of the country.
And Lake Huron has much more to offer than relaxing on the sands along its numerous coves and bays. During the summer, the water heats up to above 70 degrees Fahrenheit, making the lake a perfect oasis for a cooling dip. If you're hungry, fish up a dinner of whitefish, ruffe, smallmouth bass, walleye, white bass, white or yellow perch, or white sucker from its waters. Or, just get out there on a boat and enjoy the subtle lapping of the waves.
If you venture further inland, you'll be rewarded with hundreds of miles of forested trails to hike, bike, and explore on.
But before we get carried away with how amazing your Lake Huron vacation's going to be — where are you going to stay?
Lake Huron Beach Campgrounds
Since this beautiful waterscape has so much to offer, it's not hard to find a campground near Lake Huron. Whether you're looking for rustic camping grounds or a luxurious resort, there's no shortage of accommodations to choose from. The area also boasts a variety of state parks spread across the iconic "mitten" of Michigan.
But you're not just looking for any old place to stay. You want to find the best campgrounds on Lake Huron! And fortunately, you're in luck.
To start, you can simply run a Google Maps search for campgrounds near Lake Huron — or state parks near Lake Huron, if you're looking for a more affordable and nature-focused trip. (Even though they might not have private campground pricing, you'll find that many state parks boast an impressive array of amenities, from grills and firepits to playgrounds and more!)
Once you find a few campgrounds in the area of the map you're most interested in visiting, you can easily see the reviews either through Google itself or by visiting a third-party website, such as Yelp. Although the features of each campground vary, you'll find that the majority of beachside parks on Lake Huron feature pretty decent reviews… probably because it's basically impossible to have a bad time when you're on vacation near this beautiful body of water!
Lake Huron Campground in Michigan
If you're staying on the Michigan side of the lake, there are a huge number of state parks and private resort campgrounds to choose from.
Many of the campgrounds are concentrated along the northern stretch of coast above the "thumb" of Michigan. A few well-rated and RV-friendly state parks in these areas include Wilderness State Park, which offers over 250 campsites available year round, as well as Hoeft State Park, Harrisville State Park, and Fisherman's Island State Park. It's always a good idea to make a reservation ahead of time though — and keep in mind that not all of these state parks offer full hookups or campsites that are able to accommodate extra large RVs and trailers.
You can also find a wide range of campgrounds further south between Sanilac and Huron County. Conveniently nestled near Lexington, MI, you'll find private campgrounds like Lake Huron Campground, Holiday Beach Resort, and Lexington RV Resort — or venture a bit further north of Port Sanilac to stay at Sleeper State Park.
There are, of course, also a variety of Kampground of America franchised campgrounds around Lake Huron, no matter where along the shore you're looking to visit. Try out the Oscoda/Tawas KOA Holiday if you're looking to stay on the eastern shore, or venture north toward St. Ignace and Mackinac Island. There are also options along or close by to the Lake Michigan shoreline at Petoskey, Traverse City, Pere Marquette River and Muskegon.
Lake Huron Campground Ontario
Thinking of heading to Canada, eh?
We don't blame you! Our neighbors to the north have some of the most beautiful stretches of Lake Huron shoreline to their name, including the wild and waterfall-filled Manitoulin Island. Plus, since you're traveling by land, it's a pretty simple border crossing north through Sault Ste. Marie or east through Sarnia into Ontario.
A few campgrounds to check out on Lake Huron in Ontario include Canada's Bruce Peninsula National Park, the Owen Sound KOA, Santa Maria Trailer Resort, and Summer House Park, all of which feature good reviews and lake views.
Lake Huron Seasonal Campgrounds
Although the Lake Huron area is beautiful year round, it's important to keep in mind that it's about as far north as you can go in the lower 48… which means it gets cold come winter!
An impressive number of Lake Huron campgrounds are actually open all four seasons, so if you want to brave the cold in your rig and celebrate the holidays on a chilly beachfront, you're able to do so.
However, not every single campground will keep its doors open year-round, since demand drops off during the colder seasons. For that reason — and also just to ensure you'll have a place to stay, no matter when you're going — it's always important to make reservations ahead of time at your chosen Lake Huron campground.
Enjoy your time basking in the glory of what French explorers once dubbed La Mer Douce — the sweet sea. We know that after you spend a few days along its shorelines, you'll agree that there's no sweeter place to be.