Kompact Kamp Has An Awesome Motorcycle Trailer That Is Easy To Set Up
How Tos & Tips
June 22nd, 2015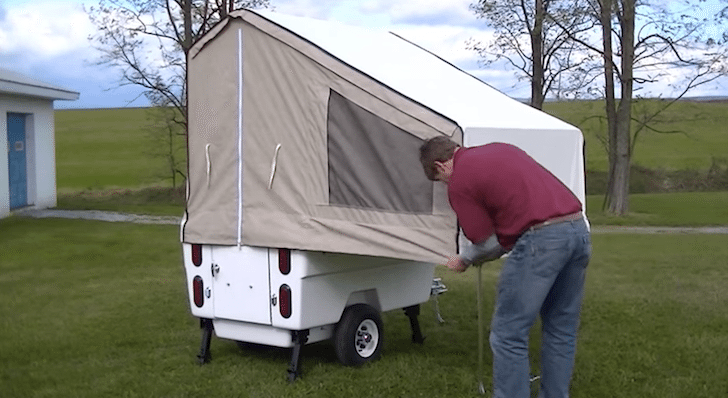 If you love motorcycle rides and going camping, you have to see the Kompact Kamp Mini Mate Camper. This motorcycle trailer is exactly what you need to enjoy the open road. The Mini Mate has an compact design that offers a comfortable camping experience. It might looks small at first sight, but this trailer has enough space to host two adults and a small beer keg. (Sounds about right from my point of view)
Thanks to its unique design the Kompact Kamp is very easy to set-up.
Kompact Kamp is not limited to only this singular trailer. The company makes a variety of campers designed to be attached to your motorcycle. They have cargo trailers, mini mate trailers and even dog trailers.
This is how the Mini Mate trailer looks like as you set it up. It's a one man, super simple job. 
You only need two minutes to transform this compact beauty into a spacious tent. 
It just takes a swing of a hand and a few adjustments to get your bed ready. 
There's enough space inside to sleep two adults. The bed boards are made from primed plywood, strong enough to support any extra accessories. 
The storage space under the bed has 15 cubic feet of space. 
Doesn't it look perfect for your next road trip?
Learn more more about this trailer and the full set-up procedure in the video below.
What do you think? Does the Kompact Kamp look like the perfect trailer for your next trip?