Travel Inspiration
July 1st, 2019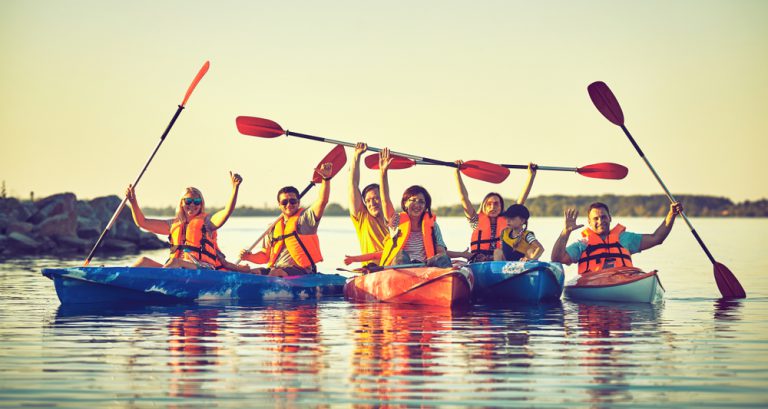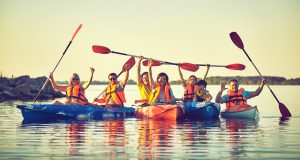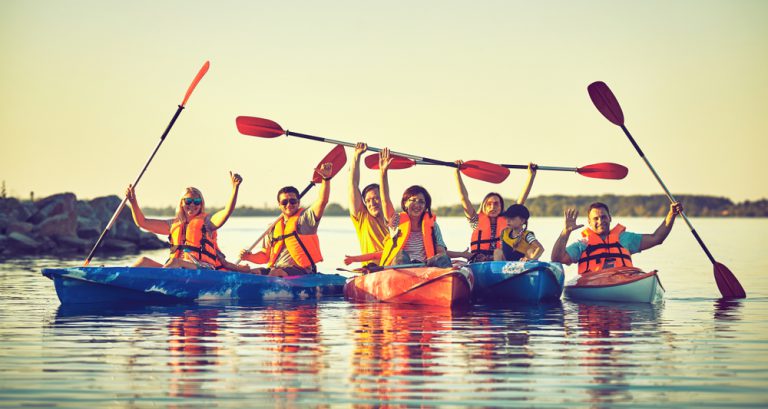 For some campers, it's all about hiking: climbing tall mountains or just taking a leisurely stroll amongst the trees.
For others, it's about urban adventures: using your rig as a home base while you explore the destinations that have been on your bucket list for decades.
But for many RVers, a camping trip just isn't a camping trip unless you can get a little wet. Paddling our nation's vast network of rivers is a great way to see the countryside, get some exercise, and stay cool… not to mention being plain old fun!
"But where is the best kayaking or canoeing near me?" you may be wondering. "And which river destinations are actually worth traveling for?"
Hang onto your paddles, because in this post, we're going to dive into some of the very best places to hit the water this summer.
Best Kayaking Spots
Here are some places to go kayaking that are well worth adding to your travel bucket list. (Please be advised that permits may be required and some waters may have high-class rapids that necessitate expert guides and know-how!)
1. Prince William Sound, Alaska
Yes, it'll probably be quite a trek to get there… but kayaking on the extraordinary Prince William Sound in Alaska's Chugach National Forest is an adventure worthy of your travels. Surrounded by mountains and glaciers, it's hard to think of a more scenic place to enjoy a paddle. The waters are pristine and clear thanks to their glacier-fed, unpolluted nature, and speaking of nature, there's plenty of fascinating wildlife to encounter while you're there. No wonder they call this place a kayaker's paradise!
Click here to see RVshare rentals near Prince William Sound in Alaska.
2. Lake Tahoe, California and Nevada
Man, is there anything this destination can't do? From indulgent spas to challenging hikes to, yes, some world-class kayaking, Lake Tahoe is a bucket list topper in both summer and winter. Since it's a lake, rather than a river, visitors can look forward to a nice, relaxing paddling experience without having to fight the current,
Click here to see RVshare rentals near Lake Tahoe.
3. Mulberry River, Arkansas
We've said it before and we'll say it again: the Ozarks are one of the most underrated vacation destinations in America. This sprawling mountain range is punctuated with a number of waterfronts and riverways, one of the wildest of which is the Mulberry.
Come springtime, the rainy season makes for a truly exhilarating adventure as you navigate the river's twists and turns, making it a challenging ride even for an expert. If you're closer to the beginner side of things, consider visiting in summer or fall, or consider patronizing one of the local adventure tour companies.
Click here to see RVshare rentals near the Mulberry River in Arkansas.
4. Colorado River, Arizona
It may be called the Colorado, but the spot that's most scenic to kayak is in Arizona — along with a whole host of other Grand-Canyon-related adventures. From visiting the national park to going further afield to Page to experience Antelope Canyon and Horseshoe Bend, this part of the country is truly a non-stop spot for adventures… and kayaking through the Grand Canyon itself is certainly not the least of them.
With over 260 miles of river to explore in this area, you could easily make this into a multi-day (or even multi-week) journey… or go for a nice quiet day trip between other beckoning adventures. There are both calm areas and rougher patches, so you can find something to match your comfort and experience level. Either way, it's going to be unforgettable.
Click here to see RVshare rentals near the Colorado River in Arizona.
5. Ocoee River, Tennessee
The Ocoee is one of the most famous rivers not only in America, but in the entire world — and it's Class 3 and Class 4 rapids make it an amazing spot to try out some whitewater kayaking. In fact, it's the only natural river that was ever used to facilitate an Olympic-level kayaking and canoeing event (back in the summer of 1996), so it's safe to say that if you're a beginner, you'll want to ensure you've got expert help on your team.
The Ocoee is tucked in the scenic Cherokee National Forest, which offers tons of hiking, camping, and other landlubbing adventure opportunities once you're done braving the river.
Click here to see RVshare rentals near the Ocoee River in Tennessee.
Best Canoeing Spots
If kayaking's not quite your style, take heart. Here are some places to go canoeing!
6. Clearwater Canoe Trail, Montana
This one-to-two-hour canoe trip meanders through a dense and beautiful willow marsh, and is regulated by a no-wake rule that makes for a relaxing and leisurely paddle. Along this 3.5-mile section of the river, you'll be able to spot warblers, nesting common loons, bitterns, catbirds, snipes, great blue herons, and belted kingfishers… not to mention muskrats, painted turtles, and beavers.
Click here to see RVshare rentals near the Clearwater Canoe Trail in Montana.
7. Indian River Canoe Trail, Michigan
Chances are Michigan's upper peninsula is already on your travel bucket list. (And if it isn't… well, why isn't it? It seriously doesn't get much more scenic.)
But did you know that this midwestern spot is also home to a world-class canoe opportunity? Tucked into the Hiawatha National Forest, the Indian River runs a total length of more than 50 miles, and it makes for an excellent spot to kick back with your paddle and observe the local flora and fauna. Please keep in mind that the trail may be high and fast before mid-June, when the area's snowfall inflates the waters.
Click here to see RVshare rentals near the Indian River Canoe Trail in Michigan.
Fishing Kayaks, Fishing Canoes, and More
Now that you've got some canoeing and kayaking destinations to choose from, let's talk gear. What kind of boat do you need to get where you're going?
Fishing kayaks and canoes come with special features that make fishing easier, such as built-in coolers or rod holders that make storing your stuff a breeze. That said, any canoe or kayak can be a fishing vessel… all you have to do is fish from it! (Always ensure you have the proper licensure for the state and wilderness area you're visiting!)
Inflatable kayaks and canoes are an inexpensive alternative to purchasing a hardback boat. Like the name suggests, they blow up, which means they also deflate to store in a compact area. (Another great option if you're looking for a storable boat is a folding kayak.)
A sea kayak differs from its freshwater counterparts because it's specially developed to tackle open water adventures, incorporating covered decks, spray decks, and greater cargo capacity. They're also often designed for longer-term ride comfort in mind, allowing passengers to sit in an easier position.
Along with choosing the right type of vessel for your proposed adventure, it's also important to keep size in mind. Do you need a single boat, or are you looking for a 2-person or double kayak? It's nice to have someone help row, but at the same time, each having your own vessel can be a great way to maintain some independence as you explore.
If you're traveling with younger campers, you may need to invest in a youth kayak, which will better fit their shorter, smaller dimensions. And if you really want to go all out, you can even find clear kayaks, whose transparent hulls make it easy to see everything going on below you — a total treat, especially at some of the stunning destinations we've listed in this post!
No matter where your paddling adventure takes you, an RV is the very best way to set up home base once you get there. A motorhome or travel trailer gives you more room to store your adventure gear, including your kayak or canoe, as well as ensuring you don't have to worry about hauling your stuff into a string of anonymous hotel rooms. If you don't already have a rig of your own, consider renting through the peer-to-peer market at RVshare. Your funds will go directly into the pockets of a camper and adventurer just like you… and the total price will be a heck of a lot cheaper than what you'd find at the big box stores.
We can't wait to hear all about your wet and wild adventures this summer. Have fun — and be safe out there!
This post may contain affiliate links.