Travel Inspiration
Last updated on July 10th, 2023. Originally published on June 30th, 2017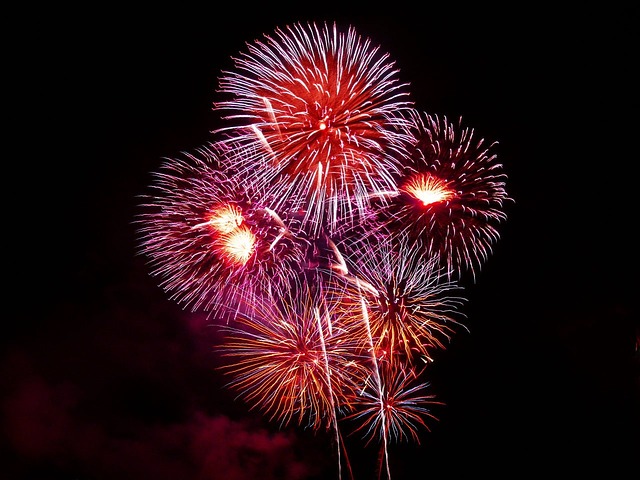 America has the best birthday party. I mean, come on: What can beat hot dogs, beer, and fireworks?
Actually, there is one way to make it all even better. (And yes, you can probably guess what we're going to suggest.) What about enjoying your Independence Day celebration from the comfort of your RV, while visiting one of the many breathtaking campsites in this beautiful country of ours?
4th of July Holiday Travel
Traveling the U.S. is one of the very best ways to celebrate Independence Day. There's little more patriotic than actually getting out and exploring the land we call home.
But if you're thinking of taking on some 4th of July road travel this year, you may be at a loss for where to start. After all, we've got 50 states and 63 National Parks, not to mention all the other private and public camping areas across the nation.
Choosing the right spot for your dream vacation is, of course, highly personal. One family's favorite spot might drive another camper absolutely crazy. Do you want a wooded wonderland, or do you prefer something more urban? Does an oceanside fireworks display sound great to you, or would you rather stay as far away from beaches — with their sand, sweat, heat, and humidity — as possible?
But if festive 4th of July events are what you're after, there are a few American cities that lead the pack in terms of ideal Independence Day travel destinations.
So we've put together this list of some of the very best 4th of July travel ideas for those seeking explosively awesome last-minute getaways, whether you prefer to celebrate in a small town or a big city.
Best 4th of July Travel Destinations
No matter where in the country you call home, here are the best places to travel over the 4th of July weekend.
1. Washington, DC
Alright, this one might be a bit of a giveaway.
But who can resist celebrating America's birthday in its capital? Catch some daytime baseball at the Nationals stadium, spend an afternoon at the Smithsonian National Zoo, and watch fireworks against the DC skyline. Plus, after the last wisp of firework smoke has faded, you'll still have tons of historical and cultural sites to see and explore.
Click here to see RVshare rentals near Washington, D.C.
2. Lake Tahoe, Nevada/California
Lake Tahoe is a well-known skiing destination in the winter. But come high summer, travelers trade snow slopes for water activities. The Tahoe city Fourth of July celebration offers everything from live music and face painting, to drone and laser shows. And of course, end the day with a stunning fireworks display known as "Lights on the Lake". Nevada Beach is a stunning place to camp and see the show right from your campsite.
And if snow is still around by chance, you won't want to miss the Freedom Fest at Palisades. Done your best red, white, and blue gear and take one final ride down the slopes, plus enjoy a live concert at night. 2023 is the first year this event has been held in over a decade due to the abundance of snow!
Click here to see RVshare rentals near Lake Tahoe, Nevada
3. San Antonio, Texas
What brings a fireworks display together more completely than great music and authentic southern barbecue?
The Austin Symphony Orchestra accompanies the city's annual display, which is visible from Auditorium Shores. After the fourth, spend a few days getting acquainted with this active and entertaining central Texas oasis, a popular RV camping destination year-round.
Click here to see RVshare rentals near San Antonio, Texas
4. St. Augustine, Florida
Where better to celebrate America's birthday than the oldest city in the nation?
Yes, you read that right: the nation's longest continually-run settlement isn't Jamestown or Plymouth, but rather this small Spanish colony situated on northeastern Florida's coast.
Every year, the entire downtown area is cordoned off so that pedestrians can rule the streets, and sure enough, they start filing in as early as noon.
The fireworks draw visitors from across the state and region, but St. Augustine's ample historical tourism offerings and hip cocktail scene keep them an extra day or two. Plus, you can camp amongst the dunes at Anastasia State Park for less than $30 per night.
Click here to see RVshare rentals near Saint Augustine, Florida.
5. Madeline Island/Bayfield, Wisconsin
Lake Superior is undoubtedly a superior place to take in a 4th of July spectacle!
Camp on the mainland and take the ferry out to Madeline Island to watch the fireworks reflect and refract on this, the northernmost great lake. You can also make time to enjoy the Madeline Island Historical Museum and hiking trails in Big Bay State Park during your stay.
Click here to see RVshare rentals in Bayfield, Wisconsin
6. San Diego, California
If you're looking for a chill beach fourth that still packs a punch in the way of pyrotechnics, San Diego is your spot. In fact, you'll get to choose from a whole list of fireworks displays.
The largest of these is the annual "Big Bay Boom," which can be seen just about anywhere in the city: Shelter Island, Harbor Island, the Embarcadero area, or Seaport Village/Coronado Landing. But if you want something a little bit more laid back, head out to Ocean Beach for their annual pier-side celebration.
Click here to see RVshare rentals near San Diego, California
7. Gatlinburg, Tennessee
Celebrating Independence Day from the Smoky Mountains? This scenic gateway town hosts not only an annual fireworks display but also a midnight parade. In other words, there's no shortage of festivities to help you get in the patriotic spirit! Participate in the Gatlinburg River Raft Regatta and race rubber ducks to the finish-line, attend the Dollywood theme park summer celebration, then head up to the SkyBridge for one of the best views for fireworks in town!
Twin Creek RV resort is a perfect central camping location to visit Gatlinburg, Pigeon Forge, and Great Smoky Mountains National Park.
Click here to see RVshare rentals near campgrounds near Gatlinburg, Tennessee
8. Philadelphia, Pennsylvania
If you think the Liberty Bell is the most American thing in Philly…
… you might be right. But the city's annual Independence Day bash, the "Wawa Welcome America! Party," might be a close second. This free event includes fireworks, live music, and more — and is literally hosted on Benjamin Franklin Parkway. Plus, enjoy free museum days at select Philadelphia attractions, revolutionary activities at the Museum of American Revolution, and the Celebration of Freedom Ceremony at Independence Hall for a reading of the declaration of independence and an orchestra performance.
Click here to see RVshare rentals near Philadelphia, PA
9. Las Vegas, Nevada
Sin City might not be the first destination you think of when you're pondering the best places for a 4th of July vacation. But if your ideal all-american celebration includes pool parties, live entertainment, and fish-bowl-sized margaritas, it's hard to do better than Las Vegas.
Given that the city already has lights that can be seen from space, the annual fireworks display over the strip only works to amplify what's already a very "lit" situation. You can even hike up to the mountains to enjoy a remote view of fireworks going off around the city! And thanks to the preponderance of different types of attractions in the city, it is actually possible to take a wholesome, family-friendly vacation — check out how these bloggers did it!
Click here to see RVshare rentals near Las Vegas, Nevada
10. Portland, Oregon
With the way this city celebrates the 4th, one would think it was the official birthplace of the US. From western Oregon celebrations like a rodeo and a blues festival, to a star spangled banner parade and craft beer celebration, Portland's 4th of July festivities are sure to keep you and the whole family entertained.
Click here to see RV campgrounds near Portland, OR
11. Bristol, Rhode Island
It might not be the capital city or the oldest town in the states, but this Rhode Island town does have one superlative that gives it its spot on this list: it's the self-proclaimed "most patriotic town" in America, thanks exclusively to its one-of-a-kind Independence Day bash. Every year, Bristol puts on a host of Fourth of July events starting as early as mid-June, including free outdoor concerts, orange crate derby races, a Fourth of July Ball — and, the crowning jewel, a parade on Independence Day itself that'll leave you absolutely breathless. (No wonder over 200,000 people crowd themselves into this small town just to witness it for themselves!)
Click here to see RVshare rentals near Bristol, Rhode Island
12. Boston, Massachusetts 
​​It makes sense that one of America's most celebrated historical cities would pull out all the stops for the Fourth of July — but that still might not prepare you for just how awesome this northeastern bash will be. With the family-friendly reenactments of the annual Boston Harborfest and a world-class fireworks display accompanied by none other than the Boston POPS Orchestra, this Independence Day getaway will be one to remember… and that's before you take the town's amazing shellfish into consideration.
Click here to see RVshare rentals near Boston, Massachusetts
4th of July Weekend Getaways
Looking for shorter-term 4th of July vacations? We've got you covered! Here are a few to consider, no matter which corner of the country you call home.
13. Buffalo, New York
To those who live out of state, Buffalo may not be known for much — aside from its chicken wings and brutal winters, of course. But those in the know know that it's home to one of the most exciting Fourth of July bashes for miles, with nine full hours of food trucks, free music, and more at its annual Canalside Celebration. (The fireworks go off at 10 p.m., making for a perfect nightcap.)
As if that weren't enough to explore, there are plenty of other patriotic proceedings going on in the greater Buffalo area, starting right at the beginning of the month. You could get down at the Independence Day Block Party on Old Falls Street or head up to the Village of Lancaster to enjoy carnival rides, contests, and more. There are even fireworks displays on the 1st, 2nd, and 3rd, so you could turn it into Independence Week if you're so inclined. Click here to learn more about what the area has on offer.
Click here to see RVshare rentals near Buffalo, New York
14. Milwaukee, Wisconsin
Looking for a midwestern adventure you won't soon forget? Milwaukee, Wisconsin may not be a coastal city, but it still has some beautiful lakeside beachfront — and it also puts on an unforgettable Independence Day fete. There's the parade and classic fireworks show to mark the occasion, of course, but if you're party-minded, there's no need to limit the festivities to just one day. The town also hosts a day-long kite festival on July 3rd, as well as Summerfest, the world's largest music festival, which is held each year at the at the Henry Maier Festival Park along the lakefront.
Click here to see RVshare rentals near Milwaukee, Wisconsin
15. Atlanta, Georgia
This southern city might be better known for its peaches, but it does pretty well at pyrotechnics, too. Altanta puts on multiple fireworks displays, lighting up both Centennial Olympic Park and SunTrust Park, and there's plenty of food and fun to keep you occupied no matter which venue you choose. You could also count yourself among the 150,000+ spectators who come to cheer on the 60,000 brave participants who take to the streets each year in the Peachtree Road Race, the largest in the U.S.A. And if you've got the kids along for the ride (or are just looking for some spills and thrills in your own right), don't forget that there's a nearby Six Flags — and they celebrate the season, too, offering an extra hour of park access to celebrate the Coca-Cola 4th of July Fest. There are even foam parties if you're ready to get really wild!
Click here to see RVshare rentals near Atlanta, Georgia.
Tips for Finding Last-Minute Camping for 4th of July
Unfortunately, since camping is such a popular Independence Day activity, if you don't plan pretty far in advance, it can be difficult to find a place to set up during the holiday. However, there are some things that can make finding a last-minute 4th of July campsite a bit easier.
Obviously, the first thing to try is your usual way of making a campsite reservation. Many people like to reserve state park campgrounds through Recreation.gov. Others have a particular RV park that they love and return to time and time again.
However, if your usual methods fail you, there are still some things you can try.
Look Beyond State and National Parks
Private campgrounds, Hipcamp, and Harvest Hosts are all great places to check out. On Hipcamp you can find RV-friendly campsites on ranches, vineyards, public parks and more. You can use them to see if your favorite national park campground has last minute availability, book a yurt on a camel farm, and find just about anything in between for you and your RV. They've partnered with landowners in all 50 states to help you get outside on your own terms. Harvest Hosts is a membership network that allows self-contained RVers to stay overnight for free at over 1,000 locations including wineries, breweries, farms, and more.
Try Calling
Sometimes online booking systems aren't programmed correctly, meaning they may not show all availability. For this reason, we highly recommend calling the campgrounds you hope to book before you give up completely.
It can also be a good idea to look for campgrounds that only take reservations by phone. This is because people are less likely to book by phone, meaning there is a better chance of finding a campsite at one of these parks.
Look for First Come First Served Campgrounds
If you can arrive a few days before the holiday, a first-come, first-served campground could work well for you. Since these campgrounds don't take reservations, the people who arrive the earliest are the ones that'll snag a site. Arriving two or three days before the celebration will almost certainly mean you'll find a site.
Consider Boondocking
Boondocking on government-owned lands is another great option, especially if you have a way of getting to the lesser-known areas, and even more especially if you are able to get there a couple of days ahead of everyone else. Visit the Bureau of Land Management to find some unique camping spots. Of course, you will want to be equipped to boondock with a gas-powered fridge, plenty of propane and water, a full battery, and some way to recharge that battery. 
What to Look For in Your 4th of July Campground
We all know beggars can't be choosers. That said, if you do get to choose between two or more campgrounds, there are some things to consider. There are the usual things, such as what kinds of hookups are included and the location of the campground, but you may want to add the following things to your list for the holiday:
Amenities 
Amenities can be important if you and your family like to be active while celebrating the holiday. Many campgrounds have swimming pools, sports courts, and other fun activity-based amenities onsite. If these are important to you, be sure to check for them when choosing your campground.
Scheduled Activities
Another thing you might want to look for is a place that has special events or scheduled activities for the holiday. Depending on the place, some events that might be included in your stay are kids crafts, food truck nights, dance parties, and fireworks shows.
Fireworks Rules
Finally, when planning for 4th of July camping, we highly recommend finding out what the campground rules are when it comes to fireworks. In the vast majority of cases, campfires are not allowed in campgrounds and RV parks, meaning you will have to do some searching for the right campground if this is important to you. Otherwise, we recommend attending the local fireworks show.
How to Stay Comfortable while Camping on the 4th of July
We all know that the 4th of July is a super hot holiday. This means that spending time outside during this holiday can be uncomfortable if you aren't properly prepared. Obviously, you'll be spending a lot of time outside while camping, so you will want to ensure you are prepared with ways to stay cool during your trip.
Camp in an RV
First, we highly recommend RV camping rather than tent camping. While RVs may not be as well insulated as houses, they do offer some protection from the sun and heat. Additionally, most units have an air conditioner, fans, and a refrigerator. All of these things will help keep you cool and comfortable.
Park in the Shade
If you can, park your camping rig in the shade. This simple tactic can actually help keep the interior of an RV several degrees cooler, something that will make a huge difference on a hot summer day.
Cook Outdoors
Having a kitchen with you when traveling is great. That said, using the propane stove and oven in your camper can heat up the indoors really quickly during the summer months. For this reason, if you're having trouble keeping cool, you might want to consider cooking outside. Most people like to cook over an open fire or grill while camping anyway, and cookouts are a great way to celebrate a holiday.
Have a Way to Run the A/C
Another thing that's great about RV 4th of July camping? Having an air conditioner. That said, it's pretty useless if you don't have a way to run it. Our suggestion is to either make sure the campground you're going to has electric hookups, or plan to use a generator to run the A/C.
Options for Other Outdoor Activities
Can't find a campsite for the Independence Day holiday? While this is definitely a bummer, there are other options of things to do.
Some of our favorite outdoor 4th of July activities include:
Cookouts — As mentioned above, cookouts are an incredibly popular way to celebrate the summer holidays. Head to a park or host a cookout in your own backyard. Consider using your RV to prep and store cold foods, as well as a place to cool off if needed.
Swimming — Swimming is another great 4th of July activity. You might choose to visit a local lake or swimming pool, or even go to the ocean. Taking an RV along means you can use it as a changing area, restroom, and a nearby place to grab a snack during your swim session.
Hiking — Finally, we highly recommend taking a hike on the Independence Day holiday. Doing this allows you to take in the beauty of our country and really appreciate it. Of course, taking a small camper (such as a campervan) along can be helpful before and after your hike. 
Safety First!
Finally, one quick word of caution: Although they're beautiful, fireworks are dangerous — "fire" is right there in the name! So to ensure you and your family enjoy a stress- and injury-free 4th, always be sure to follow firework safety precautions and regulations, and keep all flames and heat sources far away from flammable fuels on your rig.
Also pay close attention to fire bans in effect and take note of any nearby people, trees, or animals. You should never light fireworks off in a crowded, forested area, as this is a surefire way to wreak havoc on your vacation.  
Need More July 4th Travel and Vacation Ideas?
As you can see, from sea to shining sea, this country is full to the brim of amazing places to celebrate its birthday… and trust us, this list hasn't even scratched the surface. No matter where you live (or where you're planning to stash yourself in early July), you're bound to find an amazingly patriotic display near you.
But we do have to reiterate that RV travel is really the most ideal way to experience Independence Day, whether you're headed on an epic cross-country trek or just camping out in your own backyard at home. You'll have all the creature comforts and conveniences you're used to with the added flexibility of wheels — and after a fun (but hectic) day of battling Fourth of July crowds and traffic, there's no bigger comfort than the ability to kick back in your very own private space.
Looking for even more ideas for enjoying an unforgettable Fourth, or planning any other kind of summer vacation? Here are a few RVshare posts that might help.
We hope this list of some of the best places for your 4th of July vacation helps you find the perfect spot to celebrate the most patriotic day of the year.
Click here to find the perfect RV rental for your July 4th vacation!
Happy camping, and God bless America!