A Look Ahead at Holiday Travel
Industry News
Last updated on November 10th, 2022. Originally published on October 26th, 2022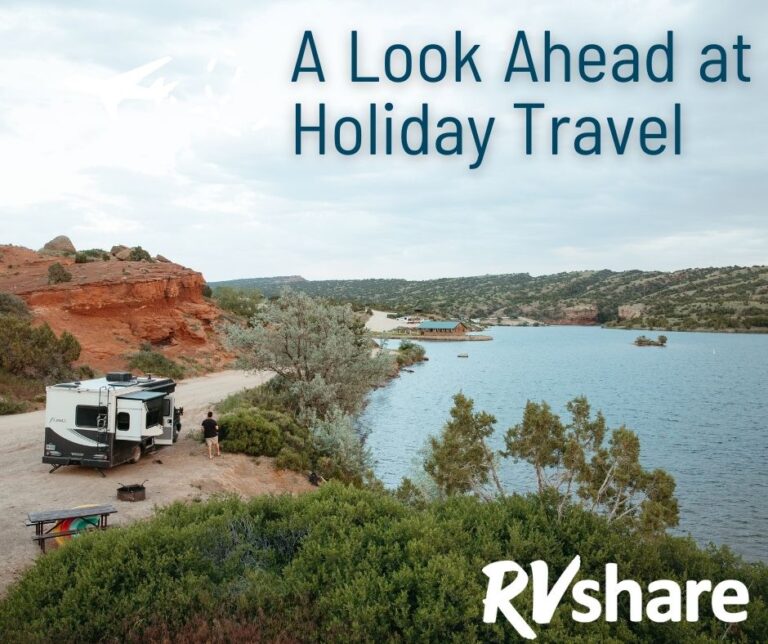 With the end of year holidays fast approaching, winter travel might be on your mind. And we're betting the thought of packed airports and delayed flights is scarier than a Halloween movie. But not to fear, we're taking a look at holiday travel in 2022 and giving you a few reasons why it's the perfect time to take an RV trip!
The Status of Air Travel in 2022
After two years of rules and restrictions with air travel, the holiday season of 2022 is gearing up to be a busy one. More people are traveling on planes again. And with high gas prices continuing, this holiday season is going to be both busy and expensive for air travel. Hopper Media estimates that average plane ticket over the Thanksgiving holiday costing $350 for a domestic flight, and $463 over the Christmas holiday! There's also concern over cancellations due to lack of pilots, too much demand, and winter weather.
While this sounds all doom and gloom, if you're going to be traveling by air this holiday season there are things you can do to make your travel easier. Experts recommend you purchase your tickets early, fly on non prime days (avoid the day before Thanksgiving and the two days after Christmas). It's also good to have a back up plan in case your plane trip is canceled.
Americans Are Traveling for the Holidays Again
It's not just air travel that's up this year. With lockdowns and restrictions lifted, studies are predicting that nearly 47% of Americans will travel for the holidays. And two thirds of those people will travel by car. Those that plan to travel may be battling the masses for reservations and paying a premium. If you're craving some holiday time with friends and family (or possibly looking to head to the woods to escape them) this might include you.
Or you can think outside the box to skip the hassle and book an RV rental for your holiday travel. While you might still have to deal with traffic, it's a more comfortable experience that gives you control over your holiday travel.
The Benefits of an RV Trip for Holiday Travel
RV travel is a great solution to get around crowded airports, expensive tickets, and delayed flights. By renting an RV, you don't have to worry about losing luggage or getting stuck in the security line. And since you bring your accommodations with you, you won't have to crash on your cousin's uncomfortable couch or squish 4 people into a spare bedroom with one bed. It also means you can leave for your destination early or stay a few days late to avoid the worst of the travel days.
It's also a more comfortable way to travel, even if the roads are busy. Driving a self-contained RV or towing a trailer means no more waiting in line for dirty and crowded gas station bathrooms. Rest stops become easy breaks when you're not fighting a crowd for the vending machines or sinks. And a fridge with snacks or lunch is right there if needed. You can even stop and take a little nap if you're on a long haul trip. It's much more comfortable than squishing the family into a small car when you're driving 6+ hours.
Or you can avoid the holiday travel crowds entirely. How about a winter ski vacation or heading south to warmer weather? Or escape from your crowded city for a trip you can do on one tank of gas. A holiday RV trip can mean a fun family vacation, a quiet retreat, or an escape from winter temperatures. And most of the time you won't even have to deal with the summer camping crowd.
Have an extended family that's all itching to travel? Why not have an RV meetup at a fun new destination? This way no one gets stuck hosting at their house, and you all get a new experience. And possibly a new tradition!
Take an RV Trip this Holiday Season
If you're interested in taking an RV trip this holiday season, check out our article about The Ultimate Guide to RVing Over the Holidays – From Halloween through Christmas. And head over to RVshare.com to book the perfect rental for your holiday travel.