Industry News
November 7th, 2021
It may seem as though we just got back from our summer travels, but those trips are actually fast fading in the rearview — and the holidays are on the horizon!
But if you're planning to travel this winter season, as well — as so many RVers are — then buying your holiday presents sooner rather than later might be in your best interest.
For one thing, as we've all heard, supply chain issues have been rampant this year, along with the general shipping delays and other havoc wreaked by COVID. Many companies can't get their hands on the raw materials they need to make the goodies many of us are hoping to open on Christmas morning: computer components and paper are both experiencing shortages, which affects consumer products like electronics and books. There's also a shortage of shipping containers, which means that even when products are available, it might be more difficult to get them here!
For another, holiday shopping from the road can add an extra layer of stress — though it is possible. Read on for tips on how to do so successfully, as well as some more motivation to get it all done ahead of time!
Holiday Shopping 2021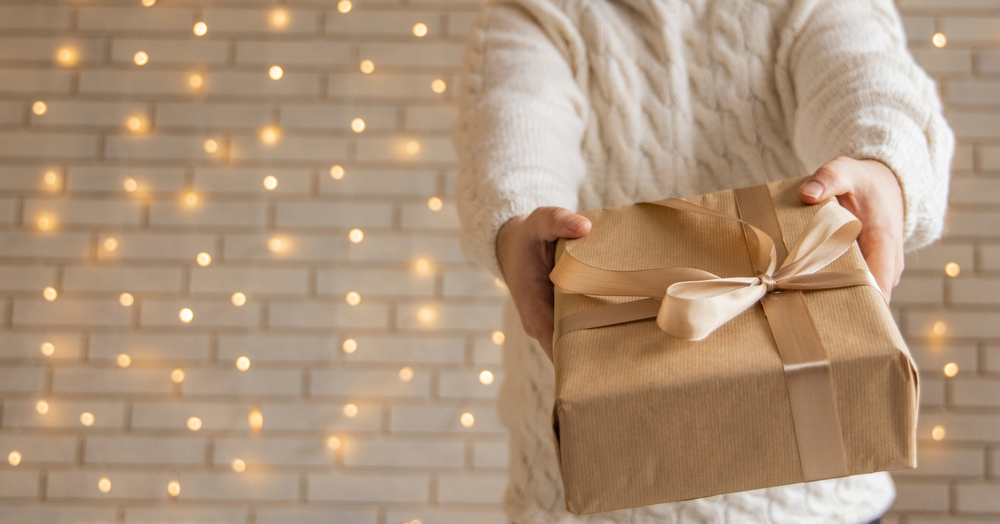 While the pandemic continues to cause chaos, there is good news: if you start your holiday shopping as soon as possible, you may be able to avoid any serious snafus. After all, at the time of this writing, we have a full six weeks before Christmas and almost three before the first night of Hanukkah.
That means that even with a shipping delay, you might get your goods on time to ensure they're wrapped and ready… and if there's something on your list it turns out you can't get a hold of, you'll have the opportunity to brainstorm something new.
All of which is to say nothing of the plain-old, every-day, every-year benefit of having another must-do task done ahead of time, allowing you to chill out, relax, and actually enjoy the holidays, rather than having to scramble to get everything done at once.
Furthermore, for those of us who will be traveling, shopping can quickly become a nightmare. Buying in-person is already kind of a drag: you have to go to the store, for one thing, which in many places still means masking up and practicing social distancing. Even if you're traveling by RV, you probably don't have endless room available to store those gifts you're getting, and depending how many people are on your to-buy-for list, your living space could quickly become cramped.
Even if you plan to do most of your holiday shopping online, you probably don't want to do it from the road. Not every campground has a mailbox available for customers unless you're in a longer-term camping facility, and even then, there may not be a secure box for packages.
And, of course, if you're traveling, your "ship-to" address will be constantly changing. It's all too easy to accidentally forget to change it and have something shipped to the wrong place!
Tips for Holiday Shopping from the Road
If you do end up needing to do some or all of your holiday shopping from the road, here are our best tips for making it as easy as possible on yourself.
1. Get started now!
As mentioned above, there are all sorts of excellent reasons to get started with your holiday shopping sooner than later, no matter where you're doing that shopping from! Avoid shipping issues, headaches, and having to apologize for a late gift by tackling your shopping list ASAP. (Don't forget: you also need to factor in the time it'll take to ship it to its recipient!)
2. See if you can get things held at a shipping facility.
If you're traveling, see if there's an option to have your item shipped to a holding facility so you can pick it up at your convenience. That way, you won't have to worry about the lack of a secure mailbox at your campground (if your campground takes mail at all), and you also won't have to worry about accidentally putting down the wrong shipping address in the first place. Just go pick it up when you're ready!
3. Take advantage of curbside pickup.
If you're in need of the instant gratification offered by real-time shopping, but still don't want to take on the headache of heading inside a store (or six) during the pandemic, take advantage of the curbside pickup options that are now available at so many different stores. Bonus: again, you won't have to futz with a shipping address, which can be all sorts of complicated while you're traveling!
4. Shop small.
Yes, we do mean supporting local businesses and mom-and-pops… but we also mean just physically small! Even if you're traveling in a fifth wheel travel trailer, your available living space is pretty limited, so you'll probably want to go with smaller gifts to save space.
5. Have your gift shipped directly to your recipient.
One great way to avoid having objects take up space in your rig or having to deal with shipping address confusion: have your gifts shipped directly from the vendor to your recipient! Most online vendors offer some sort of "gift" checkbox during checkout, which will also ensure the price isn't listed anywhere inside the package. You might even be able to get it gift-wrapped, though this isn't always an option. Still, a thoughtful gift can be just as meaningful without the fancy paper!
Holiday Shopping Trends
This year, all the shopping trends are about getting it done early — case in point, many vendors have already started rolling out their "Black Friday" deals, even as early as October. Chances are, waiting won't even get you a good deal!
So there's no reason to delay any longer, whether you're planning to take to the road or not. Get in there and start checking people off your shopping list! You'll thank yourself when you can sit back, relax, and enjoy a restful holiday season surrounded by smiling faces.