Travel Inspiration
July 24th, 2019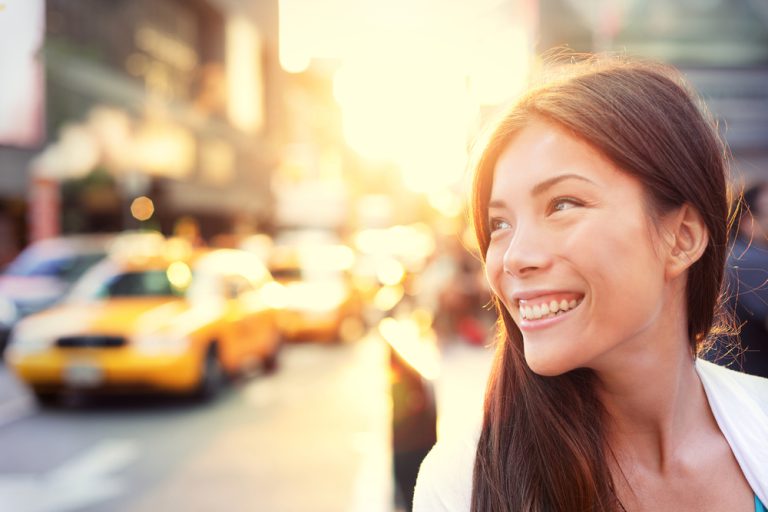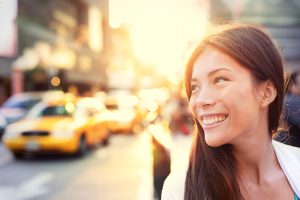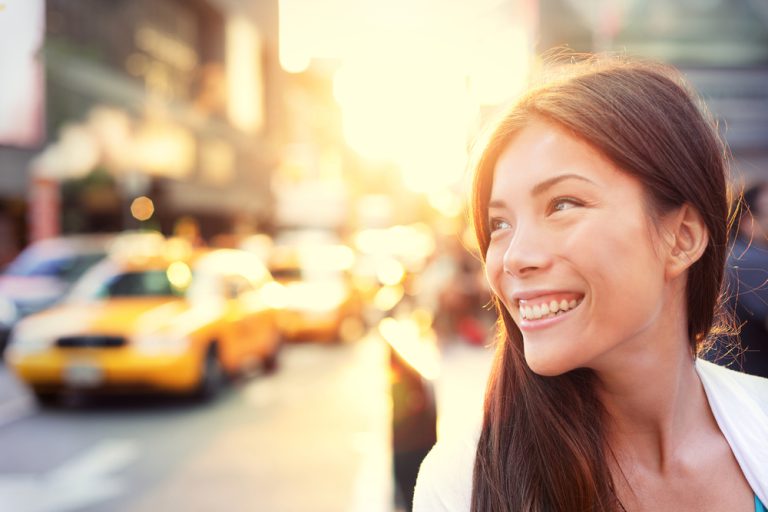 Once upon a time, there was a teacher who gave a pretty standard assignment to her grade school class: draw or write about what you want to be when you grow up.
One of her students — who, we have to say, sounds like he was wise well beyond his years — turned in a sheet of paper that bore a single word: happy.
You didn't understand the assignment, said the teacher.
You don't understand life, said the boy.
Whether or not this anecdote is true or apocryphal, it points to all-too-important — and all-too-often overlooked — part of our lives. Whether we're rich or poor, sick or well, alone or surrounded by loved ones, the only thing that really matters… is whether or not we're happy. So if you're in need of a little mood pick-me-up, why not head to one of the happiest cities in America?
Whether you get there by plane, train, automobile, or RV — and whether or not you're just visiting or looking for a new place to set down roots — here are some of the cheeriest cities in this United States of ours.
Happiest Cities in the US
For this post, we're pulling data from a recent WalletHub study, which ranked over 180 of America's largest cities on a scale from happiest to… well, unhappiest. They used a wide range of factors to calculate the data based on scientific research of what powers human happiness, including emotional and physical well-being, income and employment, community participation and environmental factors. For instance, researchers took into account which cities' residents got adequate sleep on an average night as well as income growth and poverty data. They even factored in weather and average leisure time spent per day to bring a well-studied list of what is arguably a very subjective topic.
We can't list all 180 cities, of course, and not every happy town is a great vacation destination. But we picked out a few of the happiest spots that also look like prime RV trip material — and here they are!
1. Plano, Texas
According to the study, the happiest place in America is Plano, Texas, a suburb of the super-dense urban metropole and capital of Dallas. And although it might be a little bit surprising for those of us who aren't Texans, there are a whole lot of reasons this city seems well worth a visit.
For one thing, it's home to the beautiful Arbor Hills Nature Preserve, a 200-acre park that offers paved and backcountry hiking and biking trails as well as developed amenities like a pavilion and bath house. If that's too small for you, check out Oak Point Park, which consists of a sprawling 800 acres of scenic countryside, and is also home to an adventure playground and nature and retreat center.
Of course, there's also plenty of urban exploring to do — this is basically Dallas, after all! Aviation enthusiasts of all ages will enjoy a visit to the Cavanaugh Flight Museum, and South Fork Ranch is a stunning events venue as well as an uber-famous TV set.
Click here to see RVshare rentals near Plano, Texas.
2. Madison, Wisconsin
Honestly, we're not all that surprised to see this college town so close to the top of the list. Ranked the third happiest city in America, we highly suspect this has something to do with the per-capita cheese consumption of its denizens — not to mention its impressive roster of social and cultural events thanks to its University.
Madison is tucked into the south-central part of the state, on the shores of a lake that's large, but not large enough to have those super-chilly Great Lakes wind effects you might feel in Milwaukee or Chicago. And as a capital city, it's chock-full of things to do, no matter what you're into: wander the Olbrich Botanical Gardens, tour the State Capitol building, or make some new furry friends at the Henry Vilas Zoo, which covers 28 acres and is home to more than 650 animals.
Click here to see RVshare rentals near Madison, Wisconsin.
3. Huntington Beach, California
Here's the thing: fully half of the top ten happiest cities in America are in California. In fact, Huntington Beach doesn't pop up until fifth place, and it's eclipsed by both Irvine and Fremont.
But as far as vacation destinations go, we think this one shines brighter than either of those others — and definitely more so than San Francisco and San Jose, which take up the tenth and eighth spots on the list respectively. This Los Angeles suburb is close enough to the action that you'll be able to enjoy whichever museums, restaurants, and attractions you want while still being able to get away from it all to enjoy those one-of-a-kind California sunsets — hopefully from its famous pier, pictured above.
Click here to see RVshare rentals near Huntington Beach, California.
4. Fargo, North Dakota
Turns out this town is famous for more than 1990s TV show. The most populous spot in a state known for its wide-open expanses, Fargo offers a wide range of museums as well as a zoo, and the Fargodome hosts college football games as well as A-list celebrity concerts and theatrical performances.
And luckily for RVers, the great outdoors is never far away. Just an hour outside of downtown, you can find yourself in some of the most beautiful — and empty — countryside America has to offer. It's all about balance!
Click here to see RVshare rentals near Fargo, North Dakota.
5. Scottsdale, Arizona
It's no surprise that the desert southwest is represented in the top ten happiest cities in America. That dry climate makes the hot temps more bearable and makes winters plain old easy — and when you're a suburb of a city like Phoenix, there's never a shortage of things to see and do.
You might hike Camelback Mountain or wander the trails at Papago Park, which is also home to a zoo. Feeling wild? Take a trip to Talking Stick Resort and Casino for a chance to win big, or just dance the night away. And don't forget a visit to Taliesin West, former home of none other than Frank Lloyd Wright.
Meanwhile, if you run out of things to do in Scottsdale, proper, you have the whole sprawling metropole of Phoenix at your feet to explore. And just an hour or so south, you'll find yourself in Tucson, along with its scenic neighboring Saguaro National Park. What can we say? Arizona is a great place to go exploring.
Click here to see RVshare rentals near Scottsdale, Arizona.
Looking for the Happiest Places to Live?
While these spots all make for excellent camping trips, they're just the tip of the iceberg when it comes to this study. Each of the cities listed in this post have a place in the top ten happiest cities, but the list spans more than 180 — and honestly, anything in the top 50 is probably a great place to check out if you're looking for the happiest places to live.
Which cities didn't fare so well, you wonder? Well, we won't list all of them… but lots of historically poor and disenfranchised places made the list. (The very bottom city was Detroit, Michigan.)
Of course, that doesn't mean happiness is impossible to find in those places! In fact, sometimes, a spotty history is exactly what a town needs to get its act together. Detroit, in fact, has seen a lively reconnaissance movement as of late, offering incentives and social programs to those moving to and starting businesses in the city.
For full details on the happiest cities in America and to see where your own town falls into the mix, check out the WalletHub study yourself. And no matter which town catches your eye as a potential vacation spot, consider renting an RVshare vehicle as your home base from which to experience the city!
RVshare rentals are offered by trusted local owners — regular people, just like you, who can afford to offer their rigs for rent at a fraction of the price you'd pay at the big box franchises. Each vehicle is lived in and loved by its owners and backed by A-rated insurance coverage for the entire duration of your rental period, so you'll have nothing to worry about no matter what surprises come up on the road. As RVers ourselves, we can say for experience, that's certainly something to smile about… no matter where in the world your motorhome or travel trailer takes you!
This post may contain affiliate links.