OMG! Always a vehicle aficionado, Doug watched in amazement at a video of a mid-70's GMC motorhome executing a burnout on YouTube. As a self-proclaimed adventurer, he loved to camp, hike, and travel, and investing in a camper or RV seemed the next logical step. He refused, however, to be lumped together with "snow birds," their sunny attitudes, and their pink flamingo lawn art. He wanted a recreational vehicle with some muscle behind it, that was as rugged as he was. With the GMC, he thought he might have found it.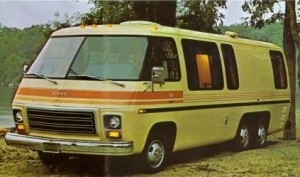 Doug figured that since many motorhomes didn't always get a lot of road time, buying a used, even vintage RV, would be an economically-sound investment. He started searching on eBay, craigslist, and sites like Hemmings.com. That was where he discovered a 1974 GMC motorhome similar to the one he saw on the video.
Meet the 1974 GMC Motorhome
The RV he found was a 26-foot-long model that was advertised as "extremely easy to drive." It claimed incredible maneuverability, and was reportedly capable of doing U-turns "on a dime," due to the innovative use of an Oldsmobile Toronado front-wheel-drive transaxle, referred to as a unified power-plant package, and above average front wheel rake. It was a veritable "hot rod on six wheels."
The real power, however, was underneath with the Oldsmobile Tornado 455-cubic-inch Rocket V8 engine, and the GM-designed, Turbo-Hydromatic 425 automatic transmission. Combined, this unit emitted more than enough power for normal driving, as well as extreme maneuvering.
GMC Motorhome Exterior
A rigid frame, of welded aluminum extrusions, made the body frame, which was mounted on the typical steel ladder frame chassis, previously only found on trucks. The lower part of the body and the ends were fiberglass, and aluminum sheets made up the roof panels and upper side body.
The large windows, which GMCs were known for, revolutionized the motorhome industry, that had previously been focusing primarily on enclosed campers. This, along with the aerodynamic design, made the RV appear modern, and even futuristic to consumers.
Air vents, and an additional storage unit on the roof, added to the modern appearance, comfort, and convenience of this GMC rig.
GMC Motorhome Interior
GMC's innovations didn't stop outside the door. The interior was designed, and built at the company, as well. The floor plan was more "home-like" than most of its contemporaries, yet still provided a comfortable drive.
The floor was made from marine plywood and plate aluminum, with carpeting. The rig offered a full kitchen, with a stove range and oven, sink, and refrigerator. The eat-in area consisted of a full booth, with bench seating, and a table. This also provided additional seating, as an alternative to the sofa. The restroom and bed were in the back for privacy.
Living in Comfort
This particular motorhome had been the recipient of plenty of upgrades. It was renovated to accommodate a more comfortable, and modern, set of Captain's chairs and a sofa. These were upholstered in more contemporary, neutral colors.
A newer, and more energy-efficient, Norcold refrigerator replaced the original, and a microwave was installed as well. With trendy, retro dining furniture, it retained much of its old charm, in spite of its updates.
The vehicle's original generator was replaced with a new water-cooled unit from Honda. As a highly collectible RV, with a strong following, this particular specimen had the power it was known for, and the convenience of modern appliances. All told, it was an incredible find.
GMC Motorhome Cool Capabilities
Although this exact 1974 GMC RV did not star in any YouTube burnout videos, it is just as capable as the one featured in the video below.
A ride like this would be sure to gain attention from passersby, as well as earn their respect. Amazingly, this powerful rig is just as comfortable hosting a family, for a night of popcorn and movies, as it is blazing down the open road.
In Conclusion
With durable materials, the GMC motorhome earned its reputation as being highly rebuild-able among those who love the classic rig. In fact, these 1970's RVs developed a loyal following that continues to modern times. Since most people who buy them do so, because they are useable vehicles in a practical style, rather than for their vintage status, they are often restored and modernized.
Doug knew that because these vehicles are parked most months of the year and are treated with a bit of tender, loving care–they are often in better shape than many more-recent models. He was certain he knew what he wanted. If it weren't this specific GMC, it would be one very much like it.