RV Owners
Last updated on January 9th, 2023. Originally published on June 10th, 2018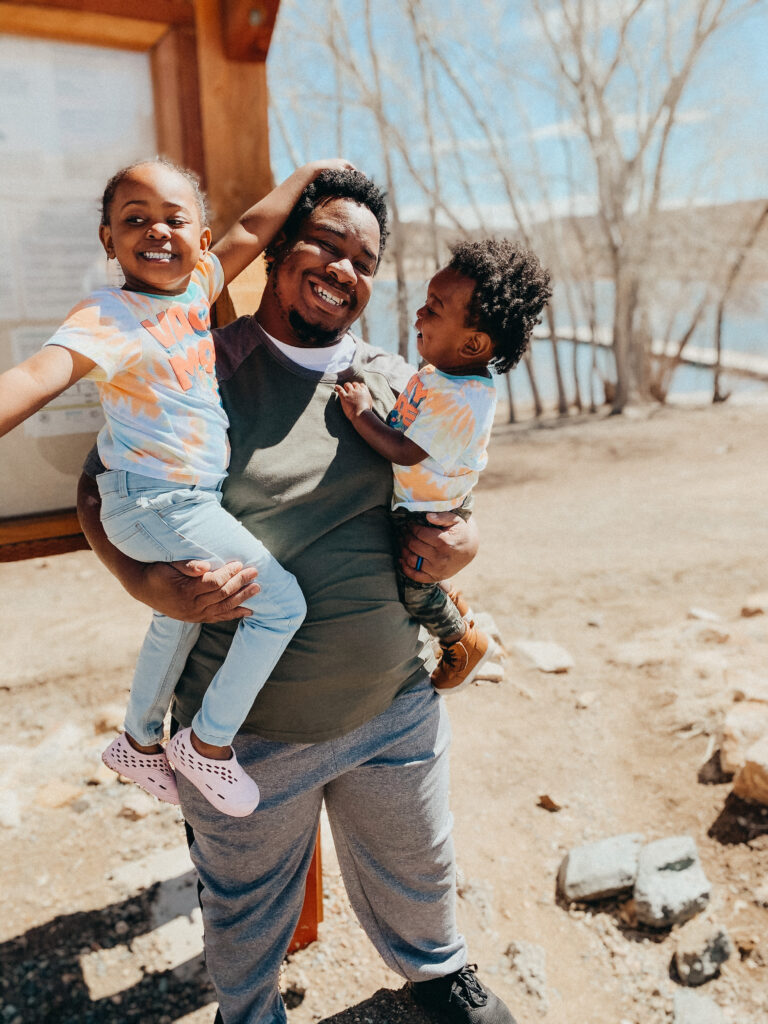 June 17 is Father's Day, and dad definitely deserves some special treatment. And if your dad's an avid camper, you may be wondering where to start when it comes to finding great Father's Day gifts. Should you just book it to the RV supply store and grab whatever looks convenient and interesting? What if dad already has an RV GPS or his trusty set of Rand McNally road maps?
Buying gifts for men is always a little bit tricky — if your dad is anything like the ones we know, he often buys the toys and goodies he wants when he sees them. But we scoured the internet to put together this list of RV gifts for dad that'll make his holiday, even if he's already got everything.
Camping Gifts for Dad
Here are some of the best RV gifts for dads who can't get enough camping.
1. An Inflatable Lounger
What dad doesn't want to be able to kick back and relax for a few, no matter where in the world he is?
If you want to give your dad the gift of a comfy lounge chair that can meet his needs anywhere — and we do mean anywhere — check out the JSVER Air Sofa. This lightweight portable couch is built to withstand the elements, and it's super-easy to inflate: just open the valves and sweep it through the air. It even has pockets for dad's favorite magazine or sunglasses!
2. A Portable Grill (or Firepit Grill Cover)
His insane grill skills aren't the only reason he's the best dad ever… but let's face it, they're up there. So if you've been relying on campground grills for most of your RV vacations, take this Father's Day as an opportunity to upgrade dad's cooking hardware.
Portable grills are affordable and easy to use, whether you buy one that operates with charcoal or propane. If your dad's the old-school type, why not try a fire pit grill cover? Nothing's quite as satisfying as cooking over a campfire you built with your own two hands!
3. Camping-Friendly Cookbooks
Even the most grill-skilled dad could always use a little extra inspiration. There are tons of amazing cookbooks specifically about grilling and other camp-friendly ways of cooking — and let's face it, buying dad a copy is as much a gift for you as it is for him. After all, someone's got to try the results of his efforts!
Here are a few titles dad might like to have in his collection:
Best Gifts for RV Enthusiasts
Some of the best gifts for RV owners — and great gifts for camper-crazy dads — are also the simplest. Here are a few more ideas for you this year.
4. A Passport America Membership
If your dad would rather be camping than doing, well, just about anything else, give him the gift of being able to do more of it!
A Passport America membership will get your dad 50% off his campsite accommodation fees at almost 1900 campgrounds across the country — and we're talking about the luxurious, resort-style developed ones with concrete pull-thru sites, swimming pools, game rooms, the works. Considering those kinds of campsites are often as much as $75 per night (or even more depending on your travel dates and destination), a Passport America membership will definitely help dad extend his next vacation, or maybe even afford a second or third. Oh, and did we mention it's less than $50 for a full year? Click here to sign dad up today.
For campers who travel far and wide, membership in an RV club can provide unique and exclusive campground opportunities, not to mention a support network and like-minded community. Many camping clubs have relatively low annual membership costs, and they can more than make up for their cost in savings and resources.
For instance, Harvest Hosts matches up members with vineyard and farm owners who are willing to host RVers for a free overnight, often including fun wine tasting and the opportunity to see some unique and beautiful landscapes.
5. A Dry Bag
If dad's the adventurous type, chances are he's got some gear he'd rather not get wet next time he heads out into the wilderness. Whether it's an unexpected rainstorm or a trip down the river, an active dad doesn't have time to worry about how to keep his cell phone and snacks dry.
That's why a dry bag is one of the best gifts for RV campers: these outdoorsy folks often run into wet and wild situations, and with the right equipment, keeping their goodies safe doesn't have to be a concern. We like the Earth Pak dry bag because it's easy to use, reliable, and comes with a separate cell phone case. Plus, it comes in a wide variety of colors to keep dad stylin'!
If dad's a full-time RVer or frequent traveler, there's no better gift than the ability to stay connected, no matter where the road takes him.
And now that more and more people are becoming digital nomads — and more and more of our lives are tied to the internet — hot spot options are increasing and becoming much more reasonable as far as pricing. You can find unlimited data plans for $100 per month or less, which would have been unheard of just a few years ago!
Father's Day Ideas
We saved one of our very favorite Father's Day gift ideas for last. Ready?
7. A Jackery Power Station
For all the camping dads that like to be over prepared, just in case. Or for the technology – gadget loving guy in the family! This incredible, light and highly practical power station would make a great gift and come in handy in so many different situations!
This solar powered, portable station will get dad into the 21st century and finally able to say goodbye to loud generators. A perfect addition to the RV but also a perfect complement to any emergency kit at home, afterall you never know when the next blizzard will cut off your power.
You can get the complete start kit that include the battery bank and portable solar pannels, but if this is the gift for dad maybe consider investing in the largest set up, afterall more power is worth it!
Father's Day Camping
Finally, don't forget another great gift idea for dad this year: a camping trip in an RVshare RV rental!
Summer is the most beautiful time of the year to hit the road in a motorhome or travel trailer, and dad deserves a new adventure, don't you think? Click here to check out RVshare rentals available in your area, and here's a list of some of our favorite summer destinations to get your sense of wanderlust working.
Happy Father's Day to all the dads out there, whether they be RV-crazy or (relatively) sane. We appreciate everything you do and can't wait to celebrate you this summer!
*This post contains affiliate links. RVshare may receive compensation if you make a purchase after clicking on a product link.