Travel Inspiration
Last updated on January 9th, 2023. Originally published on June 13th, 2018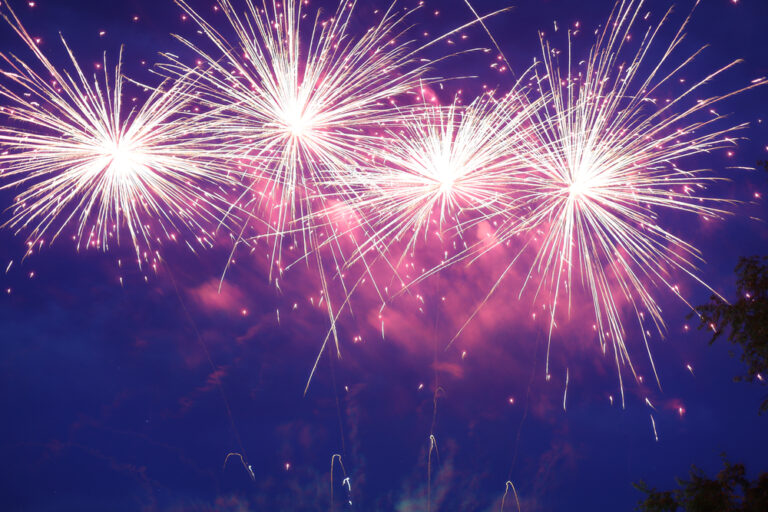 Sparklers? Check.
Hand-held American flag? Check.
Patriotic shades? Obviously.
Portable grill with all the accessories? Definitely make sure you've got that!
America's birthday is almost upon us — and that means good food, great fun, and minor explosions. (Only safe ones, we promise!)
July Vacation Ideas
Although just about every American town hosts its own Fourth of July celebration, many campers see 4th of July as the perfect excuse to take one of many summer getaways or last-minute vacations. And why not? Pretty much anywhere you go, the weather's going to be gorgeous, and the kids are off school anyhow.
Fourth of July Travel
If you're looking for 4th of July travel deals, don't forget about the savings you can find when you rent an RV through RVshare. The peer-to-peer market offers substantial discounts off of traditional dealership prices!
If you're an avid camper, you might also want to invest in a Passport America membership — and not only because of its thematically appropriate moniker. This discount camping club is the only one that'll get you 50% off your campsite accommodation fees at almost 1900 campgrounds across the country, which spells a whole lot of savings over time. After all, it's less than $50 for a full year's membership!
Fourth of July Celebrations
So, where should you pack up and head this Independence Day? Here are some of our favorite options.
1. Washington, DC
Where better to celebrate America's birthday than the capitol? Washington, DC is well-known to be one of the country's best (and most popular) 4th of July destinations, and better yet, most of its museums and cultural attractions are free year-round — including the Fourth of July.
Click here to find RVshare rentals in the Washington, DC area.
2. Sedona, Arizona
If those hiking boots and trekking poles of yours are itching for a workout, you already have ample reason to head to Sedona, one of the most scenic hiking areas in the country. And if you head there in time for the Fourth of July, you'll enjoy a host of totally free events including fireworks and a laser show — as if the town needed any more visual amazement.
Click here to find RVshare rentals in Sedona, Arizona.
3. Hot Springs, Arkansas
Just on the border of the Ouachita National Forest, this destination town hosts a beautiful Fourth of July fireworks display on the shores of Lake Catherine State Park.
Click here to find RVshare rentals in Hot Springs, Arkansas.
4. Idaho Falls, Idaho
Touting itself as the largest fireworks show in the west — which is a tall order — Idaho Falls' Melaleuca Freedom Celebration will once again take place at Snake River Landing this year.
Fun fact: The 2018 show, the 25th annual, launched more than 20,000 fireworks, weighing over 17,000 pounds, in a 31-minute spectacular production.
Click here to find RVshare rentals in Idaho Falls, Idaho.
5. Bar Harbor, Maine
The gateway town to the stunning Acadia National Park, Bar Harbor boasts a Fourth of July show good enough to have earned the #1 ranking by the Today Show. And hey, even if it's too cloudy for pyrotechnics, who can beat that coastal Maine view? Click here to read more about Bar Harbor's Independence Day celebration.
Click here to find RVshare rentals in Bar Harbor, Maine.
6. Whitefish, Montana
Whitefish Lake is already high on many campers' travel bucket lists, and if you're looking for a great Fourth of July event, this might just be the ideal time. Better still: the town's stunning, shoreside fireworks display is absolutely free of charge. Click here for full details.
Click here to find RVshare rentals in Whitefish, Montana.
7. Birmingham, Alabama
On July 4, the City of Birmingham welcomes all to visit and watch live a breathtaking show in honor of those who have fought for our country's independence. Find out more here!
Click here to find RVshare rentals in the Birmingham area.
8. St. Louis, Missouri
The most happening town at the heart of it all goes all out for Independence Day, calling it "America's Biggest Birthday Party." This year, St. Louis is hosting events both on the 4th of July proper — which falls on a Wednesday — as well as all throughout the following weekend. Click here for the deets.
Click here to find RVshare rentals in St. Louis, Missouri.
9. Seward, Nebraska
They don't call themselves "America's Fourth of July City" for nothing!
The small town of Seward, Nebraska has been hosting an all-out Independence Day bash since all the way back in 1868, so you can rest assured they know a thing or two about how to host a great patriotic celebration. From classics like fireworks and a parade to novelties like car and craft shows, Seward's event truly offers something for everyone — click here for full details.
Click here to find RVshare rentals in Seward, Nebraska.
4th of July Food
Let's face it — at least half the fun of Independence Day is about the fireworks a little closer to the ground. (We're talking about the ones coming off your grill!)
But if hosting the ultimate RV barbecue party is in your plans this year, don't light that charcoal without checking out our ultimate grillmaster's guide.
10. Your own backyard!
There's no denying it: they call it America the Beautiful for a reason.
And no matter where you are across this beautiful country of ours, so long as you have the right company and some great eats, you're all set for the Fourth of July celebration of a lifetime — especially if you rent an RV to use as home base. (And, alright, some sparklers and patriotic decor don't hurt, either.)
And if you've just gotta get out there and experience a celebration, simply search for "free fourth of July events near me" to see what cost-free patriotic fun is going on in your area.
Click here to find RVshare rentals near you.
Happy Independence Day, campers! Enjoy exploring the land of the free and the home of the brave.
This post may contain affiliate links.