Festival Camping Checklist
Travel Inspiration
January 22nd, 2020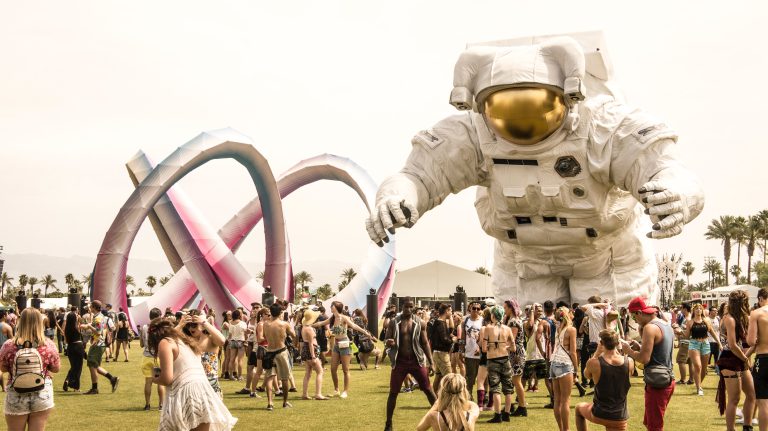 Music festivals are an incredibly fun experience, especially when you spend a given festival camping. Whether you plan to attend Coachella, Burning Man, or another festival entirely, you're sure to have a blast.
That said, there are definitely things you should know before heading to a music festival. Additionally, there are many things you'll want to pack that a festival newbie may not ever think of.
For this reason, we have put together a list of the things you absolutely must know and the items you absolutely must take when attending a music festival. After reading this article, you will be much better prepared to tackle your first festival and have an amazing time doing it.
What Do You Need when Camping at a Festival?
First let's discuss what to bring to a music festival. There are a few things that are super important and should be at the top of your packing list. A place to sleep, for instance, is something you'll want to consider before ever booking your campsite.
Many festival-goers choose to camp in a tent. That said, if the festival in question allows it, we highly recommend taking an RV. Even if RVs aren't allowed, you will be able to take a van in many cases.
RVs and campervans provide better shade, protection from the dust that so often fills the air at these events, and in some cases, even limited access to running water and electricity. For this reason, many of the best festival camping setups begin with an RV or van.
Don't own an RV? You can always rent one. Try one of the rental searches below (or if none of these apply, type in one of your own):
Besides some sort of shelter, other super important items to add to your camping festival checklist include lots of water, plenty of nutritious snacks and meals, and protection from the sun, which is often exceedingly bright during music festivals.
How Do You Survive a Camping Festival?
If you're a first-time festival attendee, you may be feeling a bit nervous about how you'll get through it all. After all, music festivals are quite a lot to take in, and they do require a certain amount of stamina.
Our top tips are as follows:
Ask for help. For the most part, festival goers are incredibly kind and helpful. They will almost always be willing to help you set up camp, figure out where you're going, or help with whatever else you may need.
Stay hydrated. It can be tempting to skip the water and fill your days with beer and fun. However, because these festivals tend to be in warm climates, and because you'll be pushing your body to keep going through the entire event, failing to stay hydrated could mean spending your trip in the hospital rather than hearing some awesome music.
Protect yourself. As mentioned above, the weather at these events is almost always hot and sunny. Protect your skin from the sun's rays by wearing sunscreen and a hat. Going through the festival with a sunburn is not fun at all, so don't forget this!
Pack well. Be sure to carefully follow the festival packing list below. Take all of the music festival essentials mentioned along with you, so you are prepared for any situation that may arise.
The Do's and Dont's of Camping Music Festivals
Surviving the festival is one thing, but you want to make sure you have a great time while doing it. Therefore, we've compiled a handy festival camping checklist of dos and don'ts. By keeping these things in mind throughout the event, you're sure to have an amazing time and go home exhausted, but happy.
Do: Make friends
Making friends will ensure you have a helping hand when you need it. It will also improve the overall experience, making the event a more fun and social one.
Don't: Get too comfortable
Making friends is great, but you don't want to go home with regrets. It's easy to overstep boundaries, especially when you've been drinking, so be sure to think before you act.
Do: Bring food
You will need to eat during the event after all, and getting in and out of the festival may be next to impossible.
Don't: Pick out complicated meals
You're going to be pretty tired during the event. Additionally, you probably aren't going to have tons of extra time on your hands. Because of this, packing super simple meals is the way to go.
Do: Show your style
People like to accessorize and strut their stuff during festivals. Join in the fun!
Don't: Sacrifice comfort
You will want to look good, of course, but make sure you're comfortable as well. Clothing that can breathe is best, and comfortable shoes are a must.
Do: Take advantage of daytime events
Most festivals will offer events such as art classes, yoga sessions, and more during the day. Be sure to participate in some of these!
Don't: Wear yourself out
That said, you won't want to wear yourself out at these daytime events. Make sure you have the energy for the music performances as well.
Do: Clean up after yourself
Pick up all of your trash and make sure bottles and cans make it into the recycle bin. Clean up the area around your site as well.
Don't: Trash the place
Not only is leaving your trash laying around bad for the environment, it also makes it hard on the event staff.
Do: Pack well
Make sure to pack anything and everything you might need. You probably won't want to leave once things get started.
Don't: Bring in prohibited items
Some items are prohibited at certain music festivals. Glass bottles are a good example of items that usually are not allowed. Find the list of prohibited items and make sure you aren't bringing any banned items in.
Packing Essentials
Looking for a detailed list of exactly what you should pack in your RV in order to ensure your trip to a music festival is as awesome as it can be? The music festival checklist below is for you.
This festival camping checklist includes every single one of the festival camping essentials we could think of. Pack them all and you're sure to be well prepared!
RV
Fully charged battery
Generator and fuel
Jack pads
Jack tool
Level
Full freshwater tank
Sewer hose
Tank chemicals
Sleeping
Sleeping bags or extra blankets
Pillows
Sheets
Clothing
Shorts
Pants
Tanks and tees
Hoodie or light jacket
Dresses or skirts
Hats or caps
Bandanas and scarves
Raincoat or poncho
Rain boots
Undergarments
Sunglasses
Pajamas
Bathing suit
Comfortable shoes (bring an extra pair)
Socks
Accessories, face paint, etc
Small bag
Living
Pop-up tent
Tarps (to hang for shade)
Folding table(s)
Tablecloths
Chairs
Outdoor rug
Flashlights, string lights, and lanterns
Zip ties
Scissors
Cell phone case
Portable phone charger
Phone charging cable
Umbrella
Bungee cords
Biodegradable soap
Cleaning spray
Paper towels
Sponge
Trash bags
Gallon plastic bags
Laundry bag
Broom
Toiletries
Sunscreen
Dry shampoo
Shampoo
Conditioner
Soap
Toothbrush
Toothpaste
Mouthwash
Towels
Flip-flops
Wet wipes
Hand sanitizer
Toilet paper
Medications
First-aid kit
Hairbrush
Chapstick
Hair ties
Food and Drink
Cups
Water bottle
Jugs of drinking water
Cooler(s)
Ice
Skillet
Saucepan
Potholders
Spatula
Wooden spoon
Plates
Utensils
Anything you want to eat or drink
Recreation
Frisbee
Football
Hammock
Lawn games
Ping-pong balls for beer games
Bluetooth speaker
Inflatable floaty
Keep in mind, this festival camping checklist assumes you'll be in an RV. If you'll be in a tent or a van with fewer amenities, make sure to add items such as an air mattress, a solar shower, and a propane stove to your festival list.