Father's Day Gifts for RVers
RV Parts & Accessories
Last updated on November 27th, 2022. Originally published on June 16th, 2017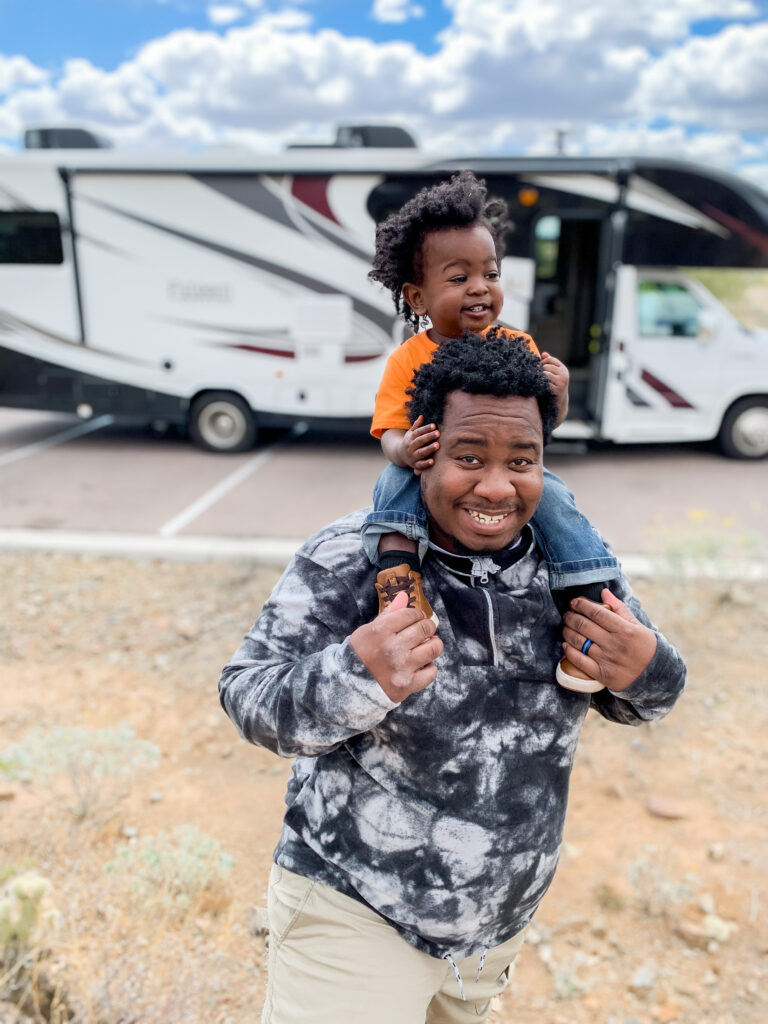 It seems like just last week we were celebrating Valentine's Day, but lo and behold, Father's Day is right around the corner. Where is this year going, anyway?
And if your experience is anything like ours, dad isn't always the easiest person to buy for. It always seems as if he pretty much has all the stuff he needs… I mean, how many ties can you really work into your wardrobe?
But if the dad you're buying for is an RV camper, chances are there's always a little something that'll help make his journeys that much easier.
Camping Gift Ideas for Dad
Here are some great RV camping gift ideas — for dad on Father's Day, or for other campers in your life at any time of year!
1. Mobile Hotspot with Unlimited Data – about $100 per month
If dad's a full-time RVer or frequent traveler, there's no better gift than the ability to stay connected, no matter where the road takes him.
And now that more and more people are becoming digital nomads — and more and more of our lives are tied to the internet — hot spot options are increasing and becoming much more reasonable as far as pricing. You can find unlimited data plans for $100 per month or less, which would have been unheard of just a few years ago!
2. Truma LevelCheck – $69.99
It's a familiar scenario: the day's drive is done, camp's all set up, and everyone's getting hungry.
But then you go to fire up your propane grill or gas stove, or maybe just power up the gennie to suck up some of that sweet, sweet air conditioning… and get nothing.
With this small digital device, dad will never again run out of propane gas at exactly the wrong moment — or be forced to pick up and shake the tank to avoid that fate.
3. Portable Ice Machine – $199.99
As anyone who's ever hauled rock-hard bags of ice out of a gas station freezer knows, ice is a luxury commodity when you're camping. There's nothing quite like a freezing-cold drink at the end of a long day outside.
So give dad the gift of having to make one less stop on his journey — he'll never have to make a pit stop for ice again when he has his very own portable ice-making machine!
4. Instant Pot – $99.99
Even if your dad isn't so hot in the kitchen, the Instant Pot is a formidable tool. He'll be able to create everything from stews to roast sto perfectly-cooked rice dishes, all without so much as preheating the oven or firing up the stove.
The Instant Pot is one of the top gifts for RVers since it's so versatile while also having such a small footprint. And who knows? Maybe your giftee will make you dinner with his new toy!
5. Outdoor Camping Mat – about $100
The whole point of camping is to get outside, right? But without a dependable outdoor camping mat, your favorite camper will quickly be burdened with dirty feet — which leads to a dirty RV interior.
If they don't already have one, a full-size, under-awning camping mat makes one of the best gifts for RVers. Think of it as an expansion to their RV living space!
6. Portable Hammock – $70 or less
Help dad kick way back with a portable, packable hammock. It's easy to set up at each campsite and just as simple to break down, and it makes a perfect spot for a mid-afternoon nap.
Unique Gifts for RVers
Here are some more camping gifts that may work well for Father's Day — or whenever you need a unique, personalized gift for the camper in your life.
7. Shatter-proof Dishware – $10-$100, depending on how much you buy
Every camper's gotta eat. But when you store your dishes in an RV, they're just a little bit more vulnerable to breaking. (After all — it's a house that moves!)
That makes shatter-proof kitchenware, from Corelle or other vendors, one of the best gift ideas for any RV camper… and especially for dad, who probably only eats off paper plates when left to his own devices.
8. Wireless Key Finder – $19.99
RV keys, car keys, house keys… it can all be a lot to keep up with. Especially in an already-cramped RV.
This wireless, digital key finder will keep dad from ever misplacing any of his many keys again, and he can also use them for his cell phone, wallet, and anything else that might easily get away from him!
9. Sticky Dashboard Pads – $11.99
If you're looking for affordable gift ideas for campers, sticky dashboard pads are a great find. Although they're inexpensive, they can prove invaluable for RVers who want their cell phones, sunglasses, spare change, and other goodies to stay put while they're driving!
10. Membership to Escapees, Harvest Hosts, or Another RV Camping Club – $40-ish
For campers who travel far and wide, membership in an RV club can provide unique and exclusive campground opportunities, not to mention a support network and like-minded community. Many camping clubs have relatively low annual membership costs, and they can more than make up for their cost in savings and resources.
For instance, Harvest Hosts matches up members with vineyard and farm owners who are willing to host RVers for a free overnight, often including fun wine tasting and the opportunity to see some unique and beautiful landscapes. Other discount clubs like Good Sam Club and Passport America could help your favorite camper save money on everything from campground stays to emergency towing services.
We hope these gift ideas for campers and RVers help you put a smile on dad's face this Father's Day.
But don't forget — even if he already has all the camping gear he needs, you can always rely on those good old standbys: a hot, homemade meal paired with an ice-cold beer, all topped off with some much-needed quality time together.
Happy Father's Day!