Travel Inspiration
June 11th, 2020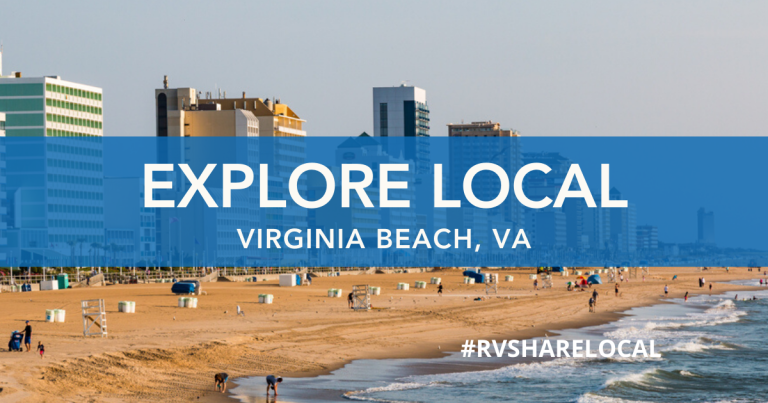 A mid-sized coastal city with just under half a million residents, Virginia Beach might not get the same kind of press as, say, Baltimore or Charleston. But there are tons of amazing things to do in Virginia Beach, from sauntering along the sand to getting up close and personal with the wildlife at the Virginia Aquarium and Marine Science Center. It's also just a stone's throw from many amazing day trips and weekend getaways, whether you head down to the Outer Banks of North Carolina or north to D.C. for a more urban jaunt.
Virginia Beach offers a unique combination of a laid-back, seaside town atmosphere while still holding onto some southern sensibilities. It's influenced by larger nearby cities, as well.
Stay tuned to discover what this one-of-a-kind oceanside city has to offer, whether you're adventuring with your family, your sweetheart, your best friends, or solo.
Why We Love to Travel
The beauty of travel is seeing new places, experiencing new things, meeting new people… That feeling of wanderlust is buried deep in our souls! Getting to experience cultures that are different from our own is an amazing way to grow as individuals and learn about others. Seeing how people all over the world live helps us keep an open mind and even gather inspiration to bring back into our daily lives.
Travel is also a great way to get away from the day-to-day. Breaking up our routines with a fun trip definitely recharges the batteries and helps prevent us from getting burnt out.
But here's the thing – you don't have to go far to fill your cup. Sometimes the best adventures are the ones close to home.
Benefits of Traveling Locally
While the culture an hour away from your home might not be drastically different from what you're used to, you can still gain a deepened sense of appreciation for where you've laid your roots. Plus, traveling locally has a lot of benefits:
More cost-effective. Local travel is certainly a budget-friendly way to explore! Many activities and local parks are free or have a low cost of entry. For day trips, you can also pack your own meals to save.
Eco-friendly way to travel. Travel is hard on the environment, but putzing around your area is more sustainable than air travel.
Quick trips. Getting out locally means you can do it more often! Long weekend trips are a lot easier to take when the destination is a short drive away.
Easy to plan. Preparing your itinerary for a local getaway will likely save you some time and stress.
More convenient. Especially if you have little ones, sticking close to home may be much more convenient than far-off destinations. If you forget something, have an emergency, or need to cut the trip short, being close by definitely has its benefits.
Explore Local: Virginia Beach, Virginia
Our series of Explore Local guides are all about, well, exploring local. We think that far too often, residents of amazing cities take their towns for granted and forget to play tourist in their own backyards.
Whether you've called it home for years, are just settling in, or are planning to swing by sometime soon, it's well worth the effort to explore Virginia Beach. There are so many things to see, do, eat and experience — so strap in as we delve into some of the very best places to Explore in Virginia Beach, Virginia.
State Parks in Virginia Beach
Sun and sand you're no doubt expecting. But there's actually a great diversity of other wild areas nearby, as well, including stunning forests and, if you're willing to drive a bit, the scenic heart of the Appalachian mountains.
Here are some state and national parks in the greater Virginia Beach, VA area.
First Landing State Park is Virginia's oldest and most popular state park, and it's situated right in Virginia Beach, proper. Named for — you guessed it — the English colonists who first landed on this strip of shore back in 1607, it's as historically significant as it is teeming with recreational opportunities, including 20 miles of forested hiking trails and 1.5 miles of beachfront.
False Cape State Park is one of the last remaining undeveloped places along the entire eastern seaboard and was formerly a home site for Native Americans. This park is unique in that it is only accessible via foot, bicycle, beach transit, tram or boat; no private vehicles are admitted.
Back Bay National Wildlife Refuge offers a protected home to American black ducks, loggerhead sea turtles, tundra swans, and a host of other critters besides — not to mention a beautiful landscape for you and your family to explore.
Pocahontas State Park is a bit of a drive from Virginia Beach, but well worth making a day trip (or even taking a weekend getaway). The 8,000-acre preserve was, indeed, the stomping grounds of the Native American princess herself, and today is a destination for history buffs and outdoor lovers alike.
Great Smoky Mountains National Park is the most frequently visited national park in the country — and once you join the ranks of those visitors, you'll understand why. Straddling the North Carolina/Tennessee border, this sprawling wilderness is one of the most pristine and untouched in the world and a great place for adventures of all kinds.
Shenandoah National Park is kind of like the Great Smoky Mountains lite: slightly smaller than its counterpart and requiring a shorter drive for Virginia Beach residents, it still packs a heavy punch as far as beauty and recreation opportunities go. It's also the perfect place for fall leaf-peeping!
Best Hiking Trails
You don't necessarily have to make your way all the way to a national park — or even a state park — for great hiking opportunities in Virginia Beach. Here are some of the best trails in the area.
The Virginia Beach Boardwalk
Okay, so it's not a hiking trail, per se. But the Virginia Beach Boardwalk is a great place to combine an afternoon adventure with a workout, and its paved surface makes it accessible for cyclists and those pushing strollers or wheelchairs as well.
Don't have a bike of your own to pedal down this 3-mile stretch of oceanfront? You can rent everything from a classic beach cruiser to a four-seater surrey bike from a variety of vendors along the way.
Cape Henry Trail to Long Creek Trail
The Cape Henry Trail, which starts out in First Landing State Park, is already one of the most popular and recognizable hikes in the city. Connect it to Long Creek Trail to make for a slightly longer and more challenging adventure, taking a grand total of about 10 miles round trip. So definitely give yourself enough time to do the Cape Henry Trail to Long Creek Trail loop… but don't worry too much. It's Virginia Beach, after all, so the whole thing's flat!
Pleasure House Point Loop
An easy-breezy stroll that will take most people less than an hour, the two-mile Pleasure House Point Loop may be brief, but that doesn't make it any less stunning. The trail is sandy enough to walk barefoot for at least part of it, according to some reviewers, and is also a popular hangout for fisherfolk.
Lake Lawson Loop Trail
Another quick and easy adventure, the Lake Lawson Loop Trail is just a mile and a half long. With lots of shade trees and waterfront views, it's a great way to introduce the kids to hiking without overwhelming them.
First Landing Loop Trail
Looking for something a little bit longer? The First Landing Loop Trail takes visitors a grand total of 8.5 miles round trip and is dog friendly to boot. Make a day of it with the whole family, including Fido!
Best Restaurants in Virginia Beach
You've hiked the trails, biked the boardwalk and you've worked up an appetite. Fortunately, there are a host of great restaurants in Virginia Beach. Here are just a few.
Il Giardino Ristorante
Great Italian food feels like home, no matter what your personal ethnicity or heritage might be. Il Giardino Ristorante offers up fresh, authentic old world eats that'll leave you satisfied — and probably even with a doggy bag of seconds to dive into once you get home.
Pelon's Baja Grill
Virginia Beach may be pretty far north of the border — and about as far from the Pacific Ocean as you can get — but you can still enjoy some excellent California-style Mexican at Pelon's Baja Grill.  Their signature dish might be their mean fish tacos, but don't get it twisted: this joint also offers excellent vegetarian and vegan choices for the conscious eating crowd.
Sakatomo Sushi
Although this joint is relatively new, opened in 2016, it's got a firm foundation: Chef Ken has been working as a sushi chef for 16 years. Sakatomo Sushi is all about fresh and flavorful ingredients that bring you an authentic taste of Japan, and it's easily one of the best Asian restaurants in Virginia Beach.
Firebrew Bar & Grill
Known by a number of locals as the best restaurant in Virginia Beach, Firebrew Bar & Grill prides itself on its above-and-beyond service, freshly-made foods (you won't find a microwave or fryer in the joint), and the unique self-service wine station which is the first of its kind inf the area. From hearty classics like ribs to something more delicate, like the chorizo pan-seared scallops, you'll be sure to find something to meet — no, exceed — your expectations here.
Le Yaca French Restaurant
A French restaurant that got its start in Williamsburg, Le Yaca is now also open in Virginia Beach — and serves up authentic French cuisine for brunch, lunch, and dinner. Every night, enjoy a hearty burger and wine special on a first-come, first-served basis.
Fun Things to Do in Virginia Beach
Alright, we've got food and exercise covered. What else is there to do in Virginia Beach?
So glad you asked.
For Kids and Families
Bringing the whole kit and kaboodle along? Here are the top things to do in Virginia Beach with kids.
Virginia Aquarium and Marine Science Center
With over 800,000 gallons of aquarium and animal habitat, the Virginia Aquarium and Marine Science Center is one of the primary aquatic attractions in not just the state of Virginia, but the entire country. Visit with sea turtles, sharks, harbor seals, and more in a chance to combine education and entertainment.
Military Aviation Museum
If you've got little ones, chances are you've got some airplane enthusiasts on hand. Where better to stoke the fire of their engineering fire than at the Military Aviation Museum? Wander through halls displaying the largest collection of WWI and WWII era warbirds in the world. There are also aircraft rides, museum airshows, and more!
On the Cheap
Yep, you can see Virginia Beach without spending an arm and a leg — or very much at all. Here are some of the best cheap things to do in Virginia Beach.
Cape Henry Lighthouse
Authorized by George Washington himself and overseen by Alexander Hamilton, the Cape Henry Lighthouse stands tall at the southern entrance to the Chesapeake Bay. Walking tours delving into the site's 400 years of history take place every hour on the hour, and admission is just $10 for adults (and cheaper for seniors, kids, AAA members, and others).
Atlantic Wildfowl Heritage Museum
Located in the De Witt Cottage, a historic home built in 1895, the Atlantic Wildfowl Heritage Museum offers a unique look into the region's wildfowling heritage, including the opportunity to see real-life demonstrations by skilled carvers. There is a $2 per adult requested donation, though admission is free for those aged 16 and under.
Virginia Beach Farmers Market
Unlike many other regional markets, the Virginia Beach Farmers Market is open every day of the week, though of course, individual merchants' hours vary. Along with fresh, local produce, you'll also find a butcher shop, dairy store, florist, and bakery in this beautiful open-air market.
At Night
We've seen what there is to do in Virginia Beach during the day. But what about after hours?
Here are some of the best things to do in Virginia Beach this weekend once the kids are asleep (as long as they've got a baby sitter, of course!).
Nightmare Mansion
Think haunted houses are just for Halloween? Think again. Virginia Beach's Nightmare Mansion offers a hair-raising adventure year-round… just be sure your heart can take it, because it is seriously scary!
Virginia Beach Winery
Offering free tastings of classics like Malbec and more surprising options like sweet wine flavored with cranberry, Virginia Beach Winery is a local favorite that grew out of a family's love of home winemaking. You won't be disappointed when you stop by!
Free Things to Do in Virginia Beach
Yes, there are ways to get more familiar with Virginia Beach without spending a single cent. Here are a couple to consider.
Virginia Museum of Contemporary Art
As Americans, we're not really used to being able to enter museums for free. Almost all such exhibits charge a fee for entry. But Virginia's Museum of Contemporary Art, or the MOCA as it's known locally, is different: thanks to community sponsors, the current exhibitions are 100% free for visitors. Talk about contemporary!
Also a welcome change for those of you who think art museums are just not your bag: most of the art you'll find at MOCA has been created by artists who are still living. Give yourself an opportunity to experience the world as seen through the eyes of modern-day visionaries — after all, it's free, so why not? It's also the perfect way to spend a rainy day in this beach city, where you might otherwise automatically turn to the coast.
Speaking of which…
Go to the beach!
Listen, we just couldn't write a post on things to do in Virginia Beach without directing you to the beach itself, could we? This town is, true to its name, home to some of the most beautiful beachfront on the entire Atlantic coast, and it's 100% free to get yourself down there and soak up some rays. So if you're stuck for what to do, go on and get a little bit sandy. You won't regret it!
Spas in Virginia Beach
Need a pick-me-up? Head on down to the following Virginia Beach spas for some much-deserved pampering.
Seahill Spa at the Cavalier
The historic Cavalier hotel offers one of the most beautiful and indulgent spas not just in the city, but in the whole state of Virginia. From facials and massages to full body wraps, you'll find everything you're looking for and more at the Seahill Spa.
Green Leaf & Pebble Tea Spa
With two convenient Virginia Beach locations and a wide selection of sumptuous teas and indulgent spa services, Green Leaf & Pebble Tea Spa is a unique combination of two of the most relaxing things we can think of.
Best Gyms & Yoga Studios
Need to get geared up — or grounded down? Here are some spots in Virginia Beach to pump iron or get centered on your mat.
The Iron Asylum
Offering a classic gym atmosphere with all the equipment you need — and the personal training you may need to give your motivation an extra boost — The Iron Asylum is just that: a place of peace, work, and sweat. Get on it!
Studio Bamboo Institute of Yoga
Studio Bamboo Institute of Yoga is so much more than a yoga studio… though it is that, too. Along with its challenging and versatile group glasses, Studio Bamboo also hosts events, workshops, teacher training, adaptive yoga, and more. There truly is something for every body in this space.
Day Trips in Virginia Beach
Ready to get away from it all? Fortunately, there are some stellar day trip or weekend getaway idea within just a few hours of Virginia Beach.
Washington, D.C.
A visit to the nation's capital is never a bad idea — and that goes double for those traveling with families. Thanks to the sprawling (and free!) Smithsonian Complex, as well as all the other area attractions, you won't run out of things to see and do even if you stay for far longer than a long weekend.
The Outer Banks
Looking for even more bucolic beachfront to kick back on? North Carolina's Outer Banks are just a couple of hours' drive away, and these barrier islands are nothing if not beautiful. Thanks to their unique geography, you can actually see two different waterfronts in many places, and the landscape is punctuated with historic lighthouses, quaint seaside towns, and plenty of opportunities for out-of-this-world seafood.
Richmond
The capital of the state of Virginia, Richmond is a treasure trove of cultural attractions, from the Virginia Museum of Fine Art to the Capitol building itself. Take advantage of one of the town's tours in order to get a taste of the city without having to do all the research and footwork yourself.
Enjoy Virginia Beach! We hope this guide has shown you a few things about this city that you didn't already know about, even if you've been there for years. What are your favorite spots in Virgina Beach? Send them our way to [email protected] or by tagging us on Instagram @rvshare and using the hashtag #rvsharelocal.