A Park Model RV That Looks Like An Escape Cabin
RV Decor & Unusual RVs
May 2nd, 2015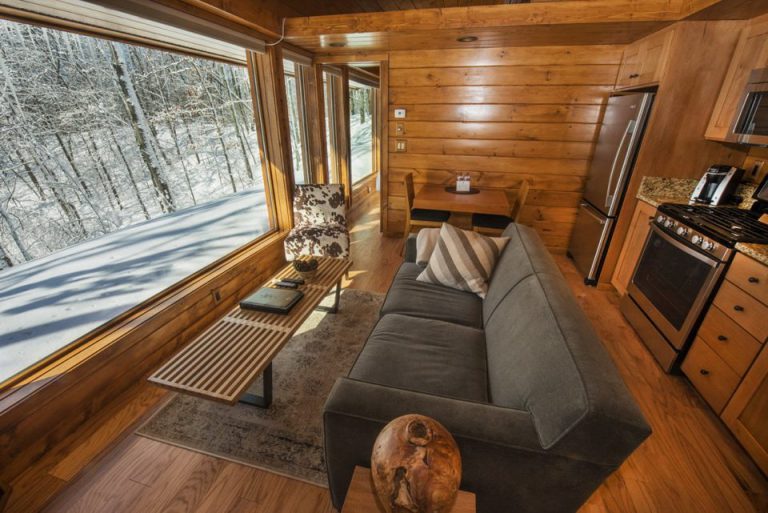 People are falling in love with the tiny house movement, as they try to live a less encumbered life. Most tiny houses are built less than 10,000 pounds, allowing them to be classed as an RV. The park model RV was developed to cater to those who want a little more space, as they are intended to stay where they are for a little while.
Tiny house fans are in for a treat. The Escape Cabin, all 400 square feet of it, is considered an RV, not a house. It is completely portable, as it has wheels, and the owner of the design is in the process of creating custom copies of the house plans. This means that escape cabins will soon be available to everyone.
The Escape Cabin was originally designed as a cottage, not an RV. Every element of the cabin is finished to the highest quality, thanks to inspiration from the architect Frank Lloyd and keen attention to detail. The unit features R48 ceilings, R40 floors, and R28 walls. The kitchen is a linear unit against the wall that feels spacious, and is more than adequate if you are used to the RV lifestyle.
The bedroom fits a king-size mattress, there's a full tab in the bathroom, and the kitchen has a full fridge and stove. The home uses LED lights, can be hooked up to solar power, and even has a high-efficiency fireplace. The RV comes with standard wood finishing and consumes very little power with its all energy-star-rated appliances.
The Escape Cabin can be set up in less than a day and is a real alternative to conventional housing. It retails for $79,000 and was released early this year.
What do you think? Would you love to own an Escape Cabin?
Thanks for reading and don't forget to comment below!