EarthRoamer: See It to Believe It!
RV Decor & Unusual RVs
May 4th, 2015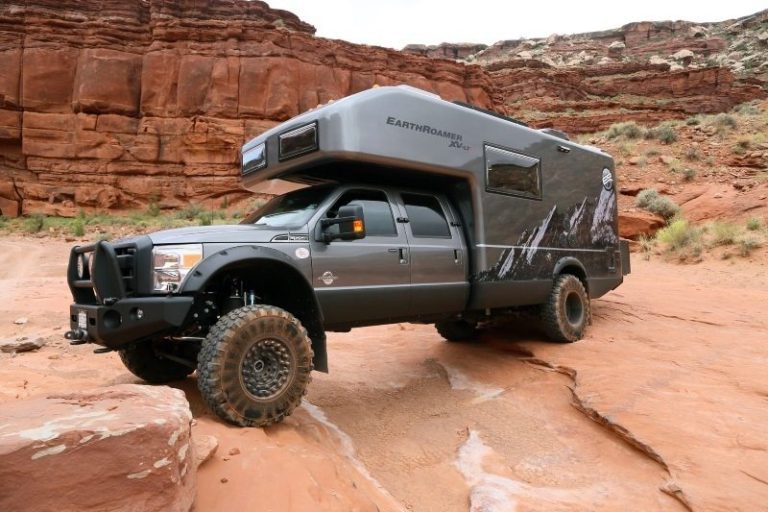 Camping, hunting, a love of nature, and adventure: outdoors enthusiasts across the country take to the woods every year. Some hike trails alone or with friends, while others pass along their knowledge of hunting and fishing to their children. Still others merely love to "boldly go where no man has gone before," or at least not very many. Unfortunately, most vehicles will only take them so far.
"Rugged," "stylish," and "comfortable" are words that describe the modern EarthRoamers. Built in Colorado at the family-owned company, these cabins on wheels are made by hand. They are sturdy and powerful enough to go almost anywhere. Plus, with their numerous amenities, they have all the comforts of home. Check out the following pictures, and consider an EarthRoamer before you go camping.
Comfortable Ride
The EarthRoamer is a comfortable ride for long road trips. It features a video-GPS tracking system for navigation and a Ham radio for safety. It offers back-up cameras that also provide infrared for night driving.
The monitors for the fresh water and waste water, batteries, and fuel are on the console. There are also individual controls for each wheel, to level the vehicle when camping.
The Deluxe Living Space
The camper aspects of the EarthRoamer Xpedition provide all of the comforts of a luxury motorhome. It has stately sleeping compartments that include a king-size bed, and room for up to six people.
The spacious living areas include convertible tables, to double those spaces as dining areas. In the loft, there is a swing-out TV, with surround sound, satellite TV, and Wi-Fi.
The vehicle features a kitchen with a super-deep sink. The appliances include a full-sized microwave, refrigerator, and plenty of storage units with counter space.
Motor and diesel-powered hot water heaters, with large holding capacities, supply the kitchen and bathroom.
The bathroom is fully functional. There is a standing-height shower, a toilet, and a vanity sink in the bath areas.
The Rugged Exterior
Based on a commercial-duty Ford F-550 chassis, the EarthRoamer is as comfortable in the snow as it is in the desert. A heavy, steel bumper provides exterior protection, as well as allowing winching and recovery. The winch and cable are included. HID, LED, and halogen lights ensure vision isn't a problem.
It has a V8 turbo diesel engine. The military tires, air spring suspension, and heavy-duty, off-road shocks allow for full off-road capabilities. It has a 90-gallon fuel capacity, enabling campers to remain off-grid.
Solar panels of 240-watts line the roof and power the bank of batteries that run the appliances, including the water heater and AC. Along with the solar power, the batteries are charged by the alternator when the vehicle is running. This means that shore power and generators are unnecessary.
For natural light, the Xpedition has large, insulated windows. Plus, along with the solar panels, it has a stargazing sunroof hatch in the roof.
In Conclusion
With the power and style provided by the EarthRoamer, for sure you would be the envy of your camping and hunting buddies. They are rugged and modern, offering a full kitchen, bathroom, and adequate storage, as well as plenty of seating and indoor entertainment options.
Sure, you could lug a tent to a far-off campsite, miles from where you had to park the car. Maybe that would be fun. On the other hand, you could take this sweet ride, and spend more time doing what you drove there to do. Please share this with all of your friends who love the outdoors. Give them the option.
Thanks for reading and don't forget to comment below!