Dub Box USA: Vintage Look, Modern Engineering
RV Decor & Unusual RVs
June 9th, 2015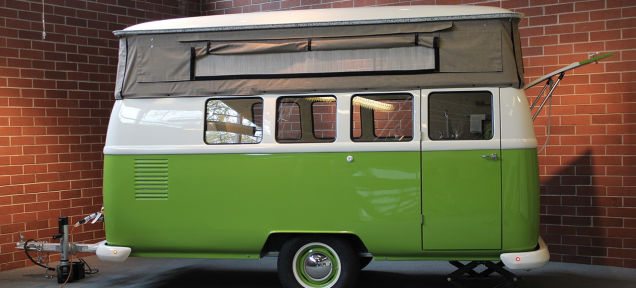 The look of a vintage Volkswagen bus is just so cool. Who doesn't love those clean lines, tantalizing curves, and tons of windows to let in the sun? When you drive one of these pieces of history into a campground, you definitely show off your sense of style and appreciation for classic design. And, you'll probably find yourself having a lot of conversations with fellow campers and retro enthusiasts about the lasting appeal of the iconic Volkswagen bus.
The problem for many VW lovers is that finding a vintage bus in good shape can be difficult. They've been out of production for quite a while (Volkswagen currently makes a minivan that sort of has the same functionality as their old bus, but it looks significantly different). You could search for a long time before finding a vintage one for sale that didn't need a lot of fix up work in order to get it road worthy. Most likely the exterior would need a good polishing, the interior would need some serious sprucing up, and you'd have to check the engine and all the mechanicals to make sure it all worked properly.
Fortunately, there's an alternative to scouring the classical adds and spending hours restoring. It's a company called Dub Box USA.
This Oregon-based company designs and manufactures brand new camping trailers inspired by — indeed, looking very much like — the beloved old VW bus!
A Classic Design Reinvented
The outside of Dub Box USA trailers are made of durable lightweight fiberglass. They are fabricated from all new materials. These are NOT old VW parts broken down and reassembled with new fittings! They also have a paint job that pays homage to the classic design – white plus a vibrant color of your choosing.
And then there's the interior. The inside of an original VW bus was pretty spartan. Sure, they had the basics, but unless you had one that was really tricked out and well-outfitted, sleeping in one was essentially like sleeping in a glorified tent.
The new trailers made by Dub Box USA, however, offer most of the modern amenities that you'd find in any travel trailer produced today.
Plus, they kept that retro styling, so the interior is consistent with the exterior, right down to the very limited color palette.
The basic trailer model comes with some standard furnishings and appliances. There's a couch that folds out into a bed and comfortably sleep two along with a small fold up table. For storage, there's a wardrobe with a mirror, plus an additional storage box. The kitchen area boasts a small refrigerator, sink, and stove. There are fresh and grey water tanks, and while there's really no room inside for a place to shower, the Dub Box USA trailer does come with an outdoor shower. The roof can raise just like a lot of the old VWs, and for a true contemporary touch, there's a BlueTooth stereo and speakers.
To make your trailer your own, there are extras like awnings, a roof rack, an additional small bed (for a child), and even roof-mounted solar panels.
Depending on what you want and how big your budget is, you can outfit your Dub Box USA trailer to your exact specifications.
How Much?
The basic Dub Box USA trailer starts at $22,000. Or, there's a Dinky Dub, a trailer that's 25% smaller and starts at $12,800. The scaled down version has amenities that are similar to its big brother, but the roof doesn't raise in the standard version. A raised roof on the Dinky Dub will cost an extra $1,800. Or, if you want to customize the entire interior yourself, empty trailer shells go for much less than fully outfitted ones.
Dub Box USA also makes trailers for food and event use. These are a great, stylish, and eye-catching way to start a mobile business, put your current business on wheels, or create a mobile unit for your brick and mortar shop. Trailers designed for business use start at $25,000 and can be customized for more.
Bring the VW Style Home
While Dub Box USA is mainly in the business of designing and manufacturing camper trailers, they've also got an upcoming line of home furnishings with the same retro design. It's called Dub Dekor (hint: swap that "k" for a "c," and the name will make more sense). This part of the company is still in the beginning stages of production, but it looks like you'll soon be able to incorporate your love of the vintage VW style into your home's interior.
Right now, they're working on two pieces. The first is an entertainment cabinet that looks like the back of a VW bus. It can also be used as a desk, wet bar, bookshelf, display cabinet, or really whatever you want. Or, if you're a pool shark, you might be interested in the Dub Box USA pool table. This looks like a compact VW bus with the roof cut off and a felt billiards green installed on top.
These won't be on sale for a while, but you can check out the concept designs on the Dub Box USA website. And if these two pieces of furniture are popular, who knows? Maybe one day, you'll be able to furnish your entire home with vintage VW inspired furniture.
Everything Old is New Again
When it comes to Volkswagen designs, taking inspiration from the old product design is nothing new. In fact, the company redesigned and brought back the Beetle in the late 1990s, and it's still a popular choice for those looking for a small, reliable everyday car.
When you pull into a campground with a Dub Box USA trailer, you're sure to be greeted with lots of smiling faces and even more questions about where you picked up such a cool camper. If you're in the market for a small trailer, and you're a fan of the old VW styling, one of the offerings from Dub Box USA might be right for you.