Home in a Double Decker Bus. You Have to See it to Believe it.
RV Decor & Unusual RVs
May 19th, 2015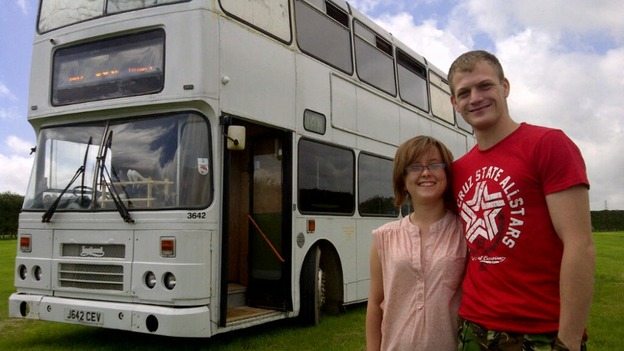 On the east corner of England lies a historic city known as Canterbury. For centuries Canterbury has been known as the home of the author Geoffrey Caucer and the Arch Bishop of Canterbury.  It's even been recognized for its Canterbury Chocolate. Today, however, there's another site that is drawing visitors.

It's a double decker bus in the middle of a field. And it's unlike any you've ever seen before.
Here's the story: Mr. and Mrs. Daniel Bond found themselves unable to purchase a flat in nearby Canterbury. Prices were high and space was limited, and without a miracle they would never own a home. That's when the couple decided to get creative.
They purchased a modern double decker bus which had just been released from the transit system. The fully functioning bus was driven straight to their field. Once in place the hard work began. A double decker bus has two full floors and both of them needed gutting. The upstairs would serve as their bedroom and living room, while the downstairs would provide a place for their bathroom, kitchen, and a possible guest suite.

Hour after hour the couple, along with their families, labored to convert the bus into a flat. The more they worked, the more interested their friends and neighbors became. Soon everyone was talking about the cool "bus flat"  and wishing they could make one too (and perhaps park next to them in the field)!

Converting a bus takes planning and a lot of hard work. Every bit of its old life must be stripped away in order to leave room for insulation, wall panels, wiring and plumbing. The Bonds decided to preserve the big windows in the double decker bus in order to enjoy the view. They also maintained the original glass door to keep the look and feel of the bus.
What do you think? Would you live in this double decker bus? What would you do differently in the conversion process?
Like this idea? Share it with your friends. Tweet it, like it, pin it and let the whole world know! Leave your comments below and thanks for reading!
Want some more ideas? Here's another great double decker bus conversion.
Thanks for reading and don't forget to comment below!