Dolly Parton Wants To Show You The Inside Of Her Tour Bus
Uncategorized
May 14th, 2015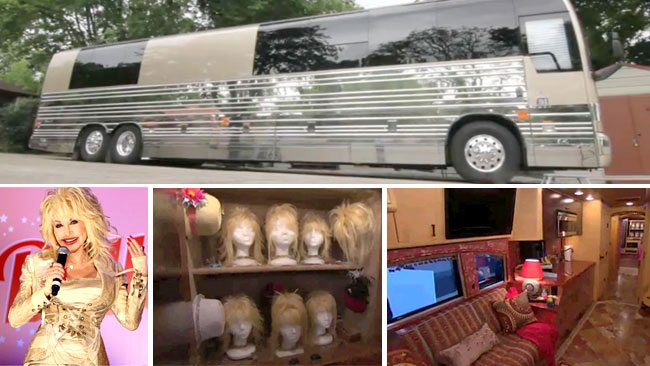 Dolly Parton's tour bus is nicknamed the Gypsy Wagon.
According to Dolly, her love for RVs began in the 1960's when old buses were converted into RV's. Back then she drove one by herself but stardom does come with some perks and one of them is her driver.
Her favorite memory of an RV is the day she retired her old RV and parked it at Dollywood for visitors to tour.
The bus, that is one of the attractions of Dollywood in Pigeon Forge Tennessee has over 600,000 miles on it.
It was custom built in 1994 by Prevost Car Inc at a price of $750,000.  The entire backwoods Barbie album was recorded in the bus.
The impossibly Busty country singer prefers her tour bus to hotels. The RV has a pink bedroom just for her as well as a few bunk beds for nieces, assistants and whoever else she is on the road with.
The bus also has a closet specifically for her wigs and a little makeup corner as well as two showers, one in the Master bedroom.
The kitchen is large and spacious and Dolly Parton, who loves to cook usually makes her own meals in it.
Check out the bus in the video below as Dolly parton gives Oprah a tour of her bus:
Do you like Dolly's bus? Tell us what you think below!