How One Woman Pulled off the DIY RV Renovation of Her Dreams
RV Owners
June 11th, 2015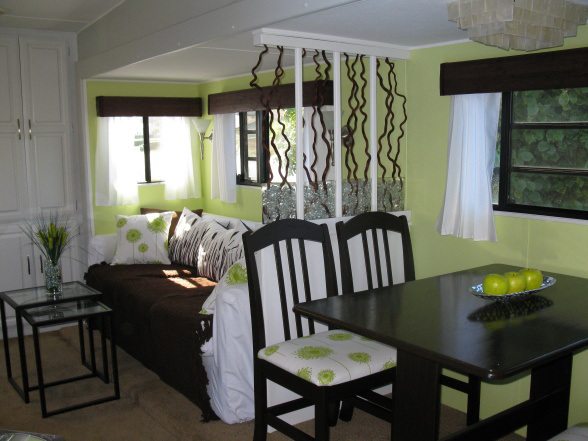 Your RV is your home-away-from-home, which is why it's puzzling how bland and unwelcoming some RV interiors are. Remember though, there's always room for improvement. Plenty of people of done it, including a women named HARBORLIZARD.
No, that's not a real name, or the name of a new pop star. But it is the user name of one talented RV owner who posted her amazing RV renovation on the now-defunct HGTV Spaces blog. When she began her RV had a fairly common generic interior design with patterned walls, brown carpet, and oak veneer everywhere.
HARBORLIZARD went to work and turned the bland interior into something beautiful…something that felt like home. She painted the walls a pale shade of green and the cabinets a refreshing white.
She stained the wood of her chairs and reupholstered the fabric herself with a design to complement the new wall color.
She replaced the anonymous wall art with a far more personal, beautifully handmade painting of a dog. She placed another of her own works of art in the bathroom.
The kitchen is outfitted with modern stainless steel fixtures, a black microwave and dishwasher, and even a few scattered accessories in the same shade of green as the walls. Luckily, they don't clutter up the counter in the considerably spacious room. As the good folks at MobileHomeLiving observe, the textures of the wall tile help to deepen the space and make it feel even larger.
The bedroom is more of the same, and we mean that in the best possible way. This room is transformed with a simple change in bedding, refinishing of the mirror's wooden frame, and a new coat of paint on the cabinets surrounding the headboard.
She paid special attention to every little detail around the RV, including the entryway steps, which are lined with brown-and-white accented tiles also found below the bathroom mirror and the kitchen cabinets. Small details can be found around the living room where every piece of furniture and decorative plant portrays the calming nature inspired motif she's built around pale greens, deep browns and pure whites. Cattails, dandelions and gnarled branches enhance and unite the decor throughout.
The result of her DIY RV renovation is an interior design that feels both modern and natural, an escape from the great outdoors as well as a compliment to it. HARBORLIZARD's improvements to the design for her mobile home can serve as inspiration for us all. Your home-on-wheels may not come prepackaged to suit your individual taste, but with a little creativity and hard work you can easily make it your own.