Denny Hamlin vs the SUV – The Weirdest NASCAR Wreck
Uncategorized
May 14th, 2015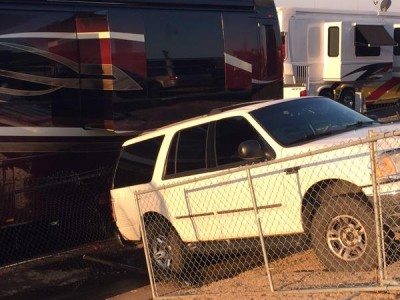 Denny Hamlin said, "I thought a bomb was going off!", this is how the racer expressed the experience. Founded in 1949, the NASCAR Sprint Cup Series was introduced as a "strictly stock car" race. Named for its sponsor, Sprint, it features poor-handling vehicles with powerful engines that can reach up to 200mph. It was here that things took a turn for the weird, in February of 2015.
Spectators and participants knew that this was going to be a weekend like no other, when they heard the news of the theft of Team Xtreme Racing's primary Sprint Cup car and trailer. They were taken from a Georgia hotel. That was just the beginning.
How the Accident Occurred
At around 7 am, as Denny Hamlin lie sleeping in his bed, he awoke to the side of his motorhome being slammed into. Parked in the track's infield, he likely felt that he was safe.
According to his representative, the owner of an SUV, that was up the hill from the lot, thought that the vehicle was in "park." It was not. The SUV rolled down the hill and backed into the side of the stationary bus.
Fortunately, no one was injured. The RV seemed to have only sustained superficial damage, but was doubled-checked to ensure the "slide mechanism" still functioned properly.
Danica Patrick's Participation
As an amusing side note, fellow racer, Danica Patrick, was quick to assert that she had nothing to do with the accident. Apparently, after Daytona's Budweiser Duel qualifying races, the two had a bit of a public run-in. This was after Hamlin's car hit Patrick's, toward the end of the race. This made her tweet (proclaiming her innocence) particularly appropriate.
In Conclusion
Fortunately, besides the cosmetic damage to the RV, no one was hurt. This does, however, demonstrate that an accident can happen anywhere, any time, and to anyone. For this reason, it is always best to make sure to keep your insurance up-to-date at all times. Please share this with your friends and family members as a reminder to stay vigilant and always make sure the brake is engaged before exiting the vehicle.