RV Decor & Unusual RVs
April 9th, 2015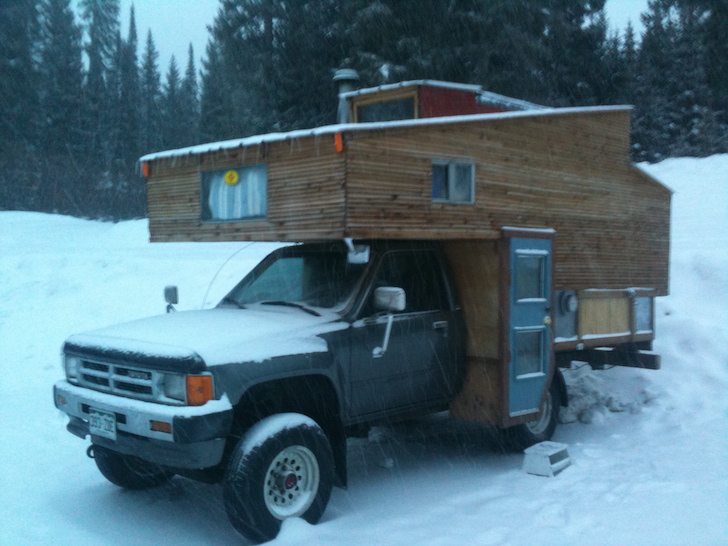 Never again! Mandy loved traveling and enjoying a variety of outdoor activities, but this trip had been a nightmare. Although the slopes were magical, the accommodations afterward were rundown and crowded. The common areas were noisy and when she retreated to her suite, she discovered, to her horror, that the walls were paper-thin. She could hear everything her neighbors were saying and doing. She didn't want to abandon her skiing and hiking trips, but she knew that figuring out a different way to experience her lodging, while traveling, was essential to ensuring that her seasonal and weekend trips were enjoyable.
So, she took to the Internet. Fortunately, when she did a bit of research, she discovered the inspiration she was looking for. She found it in the custom built truck camper of Mark Rislove.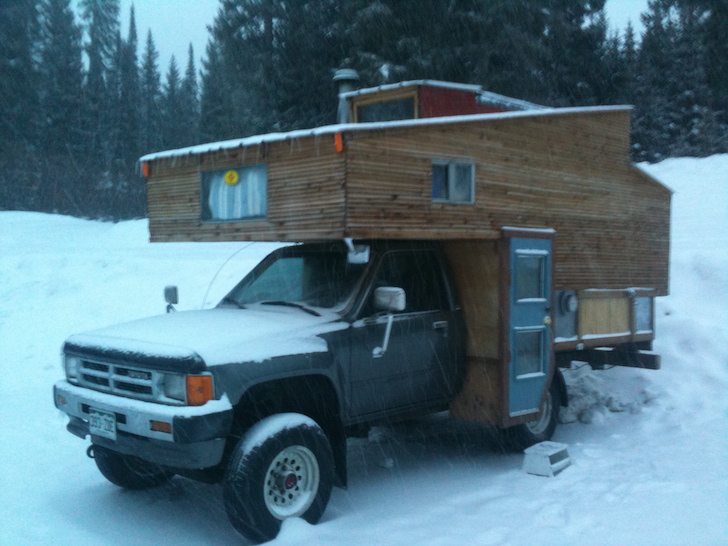 Prep Work: Obtaining the Truck and Supplies
According to her research, Mark had planned to spend as little as possible making his customized camper, while yet maintaining the integrity of his design. He found an abandoned truck that he was able to purchase for $500. He replaced a timing chain, a head gasket and all four tires to make the truck reliable and ready for the road.
Mr. Rislove found an advertisement on Craigslist that provided all the lumber he needed for free. A deck made from 20 ft. long, 2×6 redwood boards had recently been demolished and the owner was happy to get rid of the resulting pile of wood. He salvaged the majority of the 2-inch Styrofoam he needed as insulation, from a demolition-site dumpster. The metal for the roof, he purchased from Home Depot. Lastly, thrift stores and Craigslist provided the skylight, stove, sink, windows and a door, for a minimal investment.
Constructing the Truck Camper's Exterior
For long-term comfort, Mark required that the height of the camper be high enough that, at 6′ 4″, he could easily stand. He also wanted it long enough that he could comfortably lie down in it.
First, Mark ripped the boards in half with a saw, making 2×3-inch planks, which he used for the framework of the camper. He wrapped the frame in Tyvek, a synthetic high-density polyethylene material. The rest of the wood, he ripped into 1/4-inch strips and fixed them over the frame to make an attractive redwood siding.
Constructing the Truck Camper's Interior
After the exterior was completed, Rislove began working on the interior. He constructed the floor out of a tongue-and-groove bamboo that he had salvaged. He installed the Styrofoam insulation between the exterior and the interior walls, which he built out of the remaining 1/4-inch redwood slats.
Along with the doorway, he installed several windows and a skylight to allow the sun to help warm the space. Also, the open skylight in the ceiling allowed heat to escape during warm weather.
Adding Appropriate Appliances to the Camper
Building a modern kitchen ensured that Mark could cook for himself and guests. He added a full gas stove, with an oven and range, an icebox and a kitchen sink.
Customized cabinets provided space for cookware and dinnerware, with a special place for hanging up mugs (which he would need for coffee and cocoa after a day of skiing!).
As a mobile ski chalet, it was essential that the space be cozy and warm. The antique, traditional wood-burning stove he bought was one of his largest investments for the truck camper. Mark found this item on eBay for $100. He installed metal flashing behind it to protect the wood interior from heat damage, as well as to minimize the risk of fire.
Defining the Living and Sleeping Space
Ensuring that the living and sleeping areas were comfortable was a primary concern, and in a small space, making the most of every inch is important. Therefore, the twin bed, which is perfect for guests, was placed right next to the cook stove and butted up to the sofa. During daytime hours, this could be used much like a sectional sofa.
To fully utilize the space, the queen bed was installed in a "loft" over the cab of the truck. This provided Mark, at 6′ 4″, with plenty of room to stretch out after a day of hiking or skiing.
Conveniently, the door on the side of the camper allowed a lodger to exit from either bunk without bothering or waking the person in the other bunk.
Ready for Recreation
As a ski chalet, it was important to have adequate areas for storing ski equipment. So Mark installed a heated cabinet to keep ski boots warm and a locker for skis, as well. Weighing in at about 1350 pounds, the Toyota truck had little trouble carrying the custom-built truck camper, making it perfect for traveling. With the redwood exterior, the camper was attractive and with the interior amenities, it was also a functional space for relaxing and entertaining.
Mandy's excitement grew as she contemplated her options. She was certain that she could find a truck with low mileage in her price range and she looked forward to choosing her supply of lumber for framing and finishing. Her friends would be more than happy to help her with her project and she knew that, with a bit of ingenuity, she could design and build her own truck camper. Mandy couldn't wait to get started.