Mike and Jennifer's Awesome New Roadtrek CS Adventurous!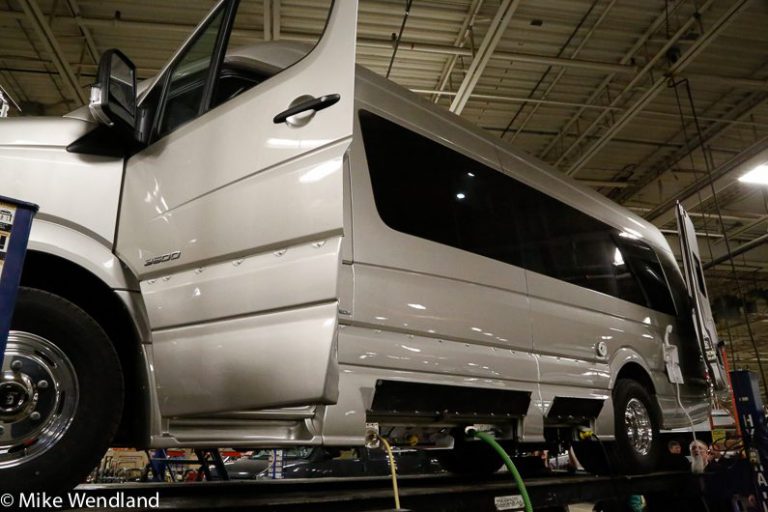 Mike and Jennifer Wendland run the successful RV blog, and resource site, roadtreking.com, so you'd certainly expect them to have a completely tricked-out ride. After rolling around the country in their well-appointed, eco-friendly Roadtrek E-Trek for quite a while, they decided it was time to upgrade a little bit. Recently, they picked up their brand-new RV: a Roadtrek CS Adventurous. We probably don't have to tell you that it's pretty sweet. Have a look:
This Thing is Fully Loaded
The Roadtrek CS Adventurous is a Type B RV. It's built on the well-regarded Mercedes-Benz Sprinter XL chassis — XL because there's an extra 18 inches in the back of the vehicle. The total length is 24.5 feet, which translates to quite a lot of space for Mike and Jennifer.
The solar panels on top provide lots of power. Plus, thanks to some re-thinking of what goes where, the air conditioning unit is not located on the roof, allowing for even more space for panels to soak up that solar energy. The heating inside is radiant, which means that the floors are heated, instead of air being forced through vents. There's also heat in the bathroom — a super nice convenience during those cold weather camp-outs.
As for the inside of Mike and Jennifer's new ride, it's got everything. The sofa in the back opens up into a huge king-size bed, and can also be configured as two twin beds with a narrow aisle between them. The kitchen has a 7-cubic foot fridge, which is huge by RV standards. There's also a microwave, a convection oven, and a two-burner propane stove for meal prep. The kitchen sink has instant hot water, another helpful feature.
One aspect of the new CS Adventurous that Mike and Jennifer really like is its abundance of storage space. There are several drawers, and a pantry area in the kitchen, for food and cooking items. The whole inside has overhead bins everywhere, making it feel more like a commercial jetliner than an RV. Plus, there's a hideaway drop-down cabinet in the back of the vehicle, which they've found to be a great place for storing extra blankets, pillows, and bedding.
Other Important Details
The CS Adventurous can tow up to 7000 pounds. If Mike and Jennifer wanted to bring a small car along with them, or tow a couple of kayaks on a trailer, their new RV could certainly handle it. As for the water particulars, the CS Adventurous has a 33-gallon fresh water tank, a 10-gallon black water tank, and a 21-gallon grey water tank. And if you're interested in this sort of thing, the exterior is a classy champagne color. The inside is mostly slate gray. It really looks great!
Best Christmas Ever!
Mike and Jennifer picked up their new CS Adventurous from American RV in Grand Rapids, Michigan, in December. Talk about a great Christmas gift! They've just started their adventures in their new ride, and you can follow along with them on their blog.
Mike and Jennifer are big fans of dry camping, and this new CS Adventurous is just the vehicle for it. It's big enough to offer everything a couple (or a small family) could want, yet it's small enough to be more efficient on fuel, and more affordable than larger Type A RVs.
Where could you go in an RV like this one? Probably just about anywhere! For more inspiration, or to read about Mike and Jennifer's RV stories, get some helpful tips, and much more, keep up with them at roadtreking.com.