Converting a Cargo Van to a Camper Van: 5 Considerations
How Tos & Tips
April 2nd, 2015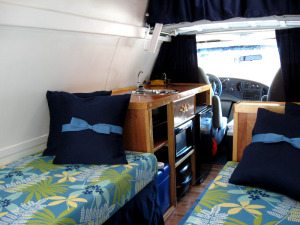 Why Convert a Cargo Van to a Camper Van?
Rained out again! David loved to travel. Plus, he loved camping and enjoying the journey, rather than spending money sleeping in someone else's bed at a motel. Although he spent many nights relaxing in a tent, he began to realize that getting a good night's sleep is tentative at best, especially when factoring in hot or cold temperatures, and unexpected stormy weather. David's passion for travel was more of hobby than a lifestyle, and though he wanted a more stable environment, he couldn't rationalize buying a pricey RV or camper. That's when he took to the Internet. There, he discovered the journey of one woman, Gail, who converted a used cargo van to a camper van and fulfilled her dreams.
1. Cargo Van Requirements
There are several things to consider when choosing a cargo van to convert into your customized camper van. Height may be an important feature, to allow for standing up while cooking, doing dishes, and changing clothes, for example. The average cargo van has an interior height of about 52 inches, or 4 feet and 4 inches.
This wouldn't allow standing room for most travelers. This is why Gail chose to seek a high-top cargo van that has heights from 76 – 81 inches. In other words, between 6 feet 9 inches and 7 feet 4 inches, which is plenty of room for most RV enthusiasts to operate comfortably.
As a conscientious shopper, Gail opted to buy a used van that she found on Craigslist. Converting a van requires quite an investment of time, effort, and money. It was, therefore, advisable to look for vehicles with low mileage and a sound exterior, with no rust or significant damage. This ensured that she would reap the benefits of her hard work for years to come.
2. Boondocking Essentials 
Some travelers prefer to camp where shoring is available. In remote areas and to minimize fees, that isn't always an option. With a vehicle capable of boondocking, as well as shoring, Gail would have unlimited camping possibilities.
When she parked at a campground with shore power, she used a surge protector, and several electrical outlets to run all her appliances. When she was boondocking, however, portable propane tanks fueled her catalytic heater, the car battery or internal batteries powered the fan and lamp, and the DVD player ran on batteries. Food is kept cool in a large cooler until shore power is available.
Many people use solar power for boondocking. Solar panels power internal batteries, which run all of the appliances. This allows them to camp indefinitely, as long as they have adequate access to the sun.
3. Renovate the Camper Van Interior
To make the cargo van more inhabitable, Gail renovated the interior. First, she installed 1/4-inch Styrofoam for insulation on the floor, ceiling, and walls. The floor was covered with plywood, and to avoid floor damage from water, she laid an attractive sheet vinyl over it.
Next, she addressed the walls and roof. She used a double layer of 1/4-inch Styrofoam to insulate the roof and covered it with vinyl. A frame of 1 x 2-inch strips of wood provided stability, and screw covers added design appeal.
The Styrofoam that covered the walls was hidden behind free-hanging vinyl. Blackout curtains added privacy from the driving area, and concealed storage areas. An additional bonus to adding insulation is that it increases the level of comfort, while lowering the energy used for heating and cooling.
4. Build the Camper Van Sleeping Space
When camping, one of the most important features to consider is the sleeping space. Although many activities can occur outside, such as grilling food and socializing, sleeping inside is one of the main reasons to have a camper. First, the number of bunks required should be determined. Gail needed two.
Single bunks allow room to walk through the van. Gail used 2 x 2-inch pieces of wood to build the two single-sized bed frames, making sure that the bed height would allow for the plastic bins, in which she intended to stow clothing and other supplies.
For the mattresses, she cut a 6-inch-deep, queen-sized mattress into two equal single-sized ones. She covered them first in plastic to ensure they were waterproof, and then in fabric for aesthetic appeal and comfort. After stapling the covers to the board underneath, drilling a few small holes in the wood allowed trapped air in the plastic to escape.
5. Design the Camper Van Kitchen
Some travelers prefer to spend the majority of their time outside. Food is provided by hunting or fishing, and is cooked over an open fire. When boondocking in inclement weather, or in a truck stop or parking lot, however, being able to cook inside is more than a luxury.
Gail wanted a full kitchen. She built shelves from 2 x 2-inch framing and 1/4-inch plywood. These housed a camp stove, microwave, a small refrigerator, 6-gallon fresh and gray water bins, as well as plastic bins for pots, pans, and kitchen utensils. On top of the shelf she fit an unmounted 15-inch sink basin, with a hand lever water system to control water use.
A separate shelving unit, placed against one of the beds, provided additional storage. This allowed her to organize the smaller kitchen utensils for easy access. The back could also be used as a headboard for the bed.
6. Consider a Minimalist Camper Van Bathroom
Anyone who has camped realizes how important the bathroom fixtures can be. Although campers in the wilderness may be perfectly comfortable digging a "cat-hole," urban campers don't have this option. Where campgrounds and RV parks often provide bathhouses, and modern plumbing or outhouses, boondockers are on their own. Gail solved this problem with two simple fixtures.
Although she could have invested in a camp shower, she bought a 2 x 3-foot concrete mixing pan, and clipped a cloth shower curtain to the ceiling. She used a dark-colored plastic jug with a vinyl tube, and a shower head placed on a high shelf. Gravity powers the water, which is heated either by setting the jug in the sun, or by preheating the water with a 25-cup coffee maker. Where a camp shower typically uses 3-gallons of water, Gail's method used about 1 1/2-gallons.
There are many different toilet options at a range of prices and levels of sophistication. The toilet she chose was a simple port-a-potty. This model eliminated odor, and the pour spout allowed her to easily empty it in dump stations, or toilets in rest areas, campgrounds, parks, or at her home when she returned.
Conclusion
Gail's transformation of a used cargo van into her personally customized camper van provided David with plenty of ideas to get started. Although he didn't intend to entirely duplicate her efforts, he knew that if one person could design and build the recreational vehicle that suited her wants and needs, that he could do so as well. First stop: Craigslist!